8 Indoor Activities for Kids
Make the most of your time inside with these fun things to do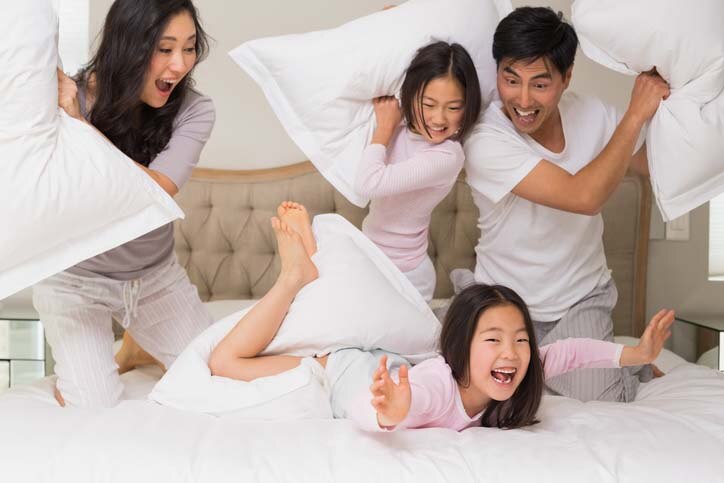 It's sad to say, but life doesn't always cooperate with your vacation plans.
If your vacation is awash because of a rainy day or other unforeseen circumstance, here are a few creative ways to keep the kids occupied inside until you can get out again.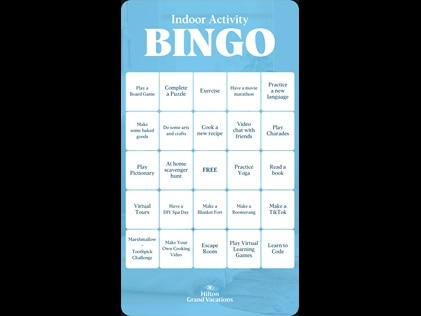 Make a Blanket Fort
Drape sheets and blankets over the couch and dining room chairs to make an epic fort complete with lots of cozy pillows and blankets. Pop on the kids' favorite movie, make a bowl of popcorn, and you're in for a snuggly day or evening.
Funny Boomerangs and TikToks
The TikTok and Boomerang apps are simple and silly.
TikiTok helps you create and share lip sync videos from your favorite music and comedy clips.
Boomerang takes a burst of photos and stitches them together into a high-quality mini video that plays forward and backward.
Have fun together making funny faces, then save your creations as a virtual scrapbook of your time together.
Marshmallow + Toothpick Challenge
Your children will stay busy for hours with this hands-on STEM (Science Technology Engineering Math) inspired project. Using just a bag of mini marshmallows and a box or two of toothpicks, challenge them to a series of challenges, like:
Build the tallest structure
Build a replica of the resort you're staying at
Create your own marshmallow hotel room
If you can't find toothpicks use dry spaghetti instead.
Make Your Own Cooking Video
Think of an easy recipe, maybe something you can eat by a pool or on a hike when you get back out, like these Chocolate Chip Banana Oatmeal Bites.
Film your kids as they whip up their culinary masterpieces and save the video as a precious vacation memory.
Escape Room
Going to an actual Escape Room makes for a great night out with friends, family, or colleagues, but while you're "locked in," making your own Escape Room is a great way to keep the family happy while indoors.
Try your hand at a DIY escape room for your kids.
GoNoodle
Web sensation GoNoodle has helped more than 14 million kids stay active at school and at home, and it's about to help your little ones have some fun even when sun isn't out. Dance to "Get Loose" and "Kitty High Five," run an interactive track, play learning games and more.
Learn to Code
Much like learning a new language, kids can pick up computer code much faster than adults can. There are several free websites for younger and older kids to master the power of coding.
Warning: you might have to pry them away from these coding games.
Check the Activity Calendar
If you're staying at a Hilton Grand Vacations resort ask about recreation programming for kids and adults, ranging from movie nights, sports tournaments and ice cream socials to arts and crafts, video game challenges, and more.
Grown-ups will especially love wineglass painting and beer tastings (seasonal, based on availability). Rainy days, welcome!
Try one, try them all. Whether you're at home or staying at a kid-friendly Hilton Grand Vacations resort, fun can always be in the forecast.
Read 6 Travel-Inspired Games for Your Next Family Game Night for more fun things to do inside.