The Ultimate Summer Vacation Packing List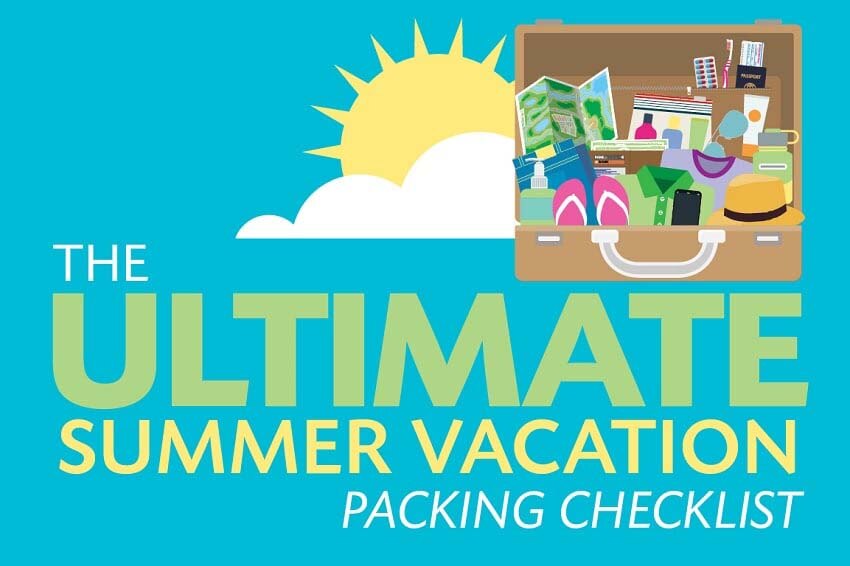 Even with the convenience of free, 2-day shipping, you don't want to forget anything on your next vacation. While it might be fun to spend the first day shopping for a new bathing suit or replacement sandals for that pair you left by the front door, your time would be much better spent relaxing poolside with a good book and a craft cocktail. And let's face it, none of us want to pay two to three times the price for a bottle of sunscreen.
Bookmark this list of travel must-haves and cross off each item when packing for your next adventure. Crisis averted.
A Bestseller. Cracking open the cover and burying your nose in a good book is one of the best vacation pastimes. Check out Goodreads lists for the top travel books and ask your friends if you can borrow their favorite page-turners before you go.
New Socks. Even if you're traveling to a warm-weather destination this summer, it can get chilly at night, especially with the air conditioning blowing at full blast. According to the National Sleep Foundation, wearing lightweight socks to bed can help you fall asleep faster.
Hats + Sunglasses. Wide-brimmed. Floppy. Baseball. Whatever your style, pack a hat in your carry-on bag so it doesn't get crushed. Better yet, wear it on the plane. And don't forget your shades to protect your peepers from the sun's harmful rays.
A Spare Bathing Suit. Or two. There's nothing worse than having to put on the wet one-piece, bikini or pair of board shorts you wore the day before. Luckily, most Hilton Grand Vacations resorts come with private laundry facilities so you can wash and dry all of your clothes at your leisure, but it's always good to have a few extras on hand.
Hydrating Mist. Taking a vacation is all about feeling refreshed. Why not take that literally? All that time outside in the sunshine or salty sea air can dry you out. Try the Evian Travel Trio TSA-approved bottles to keep your skin hydrated.
Zinc-Based Sunscreen. Headed somewhere sunny? Protect your skin and your wallet by bringing a couple of tubes of your favorite zinc-based sunscreen (better for you and the environment) with you versus paying an exorbitant amount at the gift shop.
Dry Shampoo. Avoid having to wash your hair every day (even if you've been at the beach or pool) by packing some dry shampoo to give your mane a clean boost until you get the chance to hit the shower again.
Eye Drops. Flights, hotel air conditioning, and hot desert air can all lead to dry, itchy red eyes. Eye drops soothe allergies and add moisture so you can soak up the sights in full view.
Hand Sanitizer + Baby Wipes. Even if you don't have kids, wet wipes are great to have on hand. Wiping down dirty tables at the beach, spills, and sticky fingers are all jobs for wipes. If you aren't near a place to wash your hands, pocket hand sanitizer can also come to the rescue.
Reusable Water Bottle. Pack a reusable bottle in your carry-on to stay hydrated on the go. Bring it to the beach, on hikes, to your favorite theme parks. Bottles like Hydro Flask can stay cold (or warm) for hours and are much more cost-effective than buying throwaway plastic bottles every time you get thirsty.
Still forgot something? No fear, it happens to the best of us. One of the benefits of traveling with Hilton Grand Vacations is that you're covered if you leave behind an item or two. Toothpaste and toothbrushes are available at the Front Desk of our resorts, and we also offer laundry detergent, kitchen supplies, and hairdryers to save you valuable suitcase space and ensure you feel at home.