4 Reasons to Feel Safe Traveling With Hilton Grand Vacation
Our continued commitment to clean includes Hilton CleanStay™
With more than half of the United States beginning to ease movement restrictions, many hopeful Americans are looking toward the future and some return to normalcy, in whatever form that holds.
Research from the U.S Travel Association reveals 71% of Americans miss their travel adventures very much and they can't wait to travel again.
Still, most surveyed said they would, understandably, approach future travel with vigilance, and they rate cleanliness and hygiene as more important than ever.
In response to the COVID-19 pandemic, Hilton is designing a new standard of cleanliness - Hilton CleanStay™ - being implemented at properties worldwide. These elevated standards, built on our already high level of housekeeping and hygiene efforts, allow Hilton Grand Vacations guests to feel even more secure during the time they spend with us.
Here are four reasons you can feel great about traveling with Hilton Grand Vacations.
1. Check-In and Check-Out
Every time you stay with Hilton Grand Vacations is an opportunity for us to create an experience that exceeds your expectations. We offer touch-free arrivals and departures with helpful social-distancing signage, protective barriers, and gloved and masked bell staff. Lastly, enjoy complimentary face coverings, wipes, and hand sanitizer for your convenience.
2. Guest Rooms
Traveling with Hilton Grand Vacations offers Owners and guests unique safety benefits like access to laundry facilities and fully equipped private kitchens.
Giving Peace of Mind
Upon arrival, Owners and guests will find room seals on every suite and studio, certifying that no one has accessed the room since being thoroughly cleaned.
Deep Cleaning High-Touch Areas
Our award-winning, and now elevated, housekeeping and hygiene practices means we guarantee extra disinfection using EPA-approved, COVID-19 cleaning solutions in high-touch areas. You won't need to wipe down light switches, door handles, TV remotes, thermostats, bathrooms, safes, kitchen appliances, cutlery, glassware, dishes or other high-touch areas.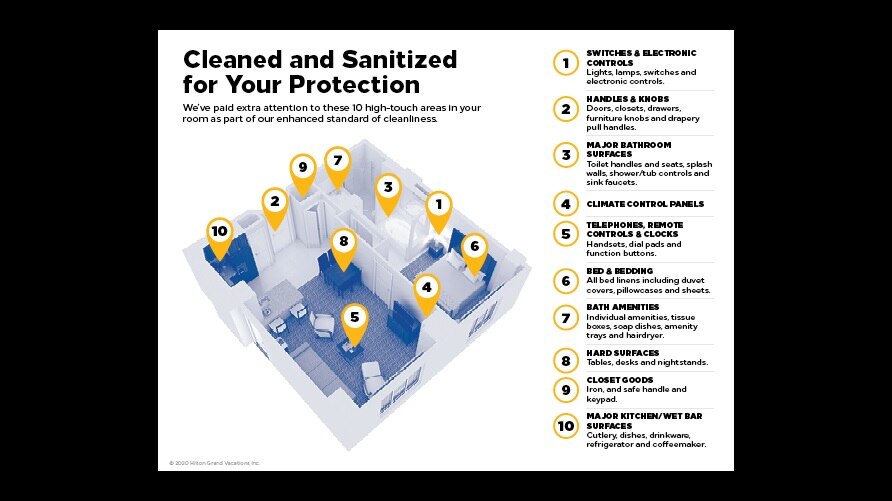 Providing Proactive Protection
Hilton Grand Vacations is committed to keeping you safe and healthy by reducing paper amenities, including guest directories, magazines and printed promotional items, supplementing instead with digital options.
3. Shared Spaces
We're working diligently to ensure your trip is everything you want while keeping you safe.
Properties have implemented social distancing practices, including clear signage directing you, and our Team Members, to keep a safe distance during shared experiences.
Pool decks, lounges and fitness centers will operate with capacity limits and close multiple times per day for cleaning.
Restaurants, bars and marketplaces will provide pre-packaged options and more frequent sanitization of dining areas.
Properties will offer guest-accessible sanitization stations with wipes and hand sanitizer near primary entrances and key high-traffic areas, like elevators.
Most importantly, we pledge to assess and refine our housekeeping and hygiene standards as technologies and best practices evolve.
4. Team Member Training
In addition to enhanced training for all Team Members on the proper use of all EPA-approved disinfection chemicals and cleaning protocols, personal protective equipment is also provided and required for Team Members.
COVID-19 may have upended travel momentarily. However, our dedication to you never wavers. Hilton Grand Vacations is proud to provide clean and safe resorts you can feel good about visiting when you're ready.