Transport Yourself With These Date Night In Ideas
Make the moments count, no matter where you are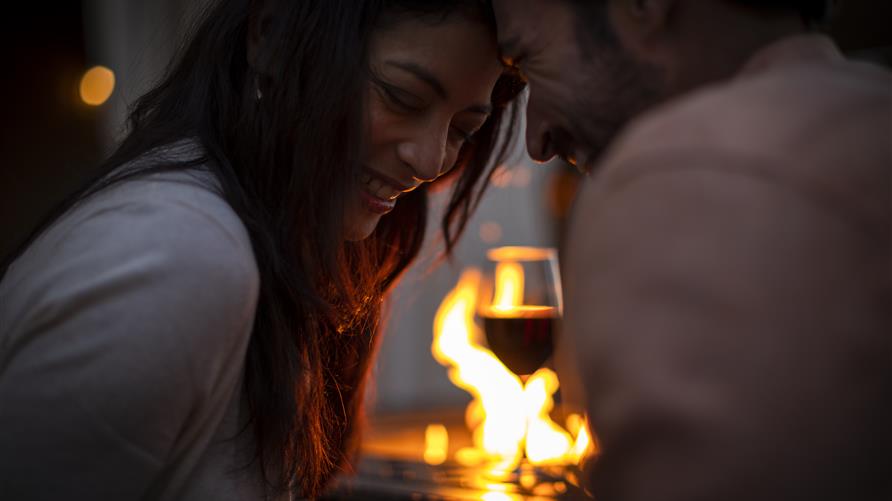 For social butterflies and travelers, a date night in may not be the norm, but sometimes due to busy schedules or circumstances outside your control, it may be just what you need to reconnect.
Adding stay-in dates to the mix has allowed my husband and I to get creative. There is only so much space. However, but we've been amazed by how much fun we've had together. Here are our four favorite date night in ideas – and they translate beautifully to our visits to Hilton Grand Vacations resorts.
Set up a Picnic
My favorite stay-in date night idea recently has been setting up a picnic. For us, it's on our second-floor balcony of the house — but this is something that you can do in a backyard or even in the picnic areas at Hilton Grand Vacations resorts. It feels like you're in a different place, which means a perfect little escape from the day-to-day.
When we first moved into our home a few years ago, we decided to have our first meal (Publix subs and Kona Brewing Longboard beer) on our balcony. We had no furniture in the house, but we were so excited to be together.
Lucky for us living in Orlando, Walt Disney World is pretty much right in our backyard, so we usually get a beautiful firework display every evening.
Though, for now, we just have to stream the Happy Ever After Fireworks Show from our mobile devices to experience a little Disney magic still.
Eat Your Way to a New Country (or State)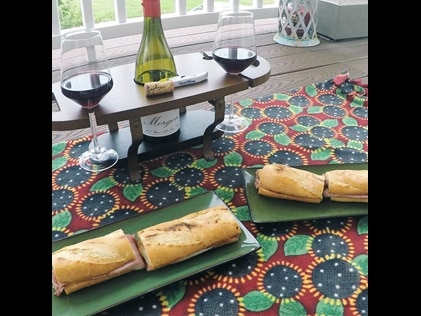 I love how cuisine can completely transport you.
We've found that creating themed dinners allows us to feel like we're traveling around the world. Recently, we "traveled" to France with a simple dish.
All it took was ham and gruyere cheese sandwiches on a toasted baguette, paired with an amazing Beaujolais from Burgundy to make us feel away. This easy-drinking wine was a perfect pairing. As a bonus, we ate on our balcony picnic-style.
It reminded me of sitting at a cute little café in Paris.
We cannot wait to have a "Hawaiian" themed meal recreating some of the incredible food that we had during the Legends of Hawaii Luau.
The resort gave out Poke recipe cards at the luau (recipe below), so we have a good start on our menu. All we have to do is cook, turn on some beach tunes, and pretend like we are still on our honeymoon at Ocean Tower.
Spicy Ahi Poke
1 LB Fresh Ahi Tuna, Cubed

½ T Sesame Oil

2 T Sriracha

2 Scallions, Finely Sliced

2 T Mayonnaise
Directions:
Combine mayonnaise, sesame oil and sriracha in a bowl and mix well. Mix in cubed ahi and garnish with sliced scallions and enjoy immediately in a wrap, over sushi rice with gyoza crisps or wonton chips.
Plan a Romantic Wine Tasting
Have I mentioned I love wine?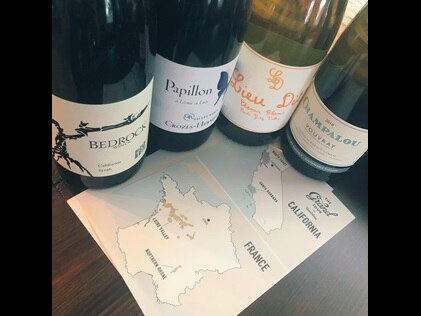 A romantic night in with a private wine tasting makes for one of our favorite dates. The beauty of wine tasting is you can plan it a variety of ways, for example, by varietal, region or even from a specific producer or vineyard.
Like themed dinners, you can "travel" to Italy and try wines from Tuscany. Or maybe you love Pinot Noir and want to try a few of those. The choices are endless.
We are members of a few wine clubs that make wine tasting nights a breeze. One of our favorites is "The Grand Tour" by Verve Wine. Each month, we have four wines delivered to us, and each shipment highlights a different region of the world.
So far, we've taste-traveled to Greece, Australia, Corsica and many other locations. To top it off, we put ambient footage of vineyards on our TV (courtesy of Somm TV) to create the perfect feel.
Enjoy a Private Concert
A lot of musicians post live videos across social media to stay connected with fans. One of our go-to date night activities is visiting a local piano-bar, so we've been recreating the same magic for our date nights in by enjoying live streaming musical performances. Sit back on your couch, vino in hand, and let your favorite artist transport you with a serenade.
Other fun ideas:
Read 6 Travel-Inspired Games for Your Next Family Game Night for more travel-inspired date night games.