Planning a Budget Friendly Honeymoon with Hilton Grand Vacations
Make your honeymoon as magical as your special day, without breaking the bank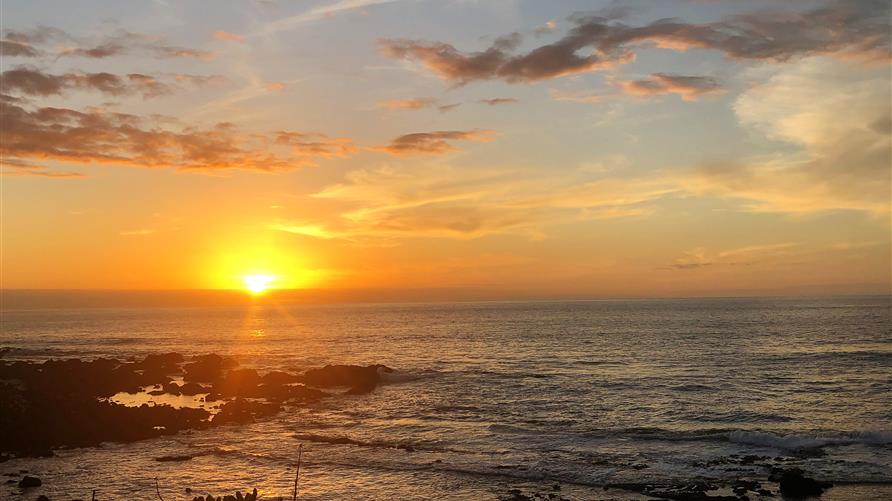 As with any vacation, planning a honeymoon can be a little stressful.
"Do we have our flights?"
"Where are we staying?"
"What do we need to pack?"
Thankfully, with Hilton Grand Vacations – planning our honeymoon was a breeze. Honestly, the hardest part was figuring out where we would travel, because through Hilton Grand Vacations we can choose from some of the best honeymoon destinations, and stay on budget.
Fortunately, we had 6,800 bonus points from when we signed up to become Owners in 2018. The bonus points allowed us to choose not only one but two locations for our honeymoon: Las Vegas and Hawaii.
Two more states that we could check off on our "couples travel" list.
With the locations booked, we had some other important decisions to make.
Deciding on a room type
Room type was an important decision for us.
Typically, since we travel as a couple, we stay in a Studio room.
However, with it being our honeymoon, we wanted to reconsider our typical travel style. Throughout the planning process, we ultimately thought about how much we'd be in the room in each location to see if it was worth upgrading to a more upscale suite.
The owners access only club site at Hilton Grand Vacations website was a lifesaver during this part of the process.
What I love about the site is how easy it is to see the points required for your stay.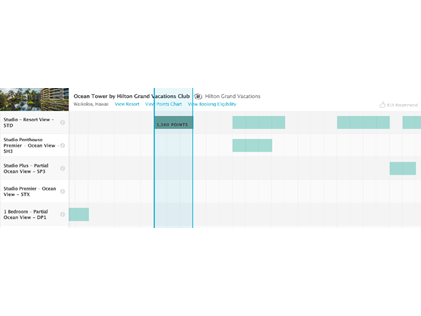 It takes all of the guesswork out planning a budget friendly honeymoon.
Why that decision? We knew that during a quick weekend trip to Vegas, we'd likely be out and about more often. While on the Big Island – most of our time away – it's all about relaxation mode. Ultimately, we couldn't go wrong with our choices, as both locations and accommodations are incredible.
Planning activities for the honeymoon
While I love planning, I like to make sure that we don't "over-plan" a trip.
For us, it's so important sometimes to do things on a whim. A little spontaneity allows us to create a mini-adventure within our getaway.
We've found that sometimes by not planning, we have the most unforgettable memories AND find the best local hangouts.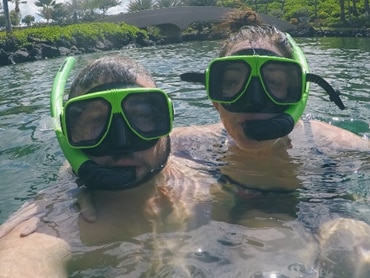 With that said, we do like having our staple plans. Two of our favorite staples include a day-long tour around the Big Island and dining reservations at a popular spot in Vegas. This way, we have experiences booked that are a must-do throughout the trip, and then anything additional is a BONUS.
The Hilton Grand Vacations Tours & Activities group was a huge help
I know for me when I am visiting a new city or state, I love getting opinions on the best tours, what restaurants to visit, and more. I was so thankful for all of the help that we got when booking activities in Hawaii. Our agent provided so many details to help us make the best budget friendly decision possible – the Circle Tour around the Big Island with Kailani Tours. She also recommended some other great ideas for potential excursions when we arrived in Hawaii.
Use your resources
We have so many incredible resources within Hilton Grand Vacations, so don't forget to use them.
Between the Club Guide located on the resort pages to ClubPartner Perks, there is so much that can help you plan your honeymoon or vacation. If you need any additional assistance, a Club Counselor is only one call away to assist!
So whether your planning a honeymoon or a romantic getaway on a budget, don't forget to think about Hilton Grand Vacations. We are happy that we decided to stay at these incredible properties, kicking off what will be a lifetime together!
Read on for more unique honeymoon ideas.