Scotland by Planes, Trains, Automobile...and ATVs (oh my!)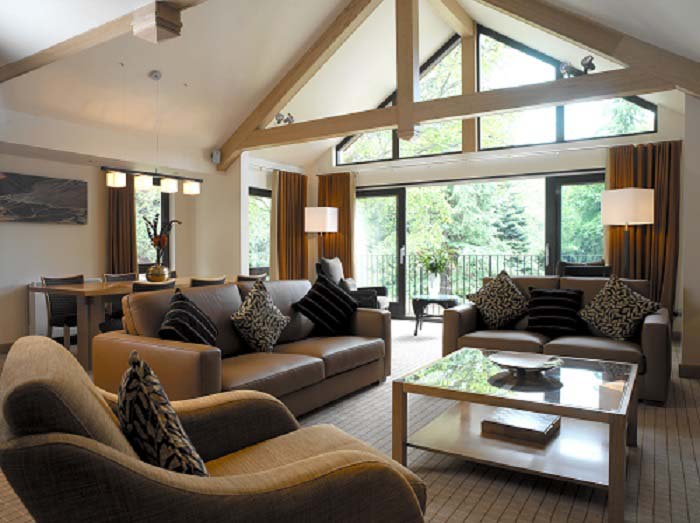 In August, we crossed an item off our bucket list by securing an elusive spot at the Hilton Grand Vacations Dunkeld Cottages in Dunkeld, Scotland.
During the week prior, we spent time in Glasgow – including sightseeing in the northwest Lowlands and the Loch Lomond/Loch Tyre area. Inverary Castle and its grounds are spectacular.
Using Dunkeld as our hub, we interspersed day trips to Inverness and Loch Ness to the northwest, and taking the train into Edinburgh and its frenzied Fringe Fest, to the southeast.
My wife probably had the best, succinct observation of Dunkeld and its surroundings: "if you could imagine it without cars, Dunkeld is what you'd imagine Scotland looking like 300 years ago."
That imagery causes a writer like myself to conjure equally-quaint adjectives to sum it all up: Pastoral. Idyllic. Bucolic. The back-in-time setting washes over you almost unnoticed, and it was only a matter of a few days before we eschewed the rental car and found ourselves walking into town for things that modern reflex almost demands driving even short distances.
In fact, the walk along the River Tay, among well-wooded trails, is less than a mile, but aids in the shedding of modernity and walks you back through time as the trail culminates at the semi-ruins of Dunkeld Cathedral, whose construction began in 1260 – as Kublai Khan had only barely begun his reign over Mongolia – and completed in 1501 – still almost a decade before Henry VIII ascended to the English throne.
The tasks associated with these walks took on their own days-of-yore significance. We would repeat the walk many times during the week to get fresh-baked bread or morning pastries at the bakery, select that evening's main dinner ingredient at the butcher shop, pick up fresh vegetables at the small grocery, or just wander down the trail at any time of day for a coffee or tea or dram of local whiskey at the tavern.
Our timing that week also allowed us to take in the annual Highland Games where we witnessed caber toss, hammer throw, foot races, traditional dancing. Sports one usually only reads about in novels or sees in films.
Immediately surrounding Dunkeld and the grounds of the Hilton Grand Vacations properties are many other activities to appeal to a wide array of interests:
Target and skeet shooting
ATV tours of the countryside
A Land Rover excursion where you drive (under the watchful instruction of an experienced guide!) through some very challenging off-road courses
Trout and salmon fishing on the River Tay
Bike rentals; and
Hiking trails, including to the secluded wildlife reserve at Loch of the Lowes.
During our stay, my wife and I both enjoyed the ATV and Land Rover excursions where we captured some stunning GoPro footage of Scotland.
I also enjoyed a solo excursion to the nearby skeet range where I enjoyed an excellent shooting lesson with a 20- and 12-gauge shotgun. The ATV excursion puts you into the back-country that normally wouldn't be as accessible by foot, and thanks to an unusually rainy summer the backwoods, landscape was incredibly lush.
The Land Rover trek was amazing as we each were allowed (after some short instruction and demonstration by the professional guide) to drive a very challenging off-road course that is customized to put this amazing vehicle through its paces.
The Hilton Grand Vacation cottages themselves are as cozy as the described surroundings would suggest. The 2-bedroom, semi-detached units are welcoming and as fully-equipped as one expects from the luxury of timeshare living.
Check-in is one of the later we have experienced – 5 p.m. – but by completing the pre-check-in form you can request that the heat be turned on to assure a toasty arrival. We found this quite necessary even in mid-August!
Among the nicer surprises in this setting were the multiple daily visits of small herds of the local roe deer. With few natural predators, and being well-habituated to humans, the herds were less skittish than one might expect. That made for enjoyable watching from our cottage's front porch or solarium.
The immediately surrounding grounds of the cottages are focused on the centerpiece, early 20th-century Dunkeld House Hotel (pictured) – conceived in October 1897 by the 7th Duke of Atholl and completed only a few years into the new century.
Hilton Grand Vacations retains a relationship with the hotel, where your check-in actually occurs, and which allows you access to its restaurant, bar, pool, and spa.