Eat like a Local in Hawaii at These 9 Honolulu Restaurants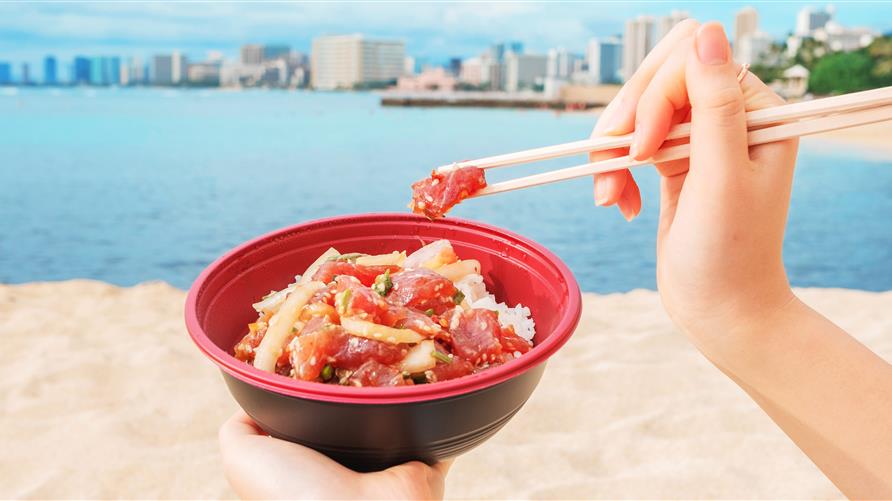 Honolulu's culinary scene is influenced by the many cultures found on the island. To experience the authentic taste of Honolulu, eat like a local.
While some of these local restaurants in Honolulu have websites, some don't. Eating like a local can teach you that you never need to judge a good restaurant by its web design and search placement.
Instead, let the locals (and their Yelp reviews) do the talking.
So, where do the locals eat in Honolulu?
Ono Seafood
Craving a fresh poke bowl? Locals flock to this no-frills eatery for the variety of ahi poke and a chill, laid-back atmosphere. No website needed. You'll discover traditional super ono ahi and tako poke. Local favorites include dried fish and shrimp, pickled mango, poi, boiled peanuts, and other tasty treats.
Spend your Sunday Funday watching the University of Hawaii games, drinking local beers on tap, and sharing island favorites, like the wok-fried yakisoba and bone-in kalbi ribs.
Side Street Inn
In the heart of Honolulu, the Side Street Inn has garnered a multitude of awards and accolades for its inviting atmosphere and award-winning "gourmet comfort food."
Side Street Inn has been featured nationally on the Travel Channel in Anthony Bourdain's show "No Reservations," on the Food Network, and publications such as Saveur Magazine, L.A. Times, and Travel and Leisure.
Maguro Brothers
The frills are saved for the fresh fish at Maguro Brothers. This basic counter-service kitchen offers a wide variety of poke & sashimi for takeout only. You can take your sushi order back to your condo to enjoy a sunset view from your balcony.
Tokkuri-tei
Low-key Tokkuri-tei is a long-running, Japanese-style tavern & sushi bar, with small plates, sushi, beer & liquor. Try the melt-in-your-mouth Miso Butterfish or the IkaYaki, a squid pancake that tastes like pumpkin pie. Don't forget the Hawaiian-style sashimi poke bowls.
Mitch's
A nondescript, BYOB sushi bar offering memorable seafood dishes in a cozy space. Mitch's menu has a variety of rolls and sashimi, including the lobster sashimi – a presentation in itself. Reservations recommended.
Agu Ramen
Nothing tastes better after an afternoon longboarding the smooth waves of Waikiki than a bowl of warm, cozy ramen. At Agu Ramen, you'll find a petite Japanese eatery specializing in bowls of tonkotsu or jidori broth with housemade noodles.
Everything here is made in-house, including the pork broth that takes 24 hours to craft, and the chicken broth more than nine hours.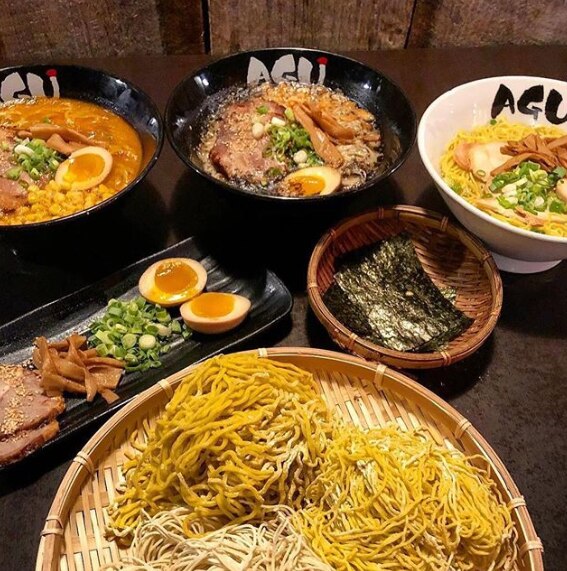 Leonard's Bakery
Leonard's is Oahu's most popular destination for buying malasadas, Portuguese donuts that are golden brown and crunchy on the outside, with soft, fluffy dough on the inside. This rolled in sugar for a delicious finish. You can also get them rolled in cinnamon or filled with custard, coconut cream, chocolate, or guava. Keep in mind that this a foodie hot spot with lines that often stretch out the door in the early morning.
Helena's Hawaiian Food
In 1946, Helen Chock opened the doors to Helena's Hawaiian Food, a humble eatery that continues to serve the local community quality Hawaiian cuisine. In 2000, the James Beard Foundation awarded Helena's Regional Classic Award. Highlights of Helena's menu include tripe stew, short ribs (pipikaula style), and fried butterfish collar.
Char Hung Sut
At Char Hung Sut, located in Honolulu's historic Chinatown, crowds line up daily for its award-winning manapua (pork bun), pepeiao (ear-shaped pork stuffed noodles), pork hash, and other dim sum-type treats.
If you are on the hunt for the best local restaurants in Honolulu, bookmark this story to help plan your next locals' favorite culinary tour.