No matter the cuisine you crave, you can find an opulent menu on your next Vegas vacation. Because many of the 5-star restaurants in Las Vegas have famous chefs connected to them, make sure you plan ahead as they can get very busy.
Here are five of Hilton Grand Vacations favorites.
Joël Robuchon
Of all the luxurious restaurants in Las Vegas, Joël Robuchon might be the crème de la crème. Earning the coveted Michelin 3-star award, Joël Robuchon is an indulgence of all the senses.
This French-themed menu of 2, 4, 6, and 16 courses, promises meticulous care and artful culinary surprises. Walk inside, and you're welcomed with crystal chandeliers, velvet upholstery, and an ivy-walled outdoor seating area to complete the luxurious ambiance.
A complimentary limousine service is offered to all guests with reservations.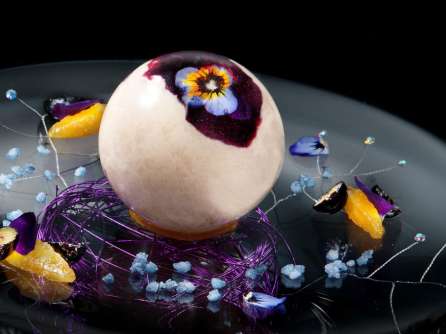 é by Jose Andres
Directly across the street from Elara, a Hilton Grand Vacations Club is é by Jose Andres at The Cosmopolitan Hotel – one of the most romantic dining options on The Strip.
It's an intimate dining experience in a private space in the hotel. This famous chef has put together an unforgettable, Spanish-style menu you'll never forget.
Tip: Only two seatings are available nightly in this quaint space, so make sure to plan ahead.
Twist by Pierre Gagnaire
Located on the 23rd floor of the Waldorf Astoria, Twist is a modern take on classic French cuisine and the only restaurant in the U.S. by Chef Pierre Gagnaire.
A reservation here will certainly allow you to dine under the stars. The restaurant showcases sculptural globe lighting that hangs from the ceiling and mimics the whimsical glow of twilight.
Specialties like the Foie Gras Degustation attract seasoned gastronomes, while the restaurant's renowned selection of premium steaks and chops never disappoints. Splurge on the 3- or 6-course tasting menus.
Picasso
The romance of the Picasso, located in the Bellagio, features $50 million worth of original Picasso artwork on the walls. Diners here get to wander through the restaurant between courses to view this impressive collection.
Chef Julian Serrano draws his inspiration from Spain and the south of France, much like Picasso. The food here is dramatic, featuring dishes like warm quail salad with sauteed artichokes and langoustine pulled live from a tank and then grilled and drizzled with porcini oil.
Restaurant Guy Savoy
Foodies flock to renowned chef Guy Savoy's refined spot for imaginative New French tasting menus. Designed to emulate the menu of his Paris restaurant, the Restaurant Guy Savoy Caesars Palace includes many classic Savoy dishes.
These popular menu items include soupe d'artichaut à la truffe noire, brioche feuilletée aux champignons et truffles, and fondant au chocolat. Everything at Guy Savoy is designed to melt in your mouth.
There are many luxury restaurants in Las Vegas. If you're planning your next vacation to revolve around eclectic menus and chef legacies, our list of 5-star restaurants in Las Vegas won't disappoint.
Bon Appetit!