The World In A Suitcase: Carry-On Hacks for Travelers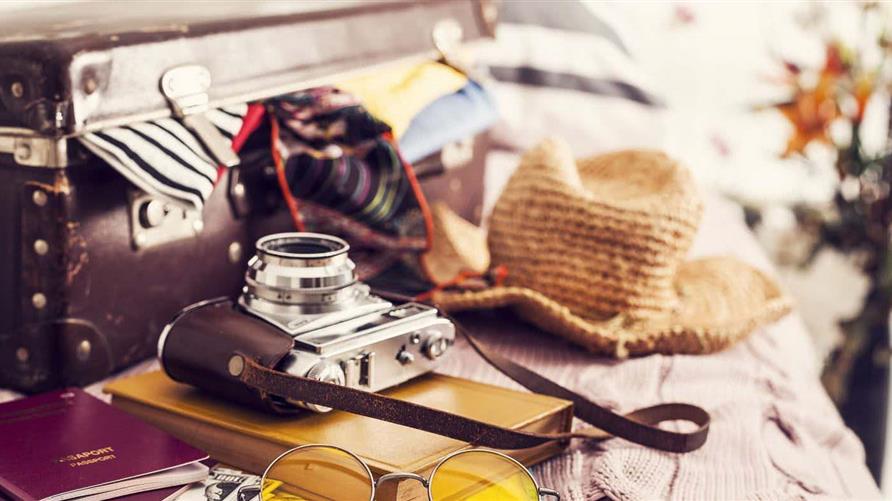 If you're someone who packs half their wardrobe for a weekend trip, checks a 2+ bags and endures the hassles of baggage claim – to each his own, I say.
But if you're looking for ways to limit the bulk, inconvenience and expense of checked luggage, I offer myself as your humble packing minimalist and happily welcome you into my semi-OCD world of carry-on hacks.
Whether away for a weekend or off to Europe for an extended holiday, I travel entirely by carry-on.
With this comes a sense of serenity. Even if some of my plane's checked bags go to Ouagadougou, when my plane is going to Honolulu, I know I'll still be wearing my own underwear the next morning.
Remember, this is a timeshare blog and, the timeshare itself, has a starring role because timeshare units have washers and dryers.
Therein lies the first secret: pack for a week – even for multi-weeks trips – because you're going to wash and reuse everything.
With cost, convenience, certainty, and laundry addressed, let's get down to mechanics.
Full disclosure: I see similar tips in many travel articles. I'm just here to tell you, from experience, that it works.
Three elements, in my opinion, are critical:
Invest in a set of packing cubes.
Use vacuum bags (the kind you can manually compress).
These factors will exponentially decrease your bulk.
From there, learning not to over-pack is basically trial-and-error.
In my earliest attempts, I'd routinely not wear at least half of what I packed. Over the years, though, I've gotten pretty good at this. My methods may be too austere for some, but after a few trips you'll find your own packing Zen.
Other helpful tips:
Use the "largest" bag that still qualifies as a carry-on. I recommend the (slightly smaller) International standard.
Use as light a bag as possible for that size. Carry-ons do have weight limits, so a heavier empty bag is not your friend.
Consider a spinner for optimal maneuverability in narrow aisles.
Complement with a weekend bag that sleeves onto the spinner. My bag of choice is literally called "The Weekender" and can be found on eBags. It also converts to a back-pack. For short trips, it may be all I take.
I pack one pair of my nicest jeans. They suffice for casual, but become dressy (enough) with a nice shirt. Similarly, I pack one pair of shorts. For certain destinations, consider a pair of pickpocket-proof pants/shorts. I found mine at clothingarts.com.
Don't forget to count what you're wearing as part of your inventory. Don't pack jeans or shorts or pickpocket pants if you're already wearing them.
Pack one or two versatile long- and short-sleeve shirts that will work with the bottoms you brought.
Undergarments and socks are easy to over-pack but I would remind you about laundry. I count the undergarments I'm wearing, and pack one more set of each.
Pack a comfortable shoe that doubles halfway decently for dress shoes. I wear my comfy runners, and they double for my work-outs. I rarely pack more than one pair of shoes.
When packing for variable climates, the secret is layering. With a thin, light garment, a compact-able rain layer (e.g., "Mac in a Sac") and a warm layer (e.g., Columbia's "Omni-Heat"), you'll be amazed how much weather you can adapt to. Light gloves, scarf, and beanie complete the ensemble (head/neck warmth is too often overlooked).
Downsize your toiletries as much as possible. I carry the tiniest versions I can find of the things I need – eye drops, cologne, etc. Consider packing toiletry samples. In the "TMI" category, I recently experimented with pre-moistened deodorant pads (check Amazon) instead of bulky sticks. A few dozen pads in a zipper bag take up very little space.
If you take medicine or supplements, buy mini zipper pill bags and load your daily supply into one. These take up very little room and will fit into the "negative space" between clothes.
Lastly, don't be a packing hero: consider buying some incidentals at your destination. As an example, why pack bulky flip-flops that you can buy for a few bucks and throw away when you're done?
One "first-timers" challenge may simply be to pack like you normally would, then step back and challenge yourself to leave half. Repeat that over the course of a few trips and you'll be a proud member of the carry-on club.
Don't miss out on travel news and special offers from Hilton Grand Vacations. Sign up today.