Owner Spotlight: Finding a New Home in New York City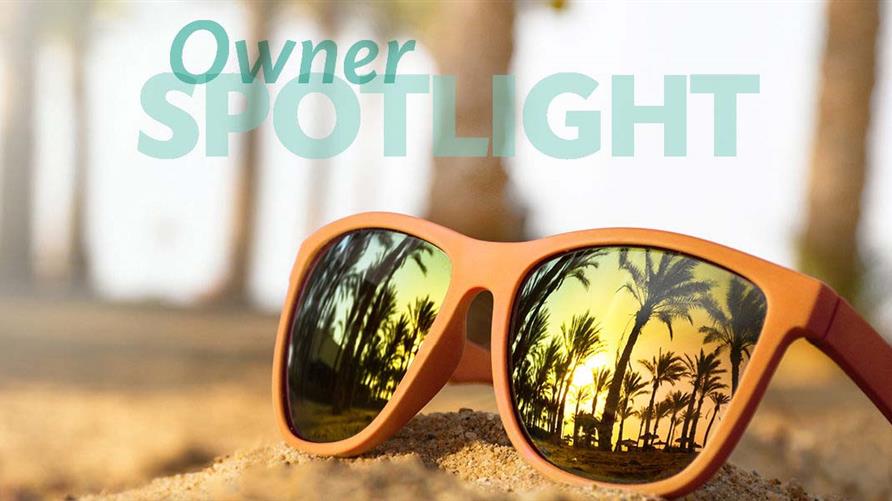 At Hilton Grand Vacations, we have a dream destination for everyone. Whether you prefer white sand beaches, picturesque mountain ranges or a city skyline, you can stake out your ownership in a destination to match your travel tastes.
In this Owner spotlight, we hear from a Member who found herself at home in New York City. When Mary Jo walked through the lobby of The Residences by Hilton Club in New York City, she was welcomed with open arms. And the longer she stayed, the more it felt like home.
Here's what Mary Jo has to say about her vacations in the Big Apple.
Q: What is your history with Hilton Grand Vacations?
Mary Jo: My journey began in Las Vegas as a new Owner at Elara, a Hilton Grand Vacations Club. I soon discovered that I'm less of a sit-by-the-pool person and more of a city person.
I usually travel to New York City three to four times per year. I visited West 57th Street by Hilton Club, and it was a great fit for me. When The Residences by Hilton Club opened, I made the decision to switch my ownership to that property. I still own in Las Vegas, but now I also own in New York City.
I still enjoy traveling to Las Vegas, but I also like to transfer my points to stay at Hilton properties, too. Lately, my home away from home has been Europe, and I love that I can use my points to travel there as well.
Q: Why did you become a Member?
Mary Jo: Travel is my number one passion. With Hilton Grand Vacations, it's comforting to know that I have pre-paid vacations year after year.
My Club membership has helped me discover the world, even though I am still working full-time. Because the days that I'm not working, I'm usually on a plane headed somewhere.
Q: We hear you were the very first guest through the door at The Residences by Hilton Club. Tell us your story.
Mary Jo: Normally, when I travel, I dress on the professional side. But this time, I went to the gym and then hopped on a red eye to NYC in my gym clothes.
I arrived at The Residences at 7 a.m., so I was literally the very first guest to walk through the doors. There I stood in the gorgeous lobby, being welcomed with photographs, flowers and champagne, wearing gym clothes and red eyes!
Everyone was so friendly, and I got to meet a lot of people during my stay. I was so happy to be a part of a stunning new property in Manhattan, and it already feels like a second home.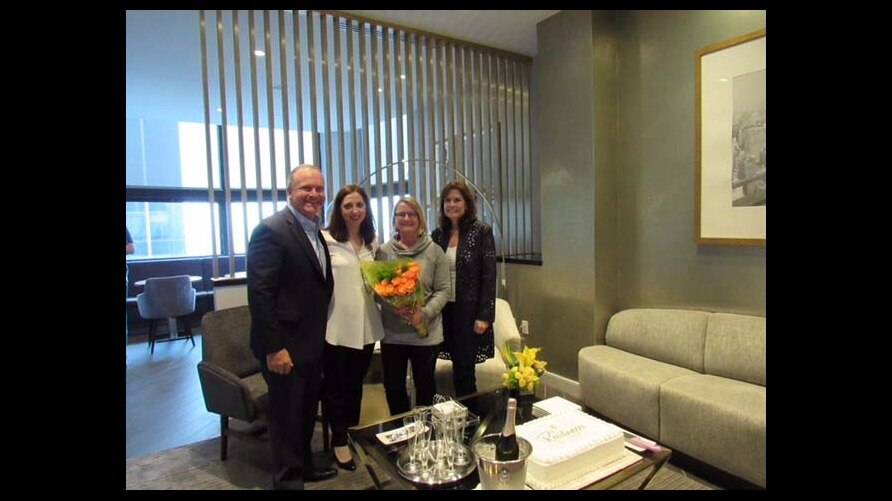 Q: What are some great attractions and restaurants nearby The Residences?
Mary Jo: When I'm in New York, I love going out to restaurants in Chelsea, but there are also so many places to eat near the property. Delmonico's is one of my favorites. If you're in a large group, or are just really hungry, you definitely need to go.
I also go to the theater each time I visit the city, and I love how close it is to The Residences.
Q: What are the things you love most about The Residences?
Mary Jo: I love that this property feels like a hotel. It even has the amenities to go along with it, including a front desk staff and housekeeping. The lobby is social and welcoming, and the rooms are modern with amazing views of the skyline.
But I really appreciate having the comforts of home there as well, like a full kitchen to cook in and a place to do laundry.
Q: Do you have any memories with our Team Members to share?
Mary Jo: No matter which property I'm visiting, I know when I ask a Team Member a question that I'll always get a genuine response. I love how accommodating the Hilton Grand Vacations staff is, and they always know the best places to visit and eat when I'm on vacation.
Q: Besides Las Vegas and NYC, where else have you traveled with Hilton Grand Vacations?
Mary Jo: I like to convert my points to stay at other Hilton properties. I've done this quite a bit to stay with Hilton while I travel through Europe.
More recently, I've utilized the Last Call program with RCI. Since I am a flexible traveler, this was an attractive selling point for me when I first became an Owner. RCI's Last Call Vacations are such an amazing value. The accommodations have all been top-notch, and the price can't be beat.
I booked a trip to Whitefish, Montana to ski and paid less than $300 for the entire week at RCI.
I'd like to plan a trip with my son to the Hilton Vilamoura Vacations Club in Portugal. I would also love to visit the Hawaii properties one day.
Q: Where are you off to next?
Mary Jo: I am leaving for France and the French Channel Islands this week. Auvior!
Visit big cities all over the world
Whatever suits your travel tastes, we have the accommodations to match them. Visit big cities, pristine beaches, international hotspots and more with Hilton Grand Vacations.
Like Mary Jo, you can start wherever you'd like and travel the world from there. Fill out an online contact form or contact us at 800-230-7068 to find the perfect vacation ownership opportunity for you.