Owner Spotlight: How to Make the Most of Your Vacation Ownership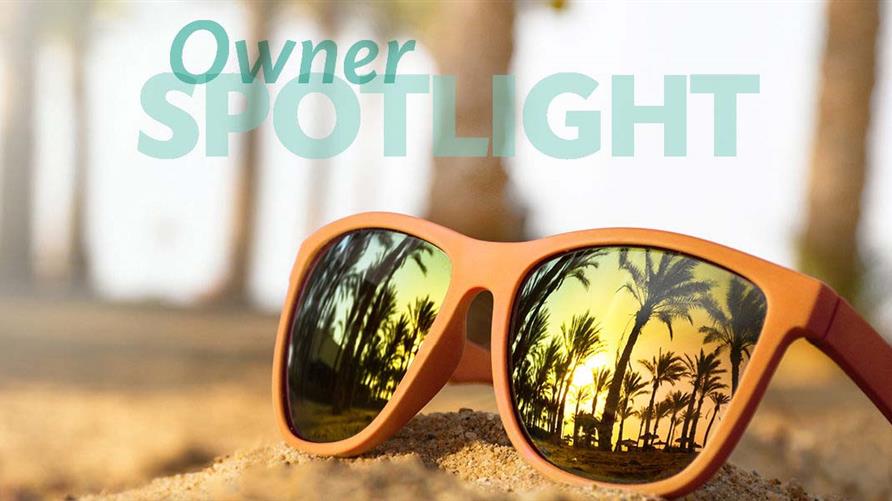 The flexibility of vacation ownership with Hilton Grand Vacations leads to limitless travel experiences. And there are countless ways they can be used to complement your lifestyle.
Learning the best ways to use each perk and benefit takes time and practice. But with a little direction, you'll be one step closer to taking advantage of all that your timeshare has to offer.
In making the most of your vacation ownership, some of the best people to learn from are long-time Owners. Amy D. joined Hilton Grand Vacations shortly after graduating from college – before our first property in Las Vegas was even finished. She knows what it's like to make travel a routine part of life and how to get the most of being a Hilton Grand Vacations Club Member.
Here are some of her tips to help new Owners vacation like a pro:
Q: What is your history with Hilton Grand Vacations?
Amy: My husband and I became Owners back in 1994. We took a tour of the unfinished Hilton Grand Vacations at the Flamingo and decided to make the purchase. We've always loved our Home Resort, but now with the LINQ next door, we have an entire cobblestone village with shops, bars and restaurants to explore.
Q: Why did you become an Owner?
Amy: Vacation ownership was the perfect fit for us. And the opportunity came at the right place, at the right time.
I graduated from college a few years prior and my husband and I knew that vacationing was going to be a priority for us. We love traveling to Las Vegas, so we were thrilled that our Home Resort would be there. Since this is a vacation ownership and not a traditional timeshare, we would have the benefit of traveling to any Hilton hotel, too.
We also love that our ownership is stress-free with great properties, locations and service, so we can truly relax.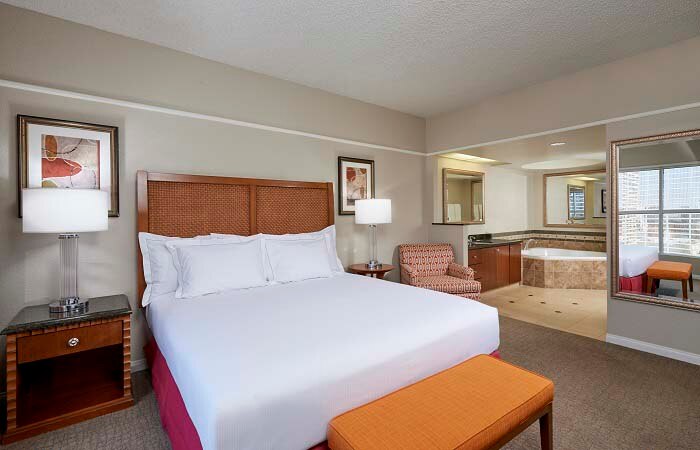 Q: What was your sales experience like?
Amy: I remember the sales experience like it was yesterday. Our sales associate knew exactly what we were looking for and showed us how vacation ownership would be a great resource for us.
He wasn't pushing us to buy into the property. Instead, it was more about how to use the program and see the world.
After the sales presentation, we bought a 2-bedroom unit at the property. We ended up getting Bonus Points when we joined, so we converted them to airline miles to fly to Hawaii. We were already making our ownership work for us!
Q: What other properties have you visited or experiences have you had with Hilton Grand Vacations?
Amy: Vegas is our happy place, and we can't say enough about how much we love our Home Resort. I think we've been at least 20 times in the last 20 years, actually. We love bringing our friends, so we appreciate that we can stay in a larger suite if needed. One trip we stayed in a 4-bedroom unit at the Elara, which was a fantastic getaway.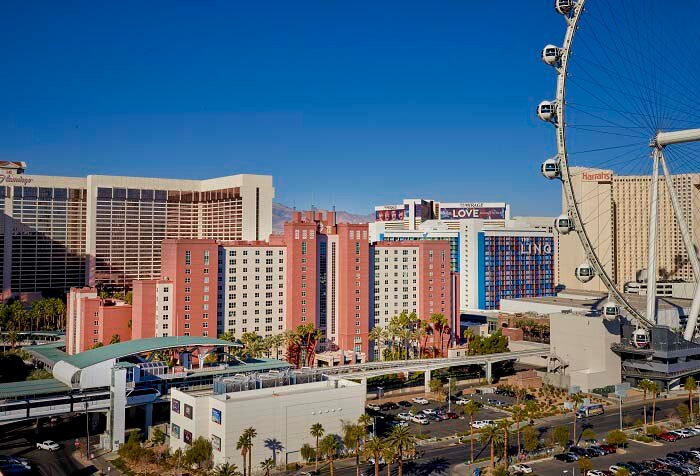 There are a few other ways we've used our ownership:
Stayed at RCI properties. Aside from Vegas, we've exchanged points to stay with RCI in Mexico and Aruba. We know that with a Hilton partnership, RCI properties are going to be very nice and up to our standards. Sure enough, the locations, service, grounds and properties were all excellent.
Traveled to Orlando, Florida. We've traveled to the SeaWorld property in Orlando and Tuscany Village. We were even able to stay in the Penthouse Suite at SeaWorld during one vacation.
Donated ClubPoints to friends. We certainly don't like missing our vacations, but one year we decided to donate our points to some close friends. We used a Guest Certificate to send them to Vegas and Hawaii. We made the arrangements for them, and they had an incredible vacation. It was a great feeling to show others what vacation ownership is like.
Q: Do you have any travel memories that standout among the rest?
Amy: One year, there were eight of us girls – all cousins and sisters traveling together. We took our twin nieces to Vegas for their 21st birthday.
I was able to book two 2-bedroom units at the Flamingo, so we had plenty of space to enjoy each other's company. This trip was beyond special and will always be close to my heart.
This is why vacation ownership is so amazing: You already own the property, so it feels great to say, "I've got this. Let's go to Vegas!"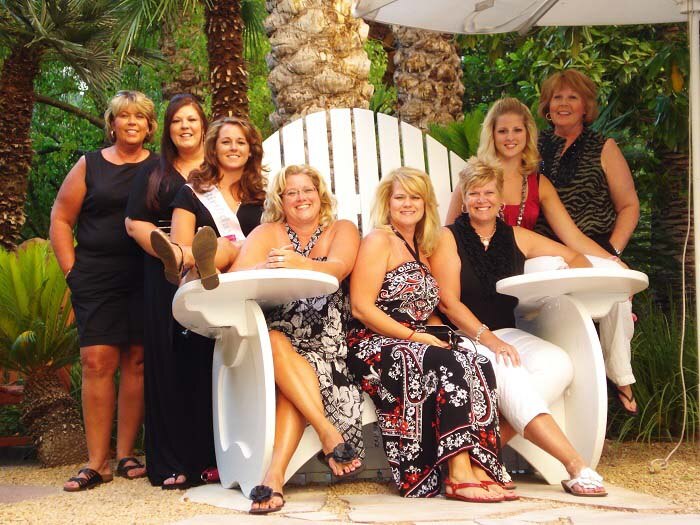 Q: What are some tips you have for new Owners?
Amy: It's impossible to know everything at the beginning. There are so many ways to make the most of your ownership. Here are some things that helped me in my journey:
Plan ahead. Think about your vacation well ahead of time. It makes booking it that much easier, and there's availability if you plan ahead.
Book your reservations online. Hilton Grand Vacations gives you a lot of tools on the Club Member website. Book online to make the process quick and simple.
Be flexible. When you plan a last-minute vacation, be flexible with your dates or location. It's a little bit harder to book on short notice, but it's definitely worth it to squeeze in an extra trip.
Book early. If you want to go to Hawaii over Christmas, book as soon as Open Season begins. Popular destinations fill up fast, so I always make sure I book as quickly as I can.
Build relationships. Talk with Team Members and meet other Owners at the property. The pool is a great place to meet people and we love seeing familiar faces when we return to Vegas.
Ask for advice. Hilton Grand Vacations is a large community, and we're all here for the same reason. Talk to other Owners about how they use their points. They can help you use your membership to find new experiences you may have never thought of.
Educate yourself. Attend Home Resort Owner breakfasts and meetings. These aren't sales pitches. They are informational meetings to learn how to best use your points. We've learned a lot from our Club Counselors, and it's always helped us plan better.
Manage your points. If you can't travel somewhere one year, you can convert your points for other vacations. Try ClubPartner Perks or roll your point balance into the following year to save for bigger trips.
Vacation as much as you can. Take advantage of your ownership as much as possible. It'll give you an excuse to get away and embrace the vacation ownership lifestyle.
Q: Where are you off to next?
Amy: We love to fly to locations and park ourselves on the beach or at the pool, so our next stop is to Hawaii. We'll be visiting Oahu and King's Land on the Big Island. I am so excited to take our son to experience North Shore, Diamond Head and Pearl Harbor.
In the future, we want to go to Valdoro Mountain Lodge in Breckenridge and travel around Scotland.
Get more out of your membership
At Hilton Grand Vacations, we guide you toward the perks and benefits that match your travel goals. With the help of our Club Counselors and your fellow Owners, you'll see how vacation ownership empowers you to travel more and share your experiences with others.
Contact us at 800-230-7068 or fill out an online contact form to make the most of out your Club membership.