What is Your Vacation Destiny?
Take the Hilton Grand Vacations Quiz and Find Out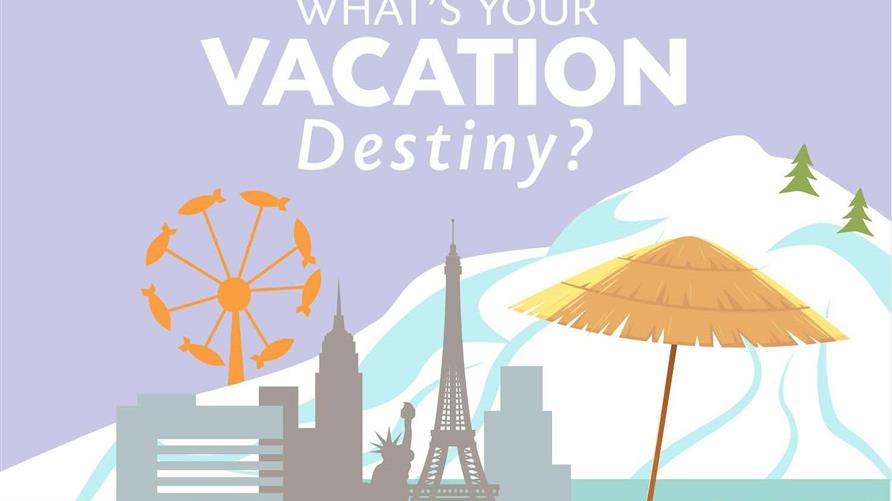 So little time, so many places to visit.
Planning your next vacation can be tricky, and picking the destination can be the hardest part.
Take the Hilton Grand Vacations vacation destiny quiz and we'll help with the guesswork.
How do you like to spend Friday nights?
At home
Dinner and a movie
Out on the town
With family
What's your favorite footwear?
Boots
Barefoot
Designer
Flip flops
You're happiest …
When it's snowing
At the beach
Amidst the big-city lights
By the pool
You like to ____ on vacation.
Ski
Surf
Party
Tan
Indulging is …
Hot cocoa (with whipped cream and marshmallows!) by the fire
Mai Tai's at sunset
An all-you-can-eat buffet
Turkey legs, kettle corn, and ice cream
What can't you leave home without?
Lip balm
Headphones
Spare change
Something to read
You get away to …
Get in on the action
Explore new lands
Live it up
Relax and unwind
Answer Key
Mostly 1's – You're a snow bunny at heart with a lust for outdoor thrills and cozy nights by the fire. Ski on over to Sunrise Lodge.
Mostly 2's – Surf's up! Hit the waves at Lagoon Tower, where you can answer the call of the ocean and find your spirit of aloha.
Mostly 3's – You're a party animal through and through. Live it up on the Strip at the Elara.
Mostly 4's – Bust out your shades and slick on the sunscreen for a stay at Las Palmeras.
Mixed Results – You're up for anything. Try a poolside utopia near Orlando's theme-park thrills.
Vacations That Keep You Coming Back
With Hilton Grand Vacations, discover your vacation destiny in some of the most sought-after vacation destinations in the world.
Learn more by filling out our contact form or give us a call at 800-230-7068 today.