Great American Road Trips Begin with Hilton Grand Vacations
From stretching coastlines on each coast to sprawling deserts, we've got just the route for the ultimate road trip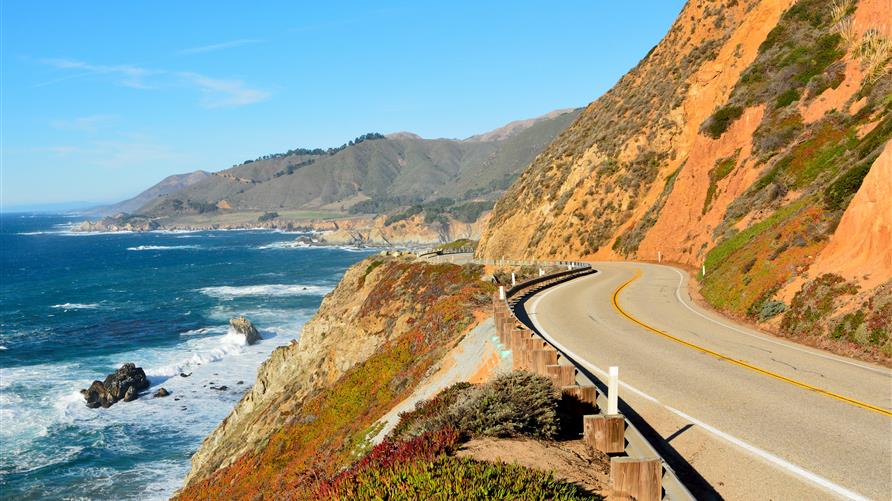 Editor's Note: These are unusual times, and some Hilton Grand Vacations properties are currently closed. No matter what you do, practice safe travels and rest assured we're working around the clock to keep you safe.
Long before travelers had a pandemic to consider, road trips were a top vacation choice. MMGY Global's 2019 annual survey reported that two thirds of travelers polled said they were planning a road trip in the next 12 months.
With 38 Hilton Grand Vacations properties currently open, and countless Hilton hotels, on the United States mainland, great American road trips begin with Hilton Grand Vacations.
If you've got a few days, we've got three can't miss road trip routes to program in your GPS. First up, the California Coast.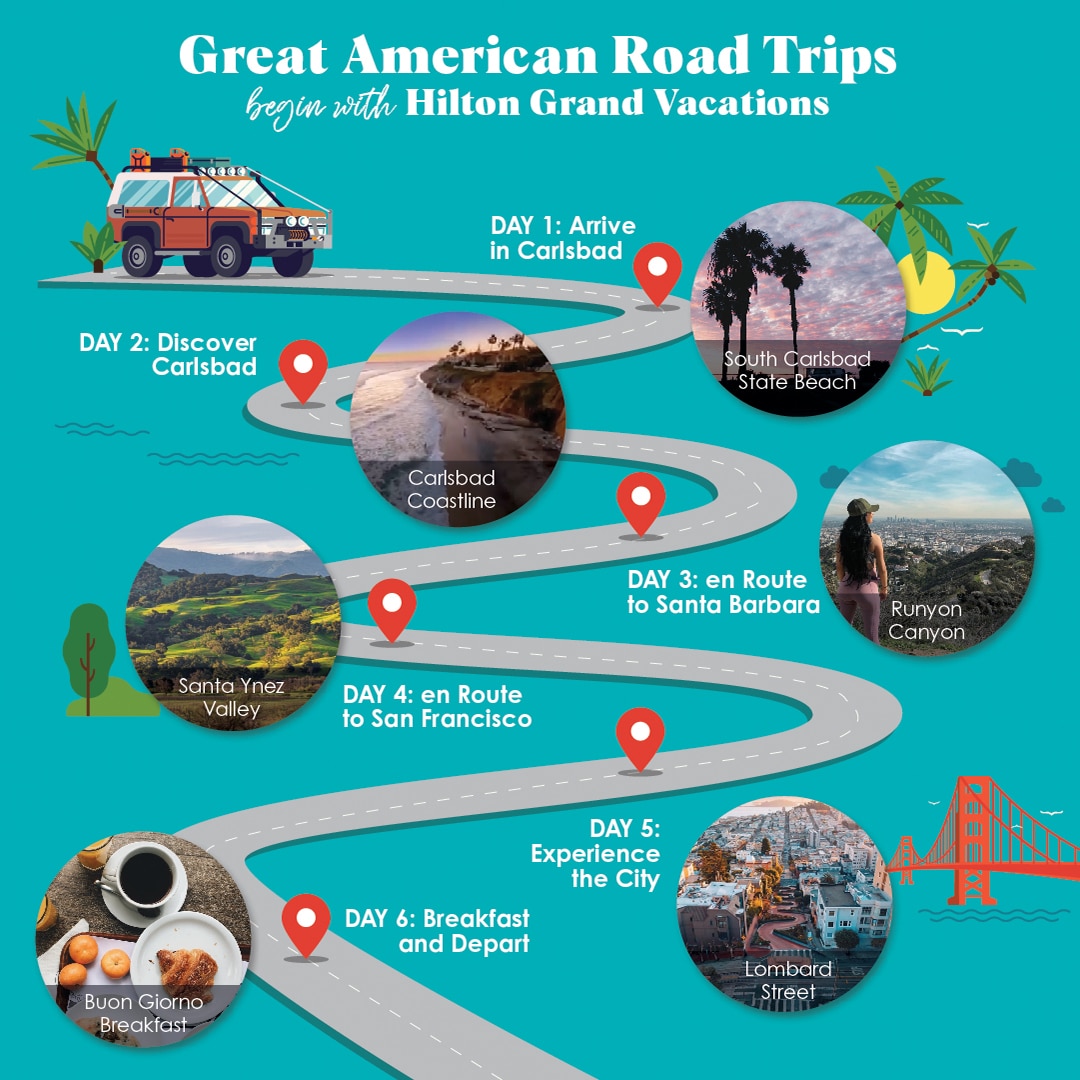 6 Day California Coast Road Trip
Pacific Coast Highway 1, known to locals as PCH1, stretches just over 656 miles along the breathtaking bluffs and idyllic shorelines of California's famous golden coast. With so much to see in the region, we've mapped out our top picks, from attractions to accommodations, for the ultimate road trip.
Day One, Arrive in Carlsbad
Arrive in Carlsbad around noon and tap into the laid-back West Coast vibe. Check-in at our three Southern California Hilton Grand Vacations resorts starts at 4 p.m., so you'll have some time to explore the area.
Stretch your legs and get some fresh air at the South Carlsbad State Beach. Whether you take a stroll or dive right in for a swim, you'll get your fill of vitamin sea.
If you time your trip right, skip the sand and frolic in The Flower Fields instead. Open from March 1 - May 10 each year, the annual bloom of color is a source of local pride and announces the return of spring.
Don't worry if you miss the full bloom experience at The Flower Fields. Head 15 minutes south, and you'll discover 37 acres of natural beauty at San Diego Botanic Garden. The gardens, established in 1961, are home to numerous exhibits. You'll find rare bamboo groves, desert gardens, a tropical rainforest, California native plants, Mediterranean climate landscapes and much more.
Round out the afternoon at one of the many local eateries sure to satisfy any appetite.
Hilton Grand Vacations travel pro-tip: Owners and select guests may be eligible for discounts at attractions and restaurants in the area through the Grand Experiences program. Peruse our local partners before you decide where to grab a bite.
Cap off the evening by checking-in and exploring your resort or just relaxing.
Day Two, Discover Carlsbad
When you stay at one of the Carlsbad Hilton Grand Vacations resorts, you have the perfect launchpad to SoCal.
If you prefer greens or sand, world-famous attractions, or self-care spa days, casual eats or fine-dining, you can easily spend the entire day enjoying your favorite activities.
Plan to spend the night in Carlsbad, where you can rest up, in your home away from home, ready to hit the road in the morning.
Day Three, en Route to Santa Barbara
One of the benefits of traveling with Hilton Grand Vacations is the ability to grab breakfast in your room, or a resort restaurant. Once you've fueled up, take US 101-N, just over an hour and a half, and make your way toward the City of Angels.
Los Angeles' infamous traffic can be an obstacle when exploring the city, so choose one or two of the top attractions and enjoy a light meal before moving on.
Here are a few of our top picks.
Getty Center and Lunch
The Getty Center, one of the top must-see attractions in L.A., encompasses the Getty Museum and other programs of the Getty Trust. Leave the bustle of the La-La Land behind and trek into the hills to spend a few hours soaking in this world-class museum and compound.
Join along one of the free daily tours to enjoy art in a variety of different mediums from pre-20th-century Europe, 19th- and 20th-century America, international photography and Robert Irwin's Central Garden, designed specifically for the Getty Center.
Finish up with lunch at The Restaurant (the actual name) where you can enjoy your meal with a view of the Santa Monica mountains.
Hollywood Boulevard and Runyon Canyon Hike
Lace-up your tennis shoes and grab your camera for an authentic L.A. tourist experience. As you make your way along Hollywood Boulevard, find your favorite celebrity's star, stop by the Dolby Theater (home of the Oscar's) and the El Captain Theater, which is where most Disney movies premier.
Drive or walk (about 15 minutes by foot) to the trail head of Runyon Canyon, and hike into the Santa Monica mountains for breathtaking views of the Hollywood Hills. Don't forget to snap selfie with the Hollywood Sign in the distance.
Santa Monica Boardwalk and Brunch
Experience a little local history at the Santa Monica Pier, which opened to the public in 1909 to provide residents with quintessential seaside fun. Today, visitors can enjoy the beach, amusement park, shops and food.
With your "things to do in Los Angeles" list complete, make your way back to the scenic Pacific Coast Highway.
Just over an hour north of Malibu, in Santa Barbara, check in to the Hilton Garden Inn for the night. Another unbeatable perk of vacation ownership with Hilton Grand Vacations is the ability to use your points to stay at Hilton portfolio brands worldwide.
With a rooftop bar and on-site restaurant (or room service), this Hilton property has everything you need to settle in for the night.
Day Four, en Route to San Francisco
You could hit the road and be in The City, as locals refer to San Francisco by lunchtime. However, we're in favor of savoring the journey.
Deviate from the course and head inland about 43 minutes for an excursion that will satisfy your wanderlust for far-flung lands. Transport yourself to Denmark by visiting Solvang, a Danish-inspired village nestled in the Santa Ynez Valley.
Choose from a wide range of activities to enjoy from live theater to grape stomping. Check out Top 10 Must-See & Do Spots in Solvang to make the most of your time.
Then sit back, put on a podcast and enjoy the scenery on the last leg of your journey to San Fran. Don't resist the urge to get out and explore along the five hour ride, but save your appetite. Once you check-in at Club Donatello*, a Hilton Grand Vacations affiliate resort in San Francisco, you'll have access to rustic Italian cuisine without having to leave the resort.
One of the many reasons you can't beat this 4-star resort nestled in the center of Union Square is the raved about Italian eatery, Zingari, located on-site.
With three unique dining rooms and nightly live jazz music (currently suspended due to the coronavirus pandemic), dinner at the resort will double as an experience. Call ahead to reserve a rooftop dining table for fresh air and city views.
Day Five, Experience the City
Up and down the West Coast, locals refer to San Fran as The City because it is the 16th most populous city in the nation. It's also the 5th most densely populated city in America, coming in just behind four New York City boroughs.
The Bay Area, rich in history, has plenty to keep you busy. Here are our top picks.
The Golden Gate Bridge, towering at 746-feet and painted signature orange, commands attention. It wouldn't be a trip to San Francisco without seeing this iconic piece of architecture.
From lakes to green spaces, Golden Gate Park is home to just over 1,000 acres of unspoiled beauty.
Try your luck driving (or strolling) along the "crookedest street in the world." Lombard Street, known for its eight razor-sharp turns and beautiful landscaping, is one of the most scenic and well -known sites to visit.
Fisherman's Wharf is just the place to experience classic San Francisco attractions. From crab stands to cable cars and sea lions, this iconic section of San Francisco dates back to 1946.
From Fisherman's Wharf, head toward Pier 33, located between the San Francisco Ferry Building and Fisherman's Wharf. Just off shore about 1.25 miles, or a short ferry ride, satisfy your craving for history, and visit the infamous military prison turned national historic landmark, Alcatraz Island.
Wondering where to eat in San Francisco? Opt for open-air seating for which the city has options abound. The food editors at SFGate are regularly updating a list of restaurants offering outdoor dining. Check there before making your choice.
Day Six, Breakfast and Departure
Arguably, the best part of road tripping with Hilton Grand Vacations is knowing you'll end your trip relaxed and well-rested.
Resist the urge to dash out the door, check-out isn't until noon. Enjoy a slow Buon Giorno breakfast, coffee, and an array of assorted pastries delivered to your room each morning from 6 to 10 a.m. Pay a visit to the on-site spa or indulge in a book, cozy on the rooftop while taking in the views before biding The City farewell.
Once you've saved this route, stay tuned for the upcoming Utah to Las Vegas national parks road trip, followed by the low-key Florida Gulf Coast edition.
Read Road Tripping with Kids (and Hilton Grand Vacations) to read one Owner's experience on the open road for a month-long adventure.
*This property is currently closed due to Coronavirus.