10 of the Best Places to Visit in Tokyo
Hilton Grand Vacations recommends some of the best places to visit in and around Tokyo this summer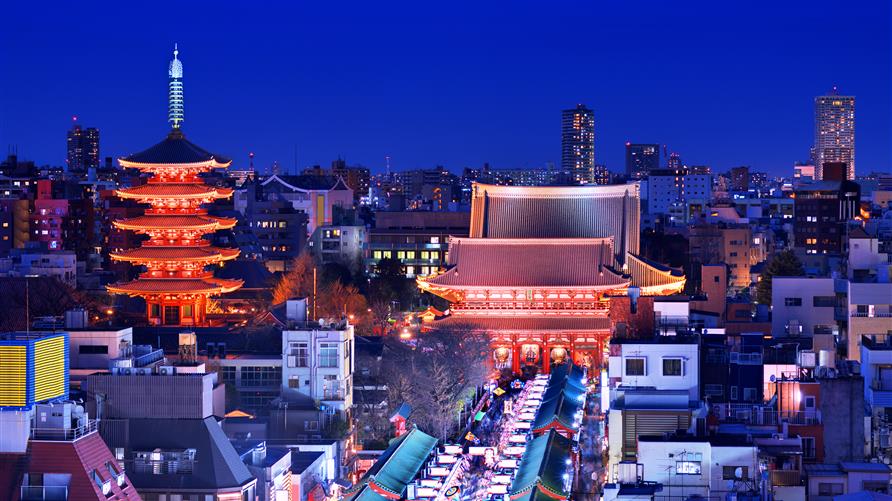 If you are one of the estimated 600,000 people headed to Tokyo this summer, you'll want to plan your time well.
Tokyo is a big, sprawling city, so it's a good idea to create an itinerary of the attractions you'd like to visit on the days you'd like to visit. Here are 10 things to do during the Tokyo getaway.
1. Take a Futuristic Ride on the Hotaluna
Tokyo's waterways are a fantastic way to reach popular places in the city. Try taking a ride in the Hotaluna, which runs from Azumabashi Bridge, in Asakusa, via the Hinode Pier to Odaiba Seaside Park. The roof in this futuristic vessel converts into a promenade deck where passengers can enjoy a view of the Port of Tokyo.
2. Catch a Sumo Match
Head over to Ryogoku Kokugikan, an indoor sumo stadium, and get tickets to a sumo event. If you are keen to see sumo stars up close, sign up to catch the early morning sumo training. You can also experience sumo through a group tour with Magical Trip, which offers tours most mornings.
3. Explore Historic Asakusa and Ancient Temple Senso-ji
The historic neighborhood of Asakusa and its main attraction, the sacred temple, Senso-ji, are a must-visit. This unique area will take you back to old Japan, especially if you stroll the Nakamise shopping street. Nearby is Hanayashiki, the oldest amusement park in the country.
4. Become a Fashionista in Harajuku, Omotesando and Aoyama
Visitors can explore the fashionable Harajuku, Omotesando, and Aoyama in a single day. Explore the unique fashions of Harajuku, and the Takeshita-dori or admire the stunning architecture and shop high-end brands in Omotesando. Finish your day perusing art galleries and cafes of cultured Aoyama.
5. Cook Like Local in a Japanese Culinary Class
Step into a Japanese home and experience an authentic cooking class that will change the way you think about ramen, sushi, bento, and udon. The company, airKitchen, transports you into the households of friendly locals, where you will learn about choosing nutritious ingredients, healthy cooking methods, and the Japanese way of life. Every host has a different specialty and character, so you'll be guaranteed a unique experience.
6. Relax at a Hedgehog Cafe in Hip Harajuku
Harajuku is one of the most popular districts to visit in Tokyo, filled with Instagram-worthy cafes and shops with eye-popping creative snacks and drinks. One of the most unique places to visit in Tokyo is the Harry Hedgehog Cafe in Harajuku. Enjoy a warm drink while cuddling up to a cute little hedgehog that you can hold in the palm of your hand.
7. Unwind at an Onsen
Relax those muscles by sliding your body into an onsen, the hot springs of Tokyo. There are many facilities around the hot springs, so there are plenty of opportunities to unwind.
8. Enjoy the View from the Tokyo Skytree
The tallest building in Tokyo, the Tokyo Skytree, has two observatory decks - one at 1,150 feet, and the other at 1,475 feet. The Skytree is the perfect place for a photo , or a genuinely terrifying experience if you are afraid of heights.
9. Travel Back in Time at the Imperial Palace
The Imperial Palace, home to the Emperor of Japan, is an architectural masterpiece. Check out the impressive, moats and stone bridges, and feel awestruck by this ancient structure amidst the modernized buildings of Tokyo.
10. Chill Out in Inokashira Onshi Park
Inokashira Onshi Park is a vast space, including a paddle-boating pond, a zoo, and a fabulous place to view cherry blossoms in the spring or colorful in the autumn. The famous anime Ghibli Museum is located at the tip of the park.
Where to Stay in Tokyo: The newly renovated Hilton Tokyo in the heart of Shinjuku
There are so many great places to visit in Tokyo. Since Japan has so many other worthwhile places to visit outside of Tokyo, read on to learn about Odawara just a train ride away.