Best Multi-Gen Travel Destinations: Park City Edition
A multigenerational vacation to this historic mining town is solid gold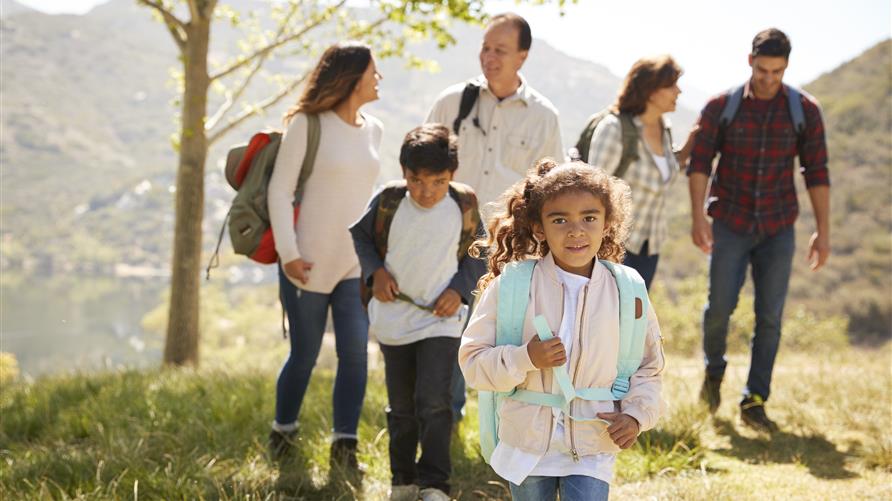 When you hear "it takes a village" one conjures images of older generations and support systems coming together, to tackle the day to day responsibilities of raising younger generations. However, it should also fuel your wanderlust for the ultimate vacation.
According to AARP multigenerational travel research, 98% of travelers who took multigenerational trips were highly satisfied. That's a lot of happy families.
Add a Hilton Grand Vacations timeshare at Sunrise Lodge in Park City, Utah into the mix and multigenerational travel gets even better. With spacious accommodations ranging from Studios to 4-bedroom suites and plenty of year-round activities, there's something for every generation to enjoy.
Here's the Hilton Grand Vacations "things to do in Park City shortlist" for each generation.
Baby Boomers
Take a stroll along Historic Main Street and window shop the many boutiques and shops, enjoy a beverage or bite at one of the many restaurants or pay the Park City Museum a visit for a peek into this old mining town's rich history.
Get into a creative state of mind and join along for the "Last Friday Gallery Stroll," where more than 20 art galleries along Main Street open their doors to the public for free.
For Boomers looking for an invigorating day, lace-up your hiking boots and head out for a day hike on one of the many mountain trails in this outdoor haven.
Gen X and Millennials
Adventure-seeking Millennials (20 and 30-somethings) and Gen Xers (40 and 50-somethings) will fit right in. This town in the wild-west is home to a wide range of year-round activities.
Cool off during the summer months by riding the rapids of the Weber or Provo Rivers. If white water isn't your thing, check out the tubing options for a laid-back vibe.
For a more authentic western experience, saddle up to explore the area equestrian style.
Travel pro-tip: visit from mid-September to early-October to experience the visual delight of fall colors on a ride through the mountains.
If you visit Park City, home to 7,300 acres and 341 trails, from December through March, shredding the slopes is always an option. Arguably one of the biggest draws of (ski-in) Sunrise Lodge is the location, which is right at the base of the Sunrise lift.
Generations Y, Z and Alpha
Focus the energy of the youngest of the bunch toward activities that help them explore Park City through playfulness and fun.
When you stay at Sunrise Lodge, you're centrally located to Olympic Park, site of the 2002 Winter Olympic Games. Just shy of 400 acres, this multi-use compound offers activity packages like the Jumpside Pass and Trackside Pass, which give the big kids in the group two-hours to channel their inner Olympian through a variety of different obstacles and exercises.
Immerse the youngsters of your group in nature at the Swaner Preserve and EcoCenter's family programs. They'll enjoy an educational show hosted by a naturalist and maybe even get to touch or hold animals.
For an interactive and creative experience, get your hands dirty at the potter's wheel during a visit to Kimball's Art Center.
Multi-gen travel pro-tip: bonding over a masterpiece creation is a memorable experience for grandparents and their grandkids.
Winter trips are the perfect opportunity to engage the kids and those who never grew up in classic snow games. Have a snowball fight, make a snowman or have a family snow tube race.
Explore the many benefits of Vacation Ownership with Hilton Grand Vacations
In addition to ideally located and well-appointed accommodations, Hilton Grand Vacations timeshares use a flexible points-based system that makes it easy to plan trips for the whole family.
Best Multi-Gen Travel Destinations: Myrtle Beach Edition for more multi-generational travel inspiration.