Hilton Grand Vacations Travel Hack: Pack With Purpose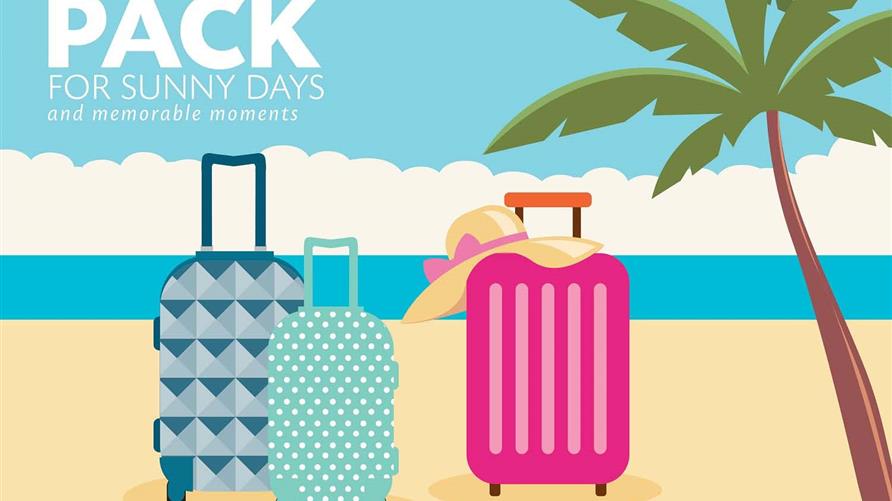 You can't stand packing. Us too. It's one of the last errands on your to-do list before you can enjoy your vacation … that's after navigating your way through never-ending airport security lines and riding the baggage claim carousel in search of your luggage.
But fear not. We've never met a travel hack we didn't love, so we're sharing a few of our favorites to help you save space, time and peace of mind. No sitting-on-your-suitcase-so-it-zips stress needed!
Packing Hacks from Hilton Grand Vacations on Vimeo.
Roll your clothes, don't fold them
They'll look like Swiss rolls. It sounds weird. But trust us. It saves way more room in your suitcase, so you can pack that extra pair of shoes you thought wouldn't fit. Rolling your clothes also prevents wrinkles. Because who likes to iron while on vacation?
Use your carry-on bag wisely
It happens to the best of us. You've arrived at your destination and you're one cab ride away from hopping into the resort pool. But – your luggage doesn't show up for the occasion. Enter: your trusty carry-on bag. Don't over stuff it with magazines and snacks for the plane. Load it up with a spare change of clothes, toiletries, and valuables like passports, credit cards, and travel documents.
Think multipurpose
Going someplace hot? This next travel hack is for you. Use a soft cooler tote as a toiletry bag. Seriously! It'll keep your soap and shampoo safe and snug while you travel; then unpack them and use the cooler to keep your drinks cold while you lounge by the pool. No more leaky suntan lotion, lots more room for a few extra cold ones. This travel hack is a win, win!
Share suitcases
Speaking of lost luggage, consider divvying up your clothes among multiple bags when you're going on a long-haul trip. That's right, the mantra "sharing is caring" goes beyond the extra bag of peanuts you'll score on the flight. We recommend portioning your belongings among family members and travel buddies so that everyone has something to wear in case your checked bags go missing.
Lighten your load
Try not to overload your cases (do you really need 10 pairs of pants?). Instead of having to rifle through your personals at check-in and squish them in an over-priced roll-on bag from Duty Free, pack fewer clothes to begin with. Go for separates you can mix and match, then wash them throughout your stay using the complimentary laundry facilities available at most Hilton Grand Vacations resorts. You'll still look stylish and have more space for souvenirs on the way home.