Owner Spotlight: A Once-in-a-Lifetime Hawaiian Vacation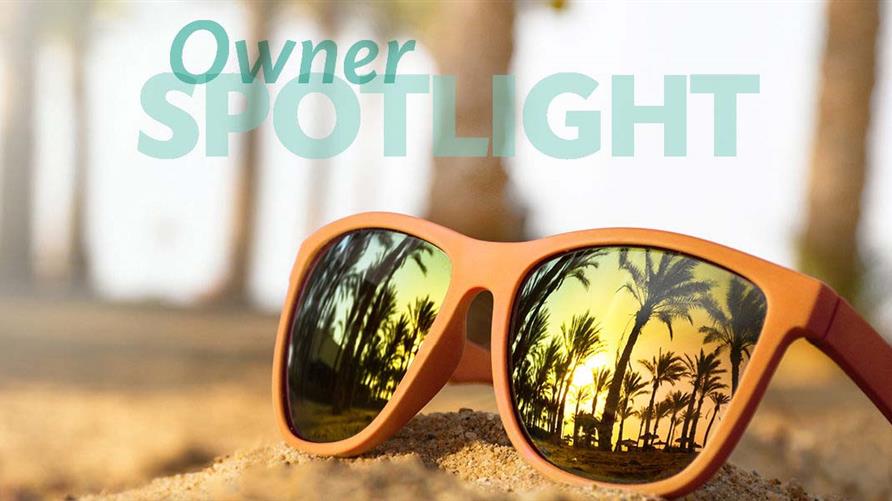 Many travelers dream of experiencing the blue waters, island sun and rich culture of Hawaii. If you're thinking of treating your family to a Hawaiian vacation, you'll be particularly interested in our conversation with the Tomlinsons.
The Tomlinsons were our first guests to check in at the Ocean Tower by Hilton Grand Vacations Club on the Big Island of Hawaii. Here's a first-hand look at their experience with Hilton Grand Vacations.
Q: What is your history with Hilton Grand Vacations?
Gayle: Our story began with my sister. She owned several timeshares with RCI and invited my husband and me to travel to Las Vegas with her in 1995.
We ended up attending the presentation for the Hilton Grand Vacations Club at The Flamingo, and we bought right then and there. Since then, my sister has said over and over again how incredible our ownership is with Hilton. We think she was a bit jealous.
Q: Can you talk about your recent stay at the Ocean Tower property in Hawaii?
Gayle: We were supposed to be in Kauai during this particular trip; not the Big Island. I booked our Kauai reservation well in advance and we were, of course, excited to explore an island we haven't traveled to yet.
Sadly, my sister was diagnosed with cancer and passed away two weeks before our trip. So we made the decision to cancel our trip to Kauai.
That same week we got an email about the new Ocean Tower property. My husband and I looked at each other, and we knew this felt right. My sister was also passionate about travel, so we felt that relaxing in the beautiful, serene surroundings could help us begin the healing process.
We booked our new trip to Hawaii, this time with our extended family at the Hilton Grand Vacations resort. We knew no matter the property, we could all reminisce about the wonderful memories we shared with my sister – together as a family.
Turns out, on arrival to Ocean Tower, we were the first-ever guests to check in. In true aloha spirit, the front desk agent greeted us with beautiful fresh leis and a fruit basket in our room.
Q: Can you describe the beauty of the property?
Gayle: We walked right into heaven at Ocean Tower. The first thing we saw was the modern Hawaiian bathroom. The lava sink and glass rainwater shower took our breath away. Our ocean-view suite was indescribable. Our suite smelled brand new, and it was special to think that we were the very first people to stay there.
The bedroom felt like we were in the captain's suite on a luxury cruise ship. The beautiful headboard and plush bed completed the authentic island resort feel. A giant flat screen TV was hung perfectly on the opposite wall. When we closed the barn door in the bedroom, our room was so dark and quiet. We had the best sleep ever during our week there.
In the morning, we enjoyed a peaceful breakfast overlooking the mountains of Maui. After we ate, we could walk right out of our room to enjoy the ocean or the most beautiful golf course we've ever laid eyes on.
Q: How was the hospitality at this brand-new property?
Gayle: The staff at Hilton Grand Vacations resorts are like family to us. After spending a week there, we felt like we were all friends.
We even shared some of the fruit from that giant fruit basket with the ladies at the front desk. We enjoyed spending time with everybody, and the conversations always felt real.
Q: What activities did you enjoy during your stay?
Gayle: Our main goal was to decompress and relax, and we certainly accomplished that. We also ate a lot (and we mean a lot) of pineapples.
Our favorite activity was walking next door to the Hilton Waikoloa and watching the dolphins play. Ocean Tower is connected to the Hilton, so guests can enjoy everything that the resort offers. We loved spending our days walking around the tropical grounds and enjoying long dinners together at Nui Italian.
Q: Where else have you traveled with Hilton Grand Vacations?
Gayle: We've traveled to the Big Island and Oahu several times with Hilton Grand Vacations. But one of our favorite trips was staying in the property by the Queen's Castle in Scotland. Princess Diana used to swim with her boys right there. We loved the serenity of this resort.
We live in California, so we love going south to San Diego to the SeaPointe and MarBrisa resorts. We also had a great vacation in Florida. There were so many resorts to choose from, so we ended up touring all of them during our holiday. We got to stay at the SeaWorld property, which was fabulous.
We've also exchanged our points to stay at Hilton hotels. So far, we've traveled to Whistler, Seattle and New York.
Q: We hear you have a big 50th anniversary trip planned?
Gayle: We have five children and 17 grandchildren, so I made arrangements for everyone to meet for our big anniversary at Hilton Grand Vacations Club at MarBrisa. We are celebrating next June.
I love being able to spend time with my family members and give them different vacation options. These vacations allow us to make long-lasting memories together.
We don't see ourselves slowing down, either. We've already booked another trip back to the Big Island in two years. We really want to travel to Canada, New York and Park City, too. So it's time to start planning!
Own your Hawaiian dream vacation
Don't make your dream destination a one-time trip. If Hawaii is your ideal vacation, becoming an a Hilton Grand Vacations Owner can help you make memories there for a lifetime. And you'll always have the freedom to explore any of our other Club resorts around the world.
To own a piece of your dream destination, contact us at 800-230-7068 or fill out an online contact form.