Owner Spotlight: Feel Like Family with the Palmbys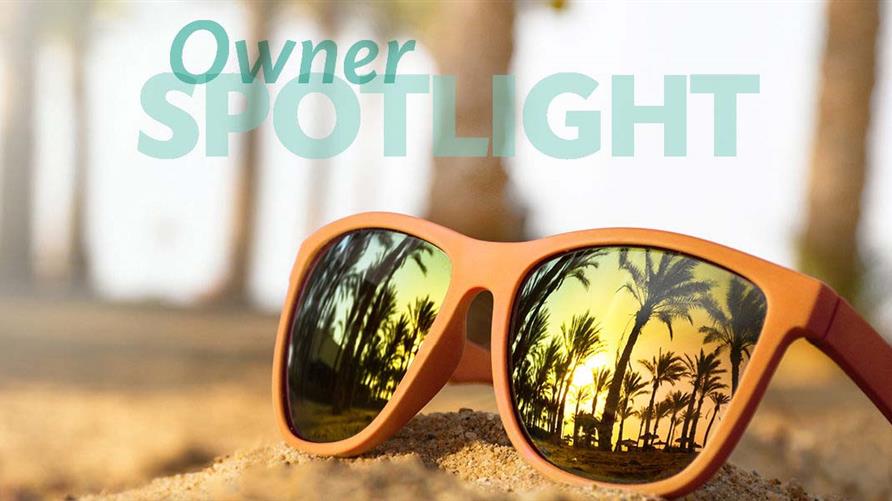 At Hilton Grand Vacations, our top priority is the experience of our Owners. By putting your love of travel first, we help a vast community of travelers uncover memorable vacations year after year.
We recently had the pleasure of speaking with the Palmbys, two Owners whose passion for vacation is both heartwarming and contagious. And they're the perfect candidates to talk about the joys and value of vacation ownership.
Here are a few of the Palmbys' most cherished memories as part of the Hilton Grand Vacations family:
Q: What is your history with Hilton Grand Vacations?
The Palmbys: We never intended to purchase a timeshare. We were Hilton Honors members and were offered the 3-night/4-day package with Hilton Grand Vacations. We were traveling to Las Vegas and decided to try it out.
During the presentation, we discovered a whole new way to travel. Once we realized that we could travel the world and stay in beautiful properties with full kitchens and space for the family, we were sold.
Q: Why do you enjoy most about vacation ownership?
The Palmbys: Vacation ownership has become part of our retirement program. We love to travel and we use all of our points every year. We also enjoy having the flexibility to bring family and friends with us.
The reservations team is amazing and very easy to book with, although we are booking online more and more. If we need a 2- or 3-bedroom suite, using our points to book larger accommodations is simple.
It's so nice to feel at home on vacation without having to worry if something stops working, too. The maintenance and engineering staff are very responsive to us.
Owning with Hilton Grand Vacations is much more than owning a second home. It's part of our lifestyle. We've built a community of friends on our vacations. And it's nice to be able to invite the people we meet over to our condo for dinner.
Q: What does the word "timeshare" mean to you?
The Palmbys: In past generations, it had a different meaning. You bought into a specific property and unit that you had to stay in during the same time each year.
With Hilton Grand Vacations, it just isn't that way at all. It's a vacation ownership, a club and a community. You can go anywhere in the world. You can use your points to stay at any Hilton Grand Vacations property. But, you can also stay at all the hotels in the Hilton family of brands.
You can even use your points to rent an RV, go on a cruise or rent a sailboat – the possibilities are endless.
The experience of being a Hilton Grand Vacations Owner allows us to travel and join others who share our love for vacations.
Q: What are some of your favorite vacation destinations?
The Palmbys: Our favorite is Hilton Grand Vacations at SeaWorld. The staff is very welcoming and many have worked on the property since it opened. They're like family, and the resort feels like a home. One time, we checked in during December and didn't check out until March!
We also love the Breckenridge property. The resort is gorgeous and the town has so much to offer its visitors. We'd love to use our points to travel to Italy and Scotland, eventually.
Q: You recently hosted a Team Member appreciation holiday party. Can you share more about why you did that?
The Palmbys: Although we say thank you whenever a Team Member checks us in, mixes a great cocktail or fixes something in the condo, there are many other Team Members who work behind the scenes. We wanted to show them how much we appreciate how hard they work for us.
We talked to management and explained that we wanted to show our appreciation. I think they were surprised at first but happy that we wanted to do something for the entire staff. Everyone likes to feel appreciated, and we think this staff deserved it.

Mrs. Palmby: One of my favorite things is laying in a freshly made bed at night after a long day of relaxing by the pool. I often think of the people who work tirelessly to make sure our sheets are cleaned and pressed so the housekeeping staff can make our beds. This is just one example of the people who don't get to see how much we appreciate what they do day in and day out. Our holiday appreciation party was complete with an array of food, beverages and sweets for every Team Member, seen or unseen, to enjoy.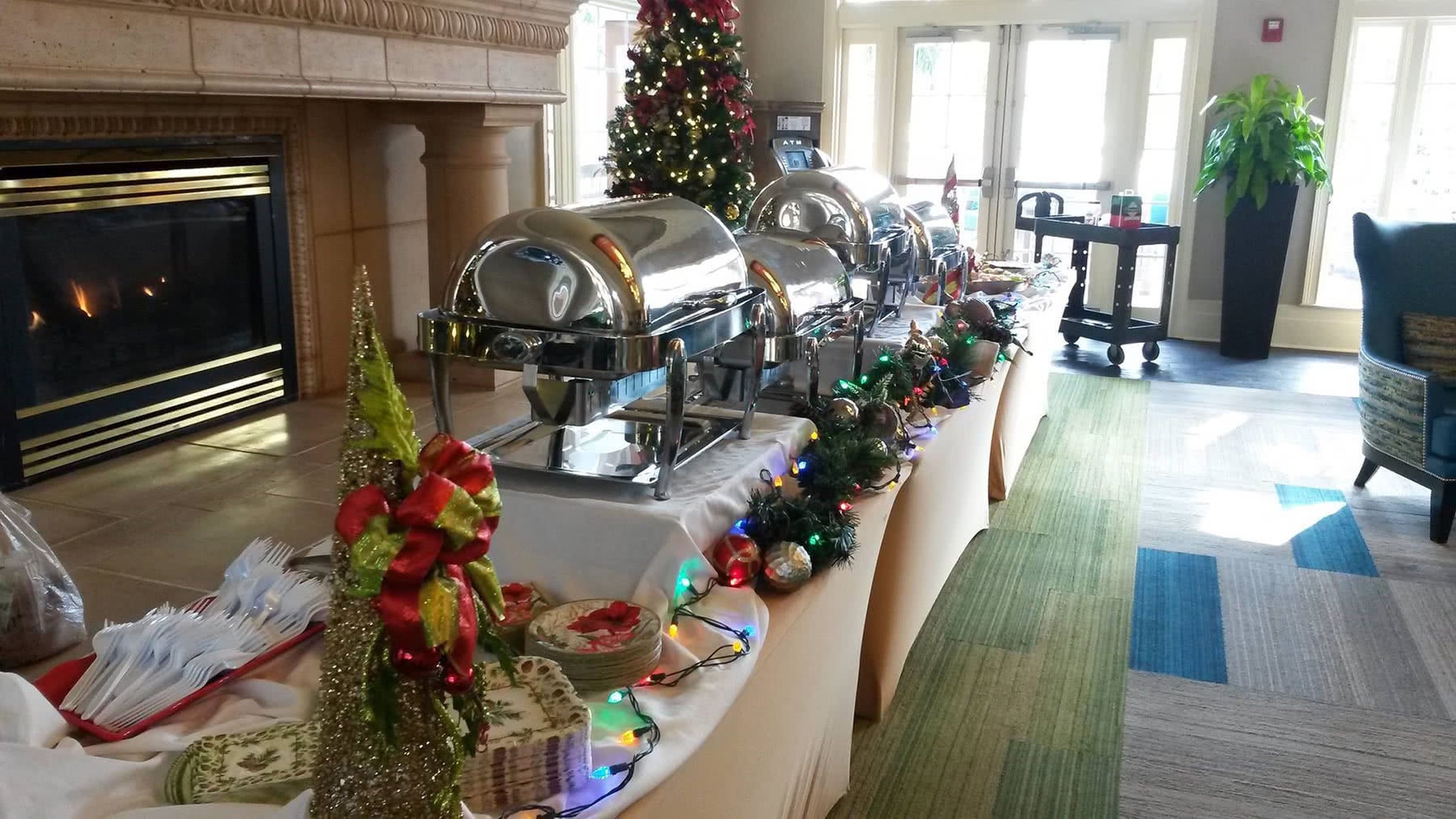 Q: What perks do you get with Hilton Grand Vacations ownership that you can't find elsewhere?
The Palmbys: First off, the staff. The entire staff works hard and is very friendly. Yes, the properties are impressive but having a staff that bends over backwards for their guests is irreplaceable.
Also, the consistency. The properties are gorgeous and safe. And the activities, amenities, and once again, the Team Members, are consistently wonderful. There are many activities for families to share together, too. For example, at the SeaWorld property, there is a mermaid and shark fin swim program at the pool and a movie theater.
Since Owners buy points and not a specific condo unit, you increase your benefits as you own more points. We started small and are now Elite Premiere members, so we receive a 10% discount on food and beverages and there are no reservation fees.
Q: Can you share tips on how to use your points?
The Palmbys: The best way to use your points is at a Hilton Grand Vacations resort. You can also easily convert your points to stay at any Hilton hotel.
If you want to travel with friends or family and need more space, use points to upgrade your room size.
Points can be used on different travel experiences as well. Rent a sailboat in the Caribbean or visit national parks in an RV. If you have any questions, just call the reservations team and they'll help you plan your trip.
Q: Why should a traveler own with Hilton Grand Vacations?
The Palmbys: Vacation ownership is truly a cost-effective way to travel. For us, the kitchen is what makes this work both financially and for our health.
The full kitchens are beautiful and we have everything we need to cook like we're at home. If you stay in a hotel for a few weeks then you have to eat out for most of your meals, which can get expensive. It's also nice to be able to sit around the dinner table with your loved ones.
A common theme of owning with Hilton Grand Vacations is family. You have the space and amenities to travel with your family, but the people you meet on your travels feel like family, too.
Join the vacation ownership community
The Palmby's stories are just one example of the experiences you can have with Hilton Grand Vacations. We'd love to have you as a part of our family, too.
To join travelers like the Palmbys, fill out our online contact form or call 800-230-7068 to start your journey with vacation ownership.