Destination Bali
Getting away from it all on the beautiful island of Bali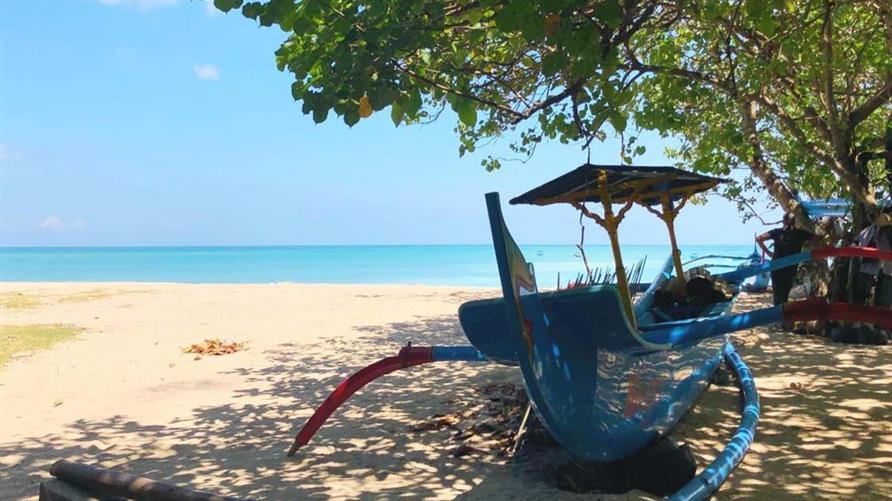 Bali is a perfect destination for beach vacations, known for its culture and most of all its friendly and welcoming people.
There are three main tourist areas offering a unique Balinese vacation experience along with an almost endless list of restaurants, beach clubs, temples, ancient sites and cultural activities.
Kuta Region
Kuta, Legian and Seminyak
The most popular tourist area of Bali is made up of three towns, Kuta, Legian and Seminyak.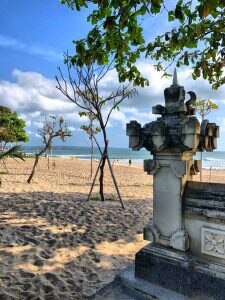 At the Southern end you have Kuta, the original Balinese party town with sprawling resorts, nightclubs, bars, restaurants and a massive shopping and market precinct.
Aimed more toward the younger traveler, Kuta offers the most cost-effective accommodation of the three towns.
Kuta beach is a wide sandy beach, great for lazing in the sun with surfable waves, appropriate for beginners. The nightclubs and bars of Kuta are known for their raucous parties. Kuta is home to Bali's award-winning waterpark, Waterbom.
Next is Legian, the family town. With huge resorts and villas, a great swimming beach and a more relaxed market and dining area, this is a favorite for families. Quieter than Kuta but still with its own unique vibe, Legian offers some great market shopping as well as on the beach bars and live music.
At the northernmost end lies Seminyak, known for its luxury resorts and villas, lavish beach clubs and high-end restaurants, it is the place to visit for relaxation, delicious food and lots of shopping!
Seminyak has blown up over the last 5 years with world-renowned chefs collaborating with local restaurant owners, brand new beach clubs and high-end shopping. It is also known for handmade leather shoes and handbags, made to order by local artisans and still has vibrant markets for local gifts and produce.
Nusa Dua
Nusa Dua is a gated resort community in Southern Bali with high-end resorts, a world-class golf course and beautiful white sandy beaches. It is a great location for those looking to get away from the hustle and bustle of the more northern Kuta, Legian and Seminyak and wanting to explore the amazing beaches and temples close by. Nusa Dua has a small shopping precinct with a mix of name brand shops and markets along with restaurants serving a vast variety of cuisines.
Nusa Dua is home to the Conrad by Hilton Hotel.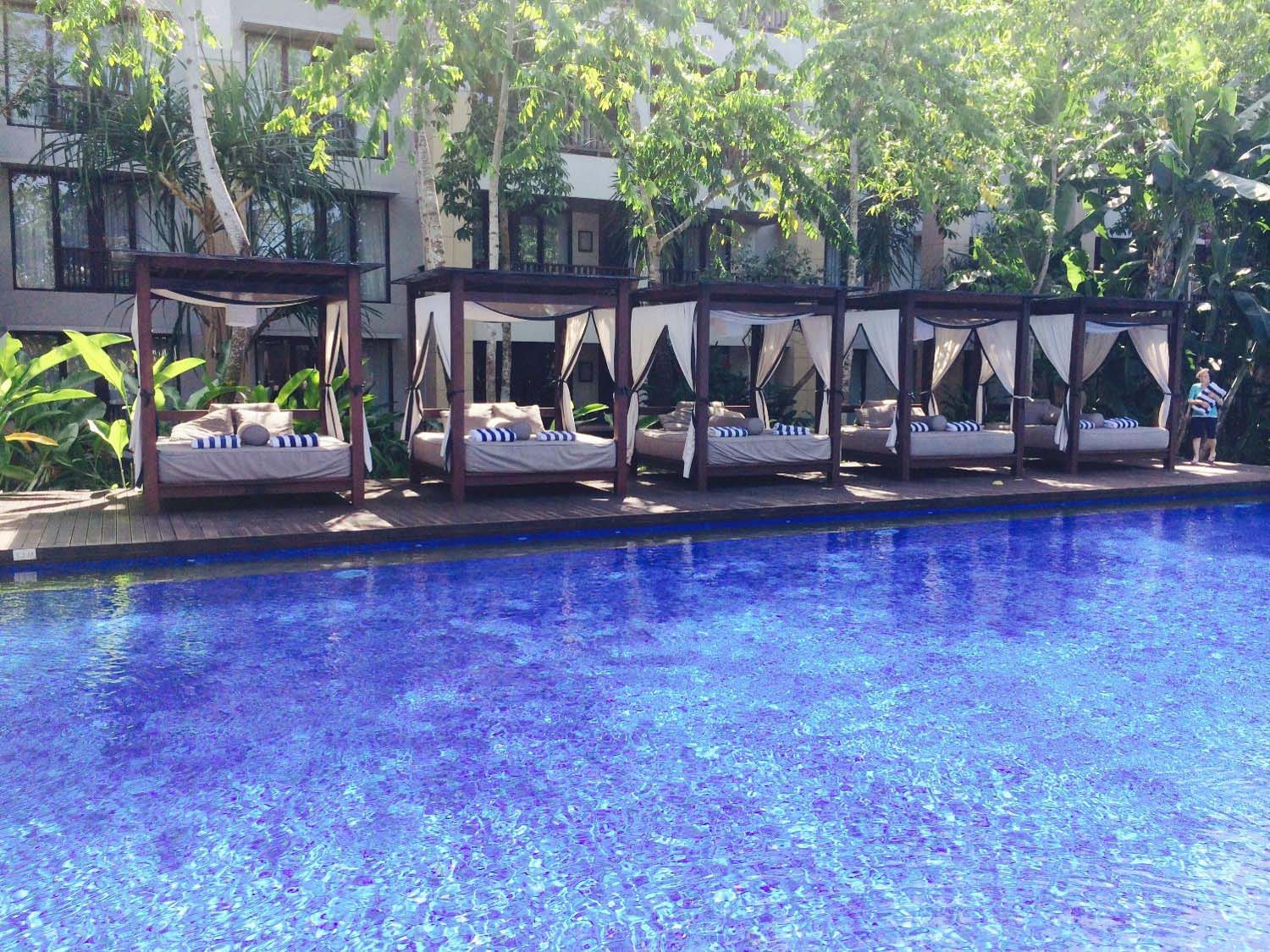 Ubud
Ubud is known as the culture capital of Bali because of its traditional dance and crafts, resorts that focus on health and well being and its ancient holy sites. It has many art galleries dedicated to traditional art and culture and has a thriving market atmosphere selling high-quality handmade jewelry and crafts.
About an hour inland and into the mountains, it is a lot cooler in Ubud than in the beachside towns. Visit or stay in Ubud to get a more traditional Balinese experience
Pro Tip: Swap your HGVC points into RCI or HiltonHonors points to stay at a number of destinations in Bali including the 5 Star Conrad in Nusa Dua.
Off the Beaten Track
Outside of the main areas are plenty of must-see attractions both natural and manmade. Be sure to research before you go or you may miss some once in a lifetime experiences.
Uluwatu is considered one of the best surf spots in the world and the little village carved into the side of its cliff face is a spectacular place to watch world-class surfers do their thing.
Getting out into the Balinese countryside can be breathtaking. You can do this with a driver for the day or on an ATV or horseback tour.
There are temples and ancient sites all over Bali just waiting for you to find.
Dining
Bali has some amazing restaurants and bars from hole in the wall eateries to Michelin star restaurants, you will be spoiled for choice. There are many restaurants dedicated to traditional Balinese cuisine including Nasi Goreng (traditional fried rice with a fried egg on top) and Babi Guling (traditional whole pig cooked over an open flame) as well as Mexican, Italian and Japanese eateries.
Try Motel Mexicola for fun Mexican or GiGi's Supreme Slice for great (and cheap) Italian both located in Seminyak.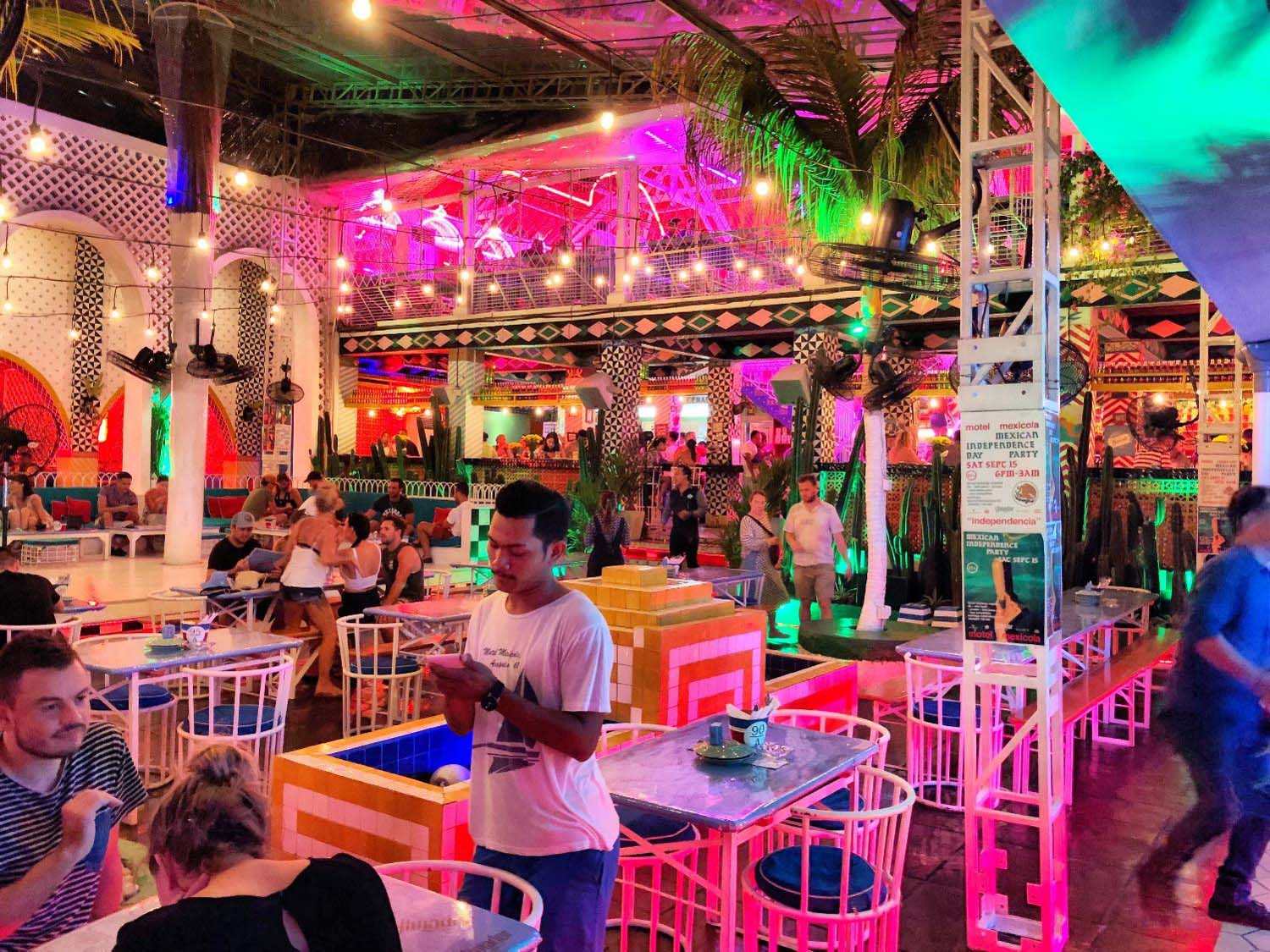 Beach Clubs
Bali is known for its fabulous beach clubs. Sprawling lawns, pools, chilled music, great food and even better drinks, often right on the beach. Family friendly for most of the day before tuning into vibrant party venues as the sun goes down. There are beach clubs all over Bali with some truly spectacular views and luxury offerings at Bali's affordable prices.
For you beach vacations, try Potato Head in Seminyak for sunset views and a great meal or Sundays Beach Club in Uluwatu for once in a lifetime ocean views.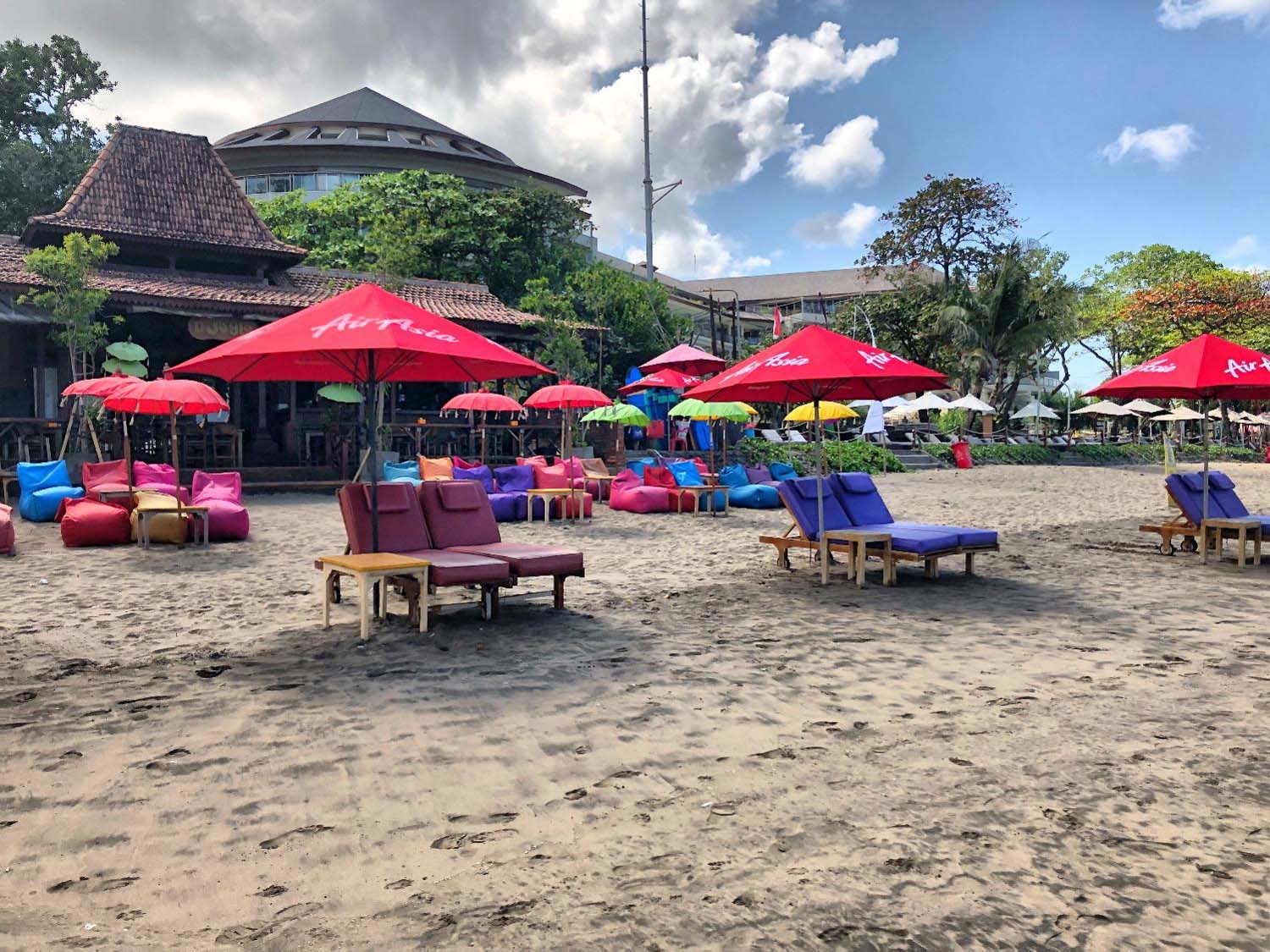 Getting around
Each of the different regions in Bali are able to be explored on foot for those that like to get out and about. This is by far the best way to get to know the area you are staying in and to experience all Bali has to offer.
Taxis are in abundance for short trips between towns or to a specific restaurants or a driver can be organized by all hotels for exploring the island. Approximately $50 will get you a driver all day in a luxury air-conditioned minivan. If you are game, you can hire a scooter for about $5 a day.
Spending
This destination can be as cheap or expensive as you make it.
Bali is generally very affordable with prices even at some of the higher end restaurants less than what you would expect at home for a similar meal. You can easily eat dinner at a mid-priced restaurants with a local beer and cocktail for under $30 per couple and if you eat at the local Warungs you can eat for just a few dollars per meal. Wine is expensive in Bali but local beer, such as Bintang (which is very popular and really good!), is often only $2 a bottle.
Shopping in the markets and local stores is very affordable. In the markets, you are expected to barter so never take the first price offered, as a general rule, expect to pay about a third of the first offer. Stores generally have fixed prices but you can negotiate a better price, especially if purchasing more than one item.
None of the products in the stores or markets are genuine, even if they try to tell you they are, unless you are in an obviously branded store.
If you stick with local restaurants for most meals, shop in the markets and use your HGV points you can have a magical Bali holiday for quite a minimal cost.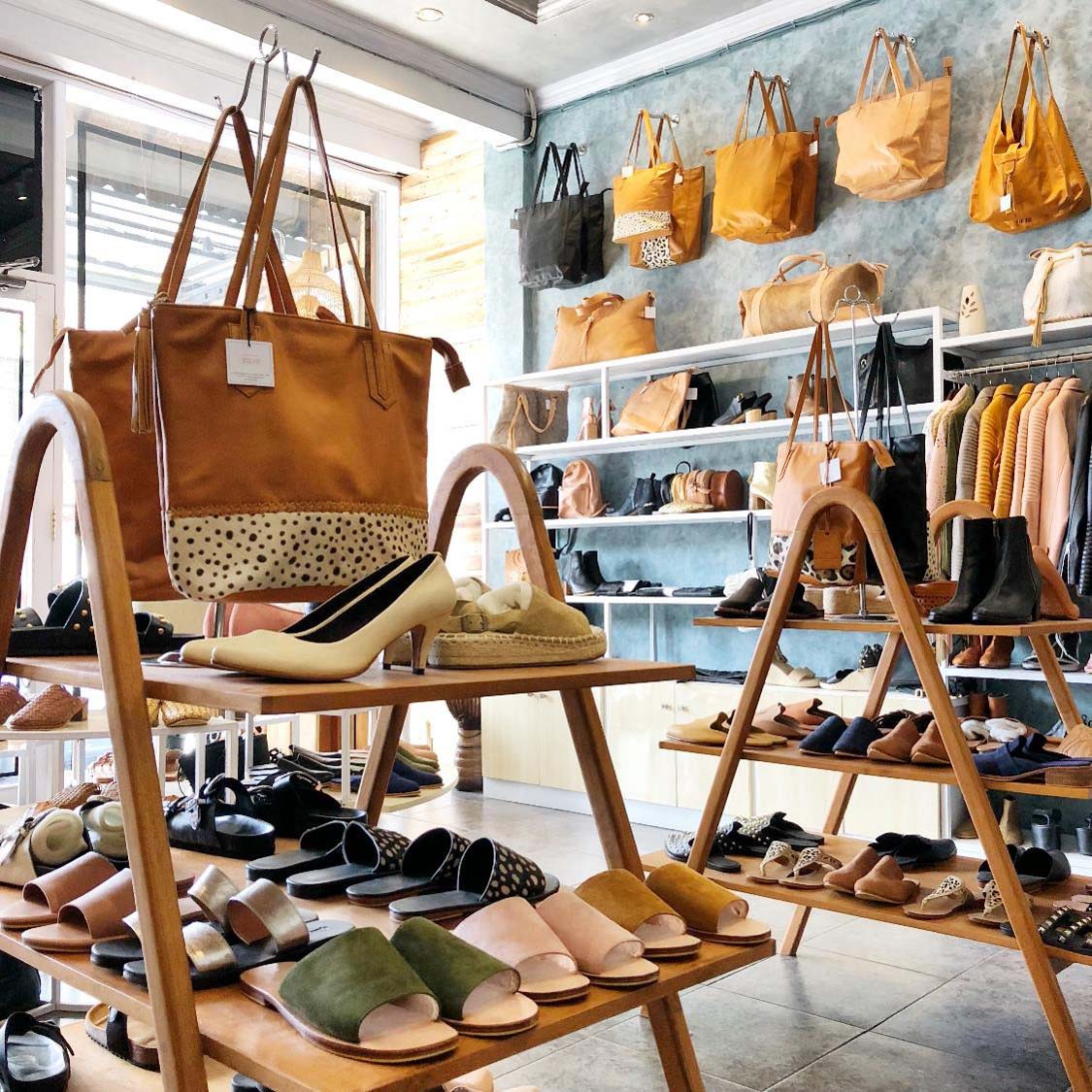 Safety
Bali is generally a pretty safe place to holiday and the people are super friendly and welcoming. There are a few things to be aware of, however.
Like anywhere you travel, theft is probably the number one issue in Bali if you don't take care of your belongings. Don't leave your phone or iPad on the beach while you swim and zip your handbag closed when walking. Occasionally people have had their bags swiped by passing scooters so best to wear a cross body bag if possible.
Bali is home to an active volcano, Mt Agung. The volcano is no threat to the main tourist areas but can disrupt flights into and out of Bali due to ash clouds.
In recent weeks Bali and nearby Lombok have experienced some significant Earthquakes. These are rare though and have not caused significant damage to Bali. Lombok and the Gili islands by comparison has been significantly impacted by the quakes so please check travel advisories if including Lombok / Gili in your travels.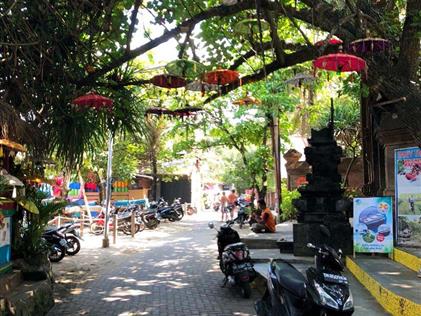 If you choose to ride a scooter, do so at your own risk. Bali has its own unique set of road rules that only the locals seem to understand, there are often no traffic lights and even if there are, they are sometimes not adhered to. Only ride if you are confident on a bike and are willing to go with the Bali flow. You travel insurance may not cover you for a Scooter injury.
Travel insurance is always advised and this is especially true in Bali, good care can be expensive and while Bali is generally quite up to date with technology in comparison to its neighbors, good medical care can be hard to find.
'Bali Belly' was common at the beginning of Bali's tourism boom when food hygiene was not up to western standards but as food practices have improved, the instances of traveler's sickness have reduced. You must still only drink bottled water and wash your hands regularly, especially after handling money.