What You'll Find In A Hilton Grand Vacations Resort Kitchen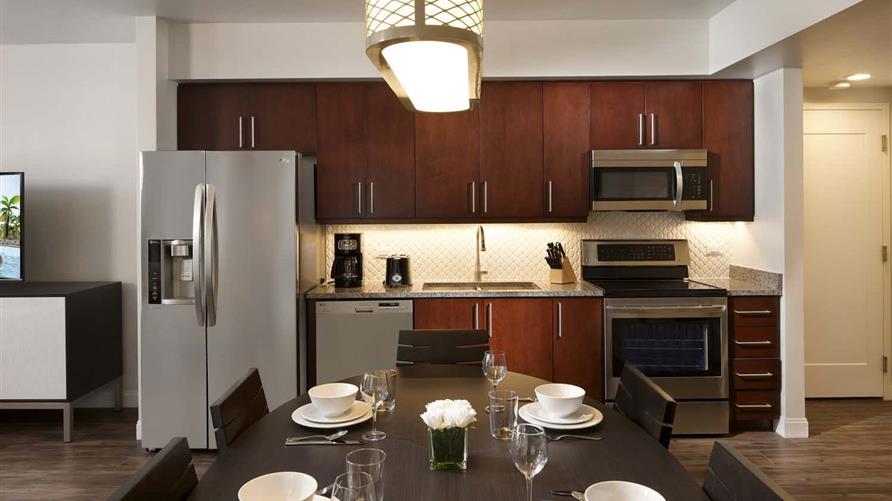 If you stay in a hotel, vacations often include eating at restaurants or ordering takeout several times a day. But at Hilton Grand Vacations resorts, you'll always have the space and amenities to cook your own meals – offering freedom from fast food and blown budgets.
Eat healthier and cook local cuisine on your next vacation. With a full kitchen in your suite, you can make breakfast in your pajamas or stop at your room for a midday snack.
Our resort kitchens come fully stocked with everything you need. All you have to bring are the ingredients. Here's what you'll find in a Hilton Grand Vacations resort kitchen:
Dinnerware. Forget eating off paper plates. Help yourself to dinner and salad plates in the cabinet. If it's cereal you want, grab a bowl. Breakfast, lunch or dinner, you and your family will feel right at home from the time the table's set.
Flatware. Our drawers hold everything you need for soups, salads and entrees. From a simple breakfast to a three-course meal, you'll find the right flatware regardless of what's on the menu.

Glassware. Family dinner or date night, we provide glassware for the occasion. Find water glasses or plastic cups for a quick drink. Or break out the wine glasses and unwind on the balcony.
Appliances. Whether you want a quick snack or your morning caffeine fix, our kitchens include all the appliances you'll need. Make a smoothie with our blender, brew a fresh pot of coffee, toast your bagel or bake a pizza. And the next day, reheat your leftovers in the microwave so nothing goes to waste.
Cookware. Making a meal can be hard without the right tools. That's why we have everything you need from start to finish. Prep your ingredients with the cutting board, mixing bowls and colander. Then, use a casserole dish to cook your family favorite. While the oven's hot, break out the baking sheet and treat everyone to chocolate chip cookies.
Utensils. Find everything to cut, stir, flip and serve your meal from pot to plate. From spatulas and spoons to peelers and pizza cutters, you'll have everything you need within arms' reach.
Barware. Happy hours and cocktail nights are made easy thanks to our collection of barware. Grab a corkscrew or bottle opener and make use of our glasses, pitchers and coasters.
Cleaning supplies. A perk of resort living is the cleaning staff. But it doesn't take long to fill a sink or trash can after dinner. Feel free to load the dishwasher and clean up with our provided dish soap, paper towels and garbage bags.
Groceries. At select resorts, you can skip the grocery store altogether. Order an in-room grocery package when you book your stay and we'll stock your refrigerator. Just be sure to contact your resort for details beforehand.
Make vacations feel like home
Choosing when and where to eat each meal on vacation can get stressful and expensive. That's why Club Members love Hilton Grand Vacations resort kitchens. A full kitchen paired with all our other in-room conveniences are a recipe for relaxation.
Enjoy home-cooked meals and stress-free travel with Hilton Grand Vacations. Fill out our online contact form or call 800-230-7068 to learn how we make every vacation feel like home.
Please Note: Some items are only available in certain units (typically 1-, 2-, and 3-bedroom suites) at select Hilton Grand Vacations resorts.