HGV Picks: The Best Restaurants In Myrtle Beach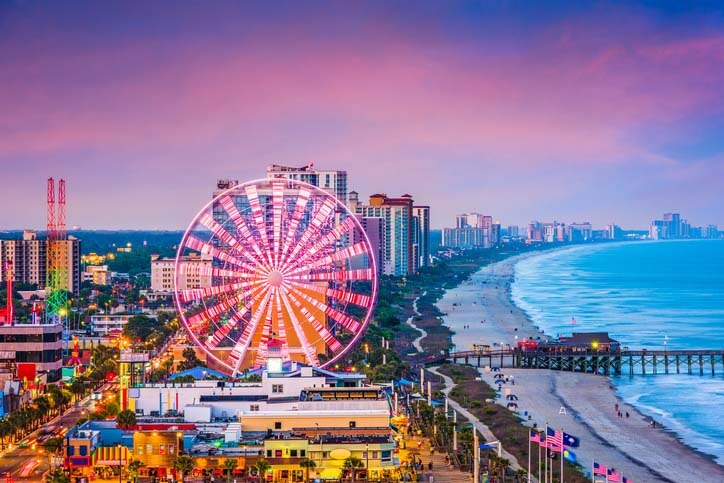 Sure, Myrtle Beach is known for its windswept beaches and incredible golf courses, but this Lowcountry vacation hot spot is also celebrated for its surprisingly good culinary scene. Laden with come-as-you-are casual dives slinging today's freshest catch (we're talking oysters, shrimp and fish all caught off shore) to wood-fired pizza ovens and southern breakfast staples, there's something on the menu for even the pickiest of eaters. Make reservations at any of these Myrtle Beach restaurants to get your fill served up alongside plenty of southern hospitality.
Breakfast
Magnolia's at 26th Street
If you don't feel like cooking breakfast yourself, Magnolia's at 26 Street is a great option to jump start your day. Comfort food and excellent service are always on the menu.
What to Order: Wear your stretchy pants to hit up the breakfast buffet for less than $9 or design your own cooked-to-order breakfast.
Lunch
A vacation lunch should be filled with relaxation and an ice-cold beverage or two, and you can find both at these locally loved Myrtle Beach lunch spots.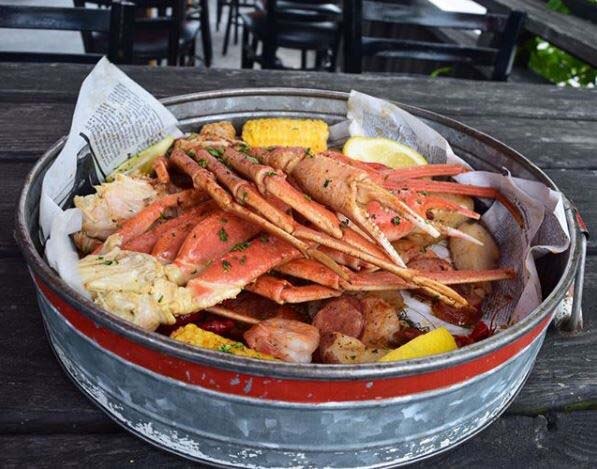 The Noizy Oyster
To enjoy Lowcountry cuisine in a casual atmosphere, make lunch plans at The Noizy Oyster offering fresh seafood dishes to delight all palettes. Local and boutique oysters pair well with the extensive menu of fresh seafood platters, including Po' Boy sandwiches, crab cakes, and plenty of Gulf shrimp.
What to Order: Come hungry. Share an order of the restaurant's famous hush puppies followed by a specialty oyster sampler from the raw bar or a steam pot filled with crab legs, crawfish, shrimp, red potatoes, corn on the cob, and andouille sausage.
Croissants Bistro & Bakery
Ranked as one of the Travel Channel's favorite Myrtle Beach restaurants, Croissants Bistro & Bakery is a local winner. Breakfast is incredible, but we really love their sandwich and salad options, too.
What to Order: Try the fried green tomato and pimento cheese melt or a fried chicken sandwich, two southern favorites you can't go wrong with. Put in a to-go order in to enjoy back at the resort.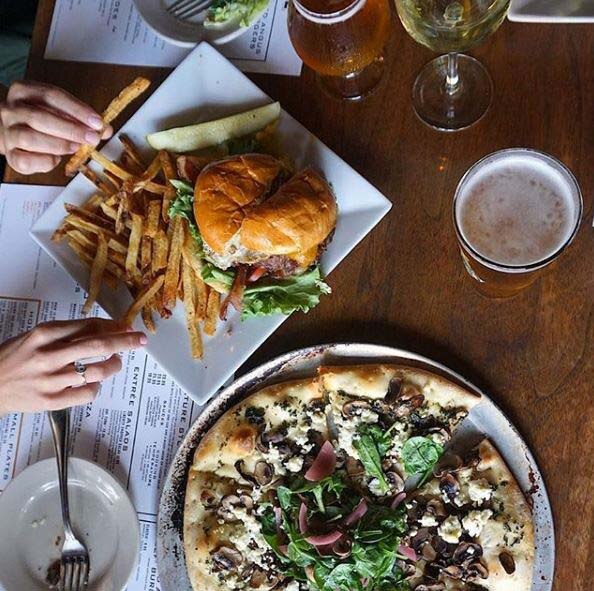 Liberty Brewery & Grill
Liberty Brewery & Grill celebrates the bounty of the American farmer and pre-Prohibition style brewing methods. Liberty proudly serves its own line of award-winning draft beers brewed on site. Come for happy hour, stay for dinner.
What to Order: Yes, fish and chips with an ice-cold beer is delicious, but Liberty's salads and pizzas are also fantastic. Try a blueberry or Brasberry beer and take home a Growler of your favorite.
Dinner
Spend time with friends and family, chat with a few locals, and enjoy a long meal with a great view at our favorite Myrtle Beach dinner spots. Unless, of course, you have toddlers. Get in. Get out. Enjoy a bottle of wine back at your suite.
RipTydz Oceanfront Grill & Rooftop Bar
Riptydz brings fresh taste and excitement to the world-famous Myrtle Beach Boardwalk. Part restaurant, part beach bar, it's a one-of-a-kind oceanfront dining experience with more than 17,000 square feet of space and 500 seats. Come here for the fresh seafood, prime steaks, and uninterrupted ocean views.
What to Order: Like the space, the menu is also large. Start with garlic parmesan oysters and southern fried pickles. Continue with a Low Tyde: a dozen raw oysters and a half-pound of peel-and-eat shrimp. Leave room to share a Rip'n Ice Cream Sundae piled high with vanilla bean and strawberry balsamic ice cream, crushed KitKat, chocolate morsels, marshmallows, strawberries, pineapple, and a drizzle of caramel and chocolate sauces.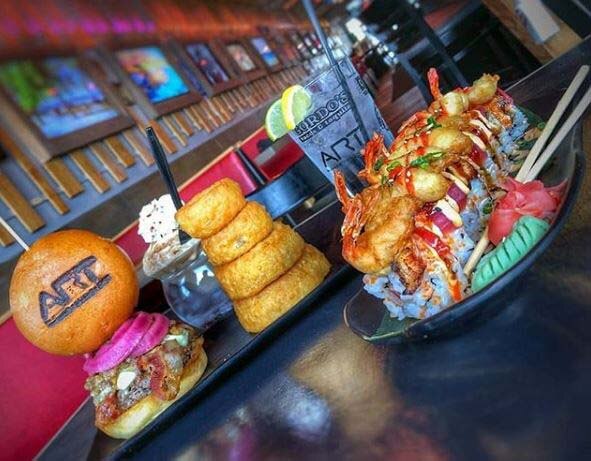 Art, Burger - Sushi - Bar
The popular Art, Burger - Sushi - Bar serves up a mix of juicy burgers, Asian fusion, and liquid nitrogen. Come here for a little fun, unique flavors and to support Myrtle Beach's local artists. The restaurant has a section dedicated to displaying and selling their work, so you could come home with a full belly and a few souvenirs to boot.
What to Order: Try a creative burger, like the Picasso or Dali, or share a few sushi rolls like the spicy tuna crunch or the tiger roll.
Fire & Smoke – A Gastropub
The husband and wife team behind Fire & Smoke pride themselves in having a scratch kitchen where they only use the highest quality ingredients available and source locally as much as possible. Come here on a date for day-boat fresh catches and USDA Prime beef cooked on a blazing hot wood-fired grill.
What to Order: Start with the pan-seared diver scallops with roasted tomatoes and asparagus risotto. Continue with a wood-grilled Caesar salad and veal ragù with handmade impastata ravioli.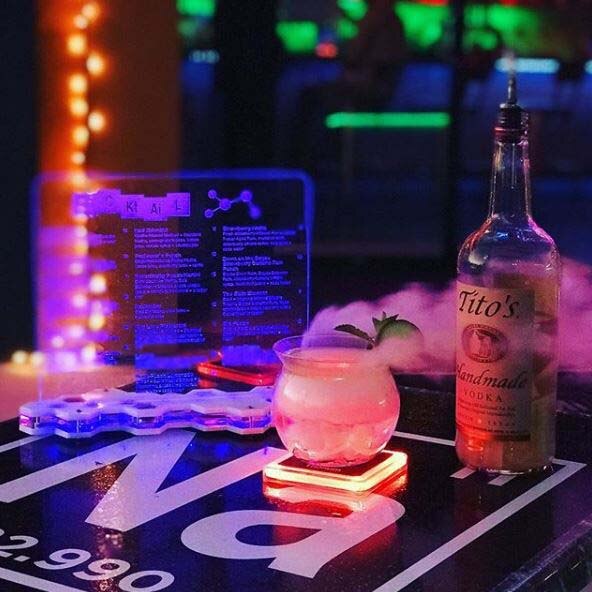 The Chemist Bar
Cocktails and luxury eats combine one block from the ocean in historic downtown Myrtle Beach, where you'll find The Chemist Bar, specializing in molecular gastronomy. Expect flavors and sensations that promise science buffs and foodies a thoroughly entertaining experience.
What to Order: Share the sriracha honey fried chicken while summoning your inner Doc Brown with a Flux Capacitor cocktail. In fact, the entire cocktail menu is filled with delicious surprises.
The best part of all of these culinary delights is saving up to 10% off your check by presenting your Hilton Grand Vacations Grand Experiences Card or Dollars when you order. A Grand Experiences Card is your complimentary pass to special offers and discounts at participating vendors.
If you don't have a Card or Dollars, stop by the Concierge Desk when you arrive for your stay at any Hilton Grand Vacations Myrtle Beach resort to learn more about how to earn them.
Bookmark this list so you can go on a Myrtle Beach foodie foray next time you stay at our South Carolina resorts.