8 Romantic Things to Do in Honolulu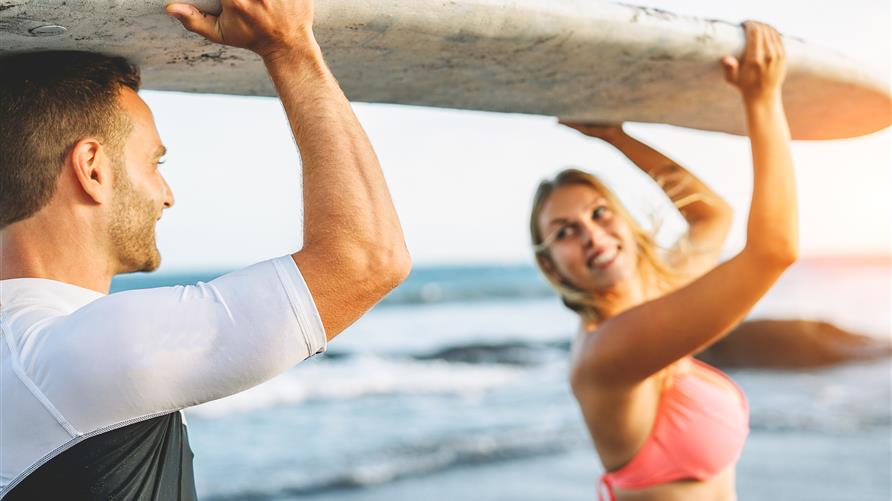 The smells of gardenia and the salty sea air, make Hawaii synonymous with romance. Whether you are looking for traditional romance or a more adventurous way to celebrate your love, there are so many romantic things to do in Honolulu.
Here are Hilton Grand Vacations top 8 romantic things to do in Honolulu.
Semi-Private Surf Lessons
Instead of booking a group surf lesson, turn this into one of your romantic things to do in Honolulu. The Aikau Pure Hawaiian Surf Academy, located in the Hilton Hawaiian Village, offers semi-private surf lessons.
You and your partner can learn to stand up on a longboard together riding the smooth waves of Waikiki Beach. Surf lessons are given on the secluded sections of the beach in front of the hotel.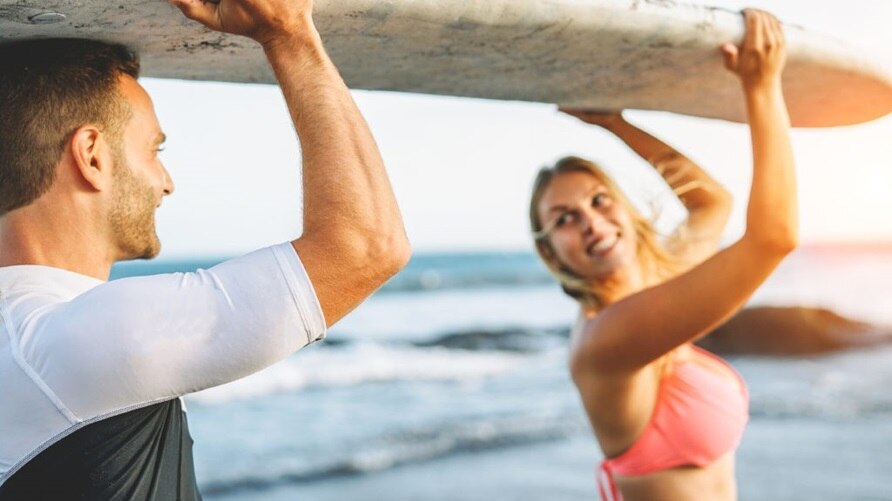 Open-Air Dinner at La Mer
A long sit-down dinner on the beach is a must on our list of romantic activities in Honolulu. Enjoy an opulent 3- or 4-course sunset dinner, complete with ocean breezes, and sparkling wine.
La Mer at Halekulani is one of two AAA Five Diamond restaurants on Oahu. The menu features dishes inspired by flavors from the South of France using fresh island ingredients. Menu highlights include poached lobster, milk chocolate ravioli, and an incredible cheese cart.
Nightly Strolls on Waikiki Beach
During the day, Waikiki Beach is perfect for surfing and sunning, but at night, it's a relaxing place to listen to the rhythmic sounds of crashing waves. Stroll hand-in-hand and barefoot, along the palm-lined sand, or sit side-by-side on a blanket and watch the most majestic sunsets in the world.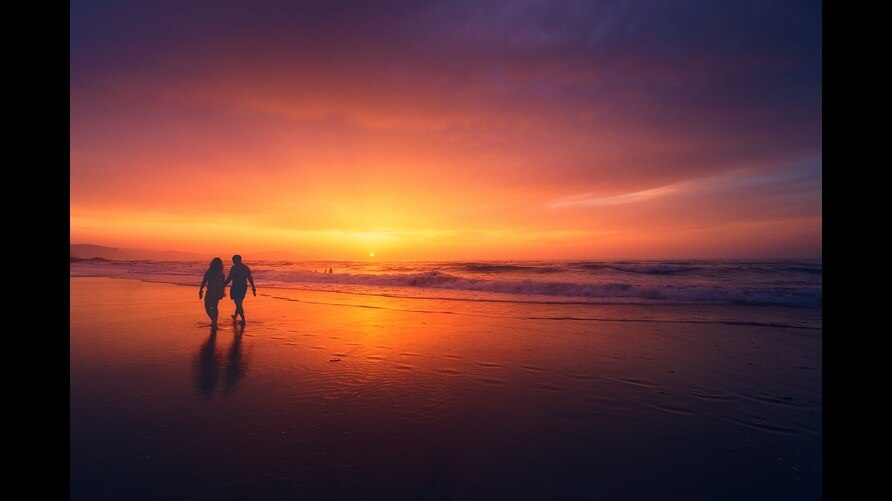 After the sun casts its final glow, walk over to Hilton Hawaiian Village, and watch the spectacular fireworks display, presented every Friday evening.
Afternoon Stroll Through Chinatown
To continue our theme of romantic things to do in Honolulu, spend an afternoon together walking the neighborhood of Chinatown.
Chinatown dates back to the 1800s when Chinese immigrants to Hawaii settled here. Many of the original buildings and storefronts remain, making this walking activity filled with so much to enjoy.
Spend your time visiting the chic boutiques and art galleries, admire the architecture, and dine at one of the many romantic options. After an early dinner, catch a performance at the Hawaii Theater, which features live hula, Hawaiian music, and local stage plays.
Helicopter Tour
The views of Honolulu are stunning from the top of Diamond Head, but they are awe-inspiring up in the air. Through an exciting tour with either Blue Hawaiian Helicopter or Magnum Helicopter, you can view hills, valleys, and shores, and even the Pearl Harbor and the USS Arizona Memorial.
Make sure to sneak in a kiss flying above each waterfall.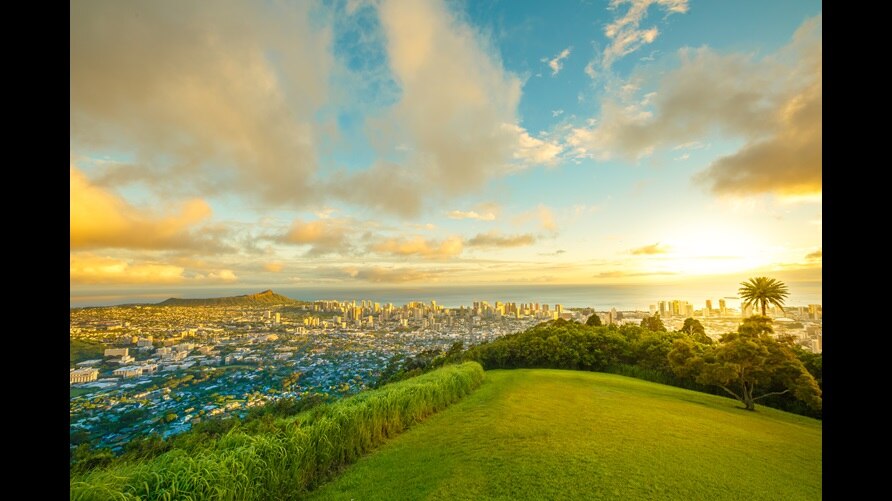 "Hana" is the Hawaiian word for "bay" and "Uma" refers to the curves of the indigenous canoes. What was once a place for the Hawaiian royalty to go fishing, is now one of the premier snorkeling destinations in Hawaii.
If you wake up a little earlier and take the shuttle from Waikiki, you and your partner can beat the crowds into the water. You might even get to swim hand in hand next to a sea turtle or two.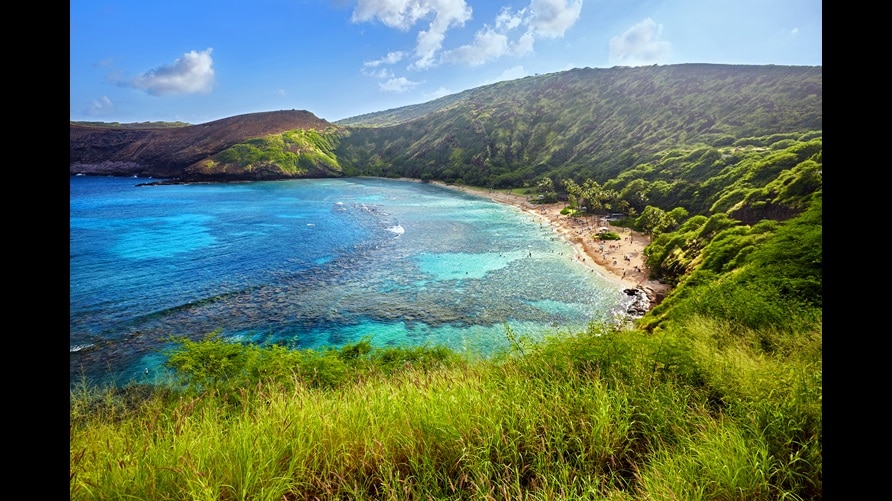 Outrigger Catamaran
Board a record-breaking championship catamaran to explore the blue Hawaiian waters and reefs. You can sail the waters off of Diamond Head volcano in search of sea turtles, dolphins, and exotic fish. Or you can book one of the most romantic things to do in the islands: a sunset cruise. Enjoy a glass of champagne watching the sun dip down below the waves.
Waikiki Starlight Luau at Hilton Hawaiian Village
The Waikiki Starlight Luau at Hilton Hawaiian Village is the only outdoor luau in Waikiki with nearly three hours of spectacular entertainment and dining under the stars. Of all the romantic things to do in Honolulu, this luau exudes love, island culture, and entertainment.
Indulge in a feast of unforgettable tropical flavors, and dance under the stars to live music and drum beats.
Our list is just a small handful of all the romantic things to do right here in Honolulu.
Mahalo.