Get Outside and Visit One of These Fantastic National Parks
Hilton Grand Vacations' favorite U.S. National Parks
The National Parks Service has spent more than 100 years protecting and preserving our natural wonders. Get out and enjoy them.
Here are Hilton Grand Vacations recommendations for some of its favorite National Parks to visit.
Florida
Dry Tortugas National Park
In the Gulf of Mexico west of Florida, you can find the seven islands and protected coral reefs of the Dry Tortugas National Park.
Be on the lookout for sea turtles, shipwrecks, wildlife living in the reefs, and a plethora of seabirds. Bring your binoculars to spot the ruby-throated hummingbird, peregrine falcon, yellow-billed cuckoo, and white-eyed vireo. Nearly 300 species of birds have been spotted on this Great Florida Birding Trail.
Snorkel and skin dive the shallow waters (5-15 feet) of Fort Jefferson or swim, sunbathe, or stroll the beaches of Dry Tortugas National Park.
Stay: Casa Marina Key West – A Waldorf Astoria Resort
Everglades National Park
The Everglades is a 1.5 million-acre wetlands preserve on the southern tip of Florida. Made of grassy, slow-moving rivers, mangroves and marshes, visitors can witness the Everglades' abundant wildlife. Be on the lookout for West Indian manatee, Florida panthers and the endangered Leatherback turtle.
Stay: Eagle's Nest Beach Resort
Alaska
Glacier Bay National Park
Spot humpback whales and puffins in southeast Alaska's Glacier Bay National Park. Located in Alaska's Inside Passage, this National Park provides plenty of jaw-dropping views.
Experience the high peak of Mount Fairweather.
Witness the 25-mile long Grand Pacific Glacier.
Adventure to Bartlett Cove for forest and riverside hiking trails.
Stay: Convert Hilton Grand Vacations ClubPoints for a cruise through ClubPartner Perks
Virginia
Shenandoah National Park
Mostly forested, the Shenandoah National Park features wetlands, waterfalls, and rocky peaks that extend along the Blue Ridge Mountains in Virginia. Shenandoah National Park is one of the best places to admire fall foliage.
Hike part of the long-distance Appalachian Trail, where you can spot many bird species, deer, and the elusive black bear.
Stay: Let The District by Hilton Club in Washington, D.C. be your home base to explore Shenandoah National Park
Colorado
Mesa Verde National Park
Located in southwest Colorado, Mesa Verde is known for its well-preserved Ancestral Puebloan cliff dwellings, notably the huge Cliff Palace. Enjoy archaeological sites and overlooks, including Sun Point Overlook with panoramic canyon views, and the rock carvings of Petroglyph Point Trail.
If you are up for an adventurous hike, try a hiking tour with the National Park Service through Cliff Palace – the largest cliff dwelling in the park. The one-hour, ranger-guided tour involves 120 uneven stone steps and climbing five ladders.
Stay: Hampton Inn Mesa Verde/Cortez
Washington
Mount Rainier National Park
Southeast of Seattle, Mount Rainier National Park surrounds the glacier-capped 14,410-ft. Mount Rainier. Enjoy hiking, views of other nearby volcanoes, and millions of wildflowers in the meadows. Visit the temperate rainforest at Carbon River. Hike the Sourdough Ridge Trail at sunrise or take a ride on the Mt. Rainier Gondola.
Stay: Hampton Inn & Suites Tacoma/Puyallup
Nevada
Great Basin National Park
Located in eastern Nevada, near the Utah border, is Great Basin National Park. Explore the South Snake mountains, Wheeler Peak, and the ancient bristlecone pine groves. Visit the marble Lehman Caves with distinctive stalactites and other formations or go back in time at the Baker Archeological Site (Baker Village) where the remains of a Fremont Indian village occupied the area from approximately 1220 to 1295 AD.
Stay: Located equidistant from Las Vegas and Park City, make this park visit a road trip from either city
South Dakota
Badlands National Park
This South Dakota National Park offers dramatic landscapes spanning layered rock formations, steep canyons and towering spires. Be on the lookout for bison, bighorn sheep, and prairie dogs inhibiting the sprawling grassland. Don't miss the opportunity to drive the Badlands Highway 240 Loop Road or visit the Fossil Preparation Lab.
Stay: Hotel Alex Johnson Rapid City, Curio Collection by Hilton
Arizona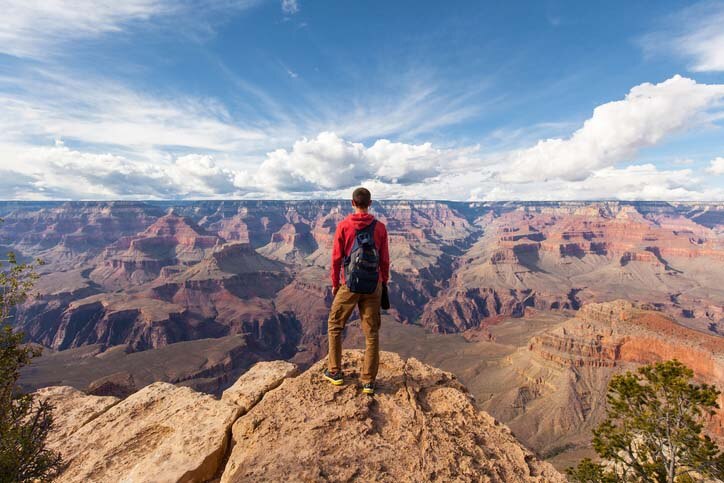 Grand Canyon National Park
One of the most famous National Parks in the U.S. is the Grand Canyon, featuring layered bands of red rock revealing millions of years of geological history. You can spend days exploring the many different viewpoints, or adventure to the bottom of the Grand Canyon on the back of a trusty mule, go on a rafting trip or splurge on a helicopter ride over the canyon.
Stay: DoubleTree by Hilton Hotel Flagstaff
New Mexico
Carlsbad Caverns National Park
Carlsbad Caverns, located in the Chihuahuan Desert of southern New Mexico, has more than 100 caves to explore. The namesake, Carlsbad Cavern, features stalactites clinging to the roof of the Big Room, and a huge underground chamber in the cavern. Besides the famous caverns, check out Sitting Bull Falls, a series of waterfalls located in the canyon. Don't miss than 40 species of animals native to the Chihuahuan Desert at the Living Desert Zoo & Gardens.
Stay: Hampton Inn & Suites Carlsbad
Maui, Hawaii
Haleakala National Park
Home to the dormant Haleakala Volcano, and endangered Hawaiian geese, visitors can wake up extra early to hike to the top to admire one of the best sunrises in the world. Coast down to sea level on the back of a bicycle or explore the rugged hiking trails in the Summit District and the freshwater pools and waterfalls set amid a bamboo forest.
Stay: Maui Bay Villas by Hilton Grand Vacations Club (Coming Soon)
California
Yosemite National Park
First protected in 1864, Yosemite is known for its majestic waterfalls, but within its nearly 1,200 square miles you can find deep valleys, grand meadows, ancient giant sequoias and a vast wilderness.
Stay: Homewood Suites by Hilton Fresno
Wyoming
Yellowstone National Park
The behemoth that is Yellowstone is nearly 3,500 square miles of wilderness and recreation atop a volcanic hot spot. Yellowstone features dramatic canyons, rivers, lush forests, hot springs and gushing geysers. Watch geysers erupt, including the famous Old Faithful. See wild animals in their natural habitat, and go rafting on Yellowstone River.
Stay: Hampton Inn Jackson Hole
Utah
Zion National Park
Zion National Park is a southwest Utah nature preserve, distinguished by Zion Canyon's steep red cliffs. Its main section has a river flowing into the Emerald Pools, which have waterfalls and a hanging garden.
Arches National Park
Bordered by the Colorado River, it's known as the site of more than 2,000 natural sandstone arches, such as the massive red-hued Delicate Arch in the east.
Canyonlands National Park
Canyonlands National Park, in southeastern Utah, is known for its dramatic desert landscape carved by the Colorado River. Island in the Sky is a huge, flat-topped mesa with panoramic overlooks, and the Needles is an area with towering rock pinnacles.
Bryce Canyon National Park
Stay: Make Park City, Utah your home base at Sunrise Lodge, a Hilton Grand Vacations Club
Read Discover Two Utah National Parks, Plus Two Cities With Serious Buzz, on this Four-Day Road Trip for more national park inspiration.