Hilton Grand Vacations at SeaWorld Orlando: A+ for Handicap Accessible Rooms
One Owner talks interabled relationships and travel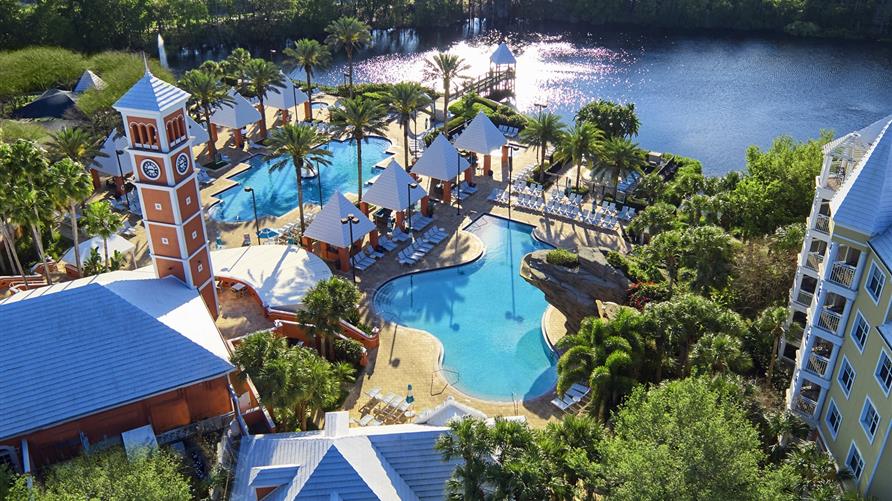 For the first time in our relationship, we were floating in a swimming pool together soaking in the Florida heat. We were in the main pool at Hilton Grand Vacations Club at SeaWorld resort, and it was February.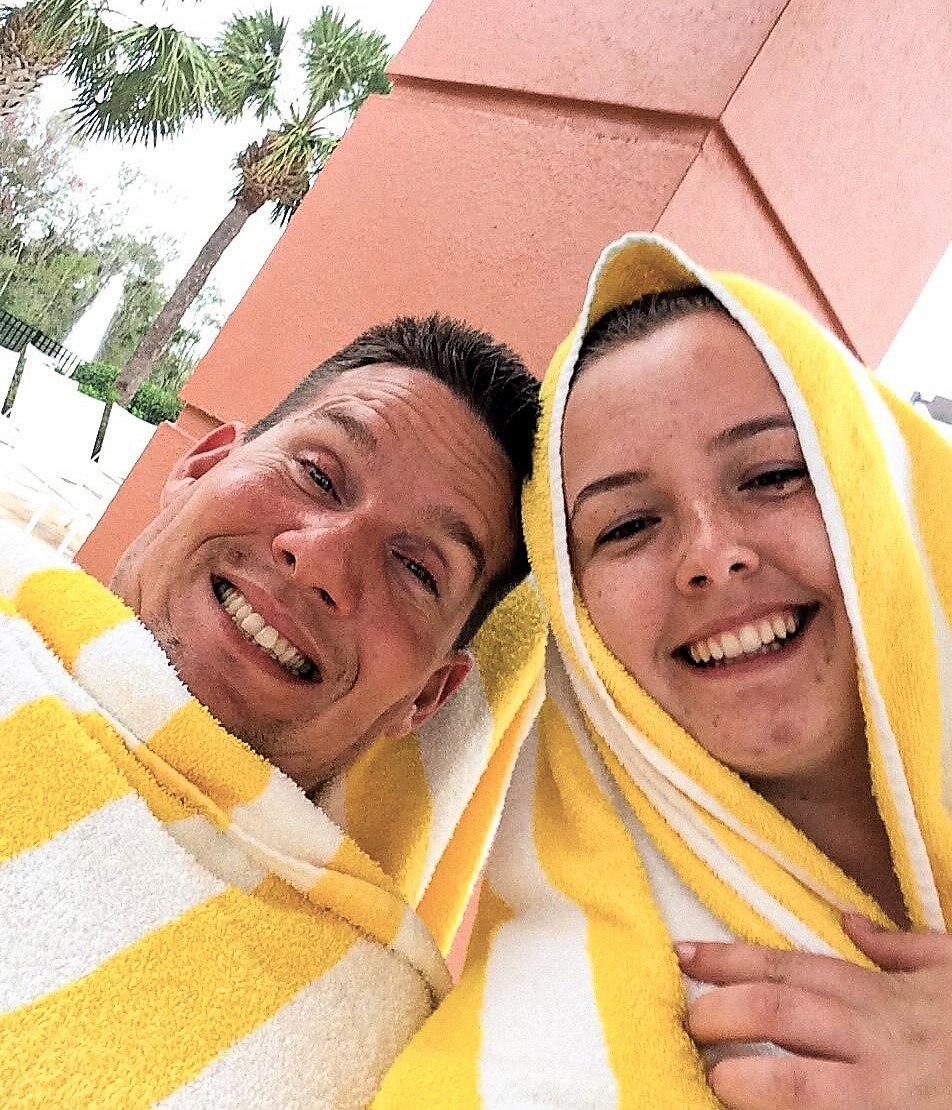 We are Kevin and Dee, an interabled couple who love to travel and escape the cold Canadian winters for a couple of weeks each year. I'm a quadriplegic with no use of my limbs, and to get around, I use a head-controlled power wheelchair. Dee and I like to travel independently, which means just the two of us. Still, we need the right accommodations, or a handicap accessible hotel room, to make it an enjoyable and stress-free vacation.
Before you Google, "what is a handicap accessible hotel room," let me explain.
Due to my disability, I require an accessible room with a roll-in shower. Also, I use a mechanical lift to get in and out of bed, which requires six inches of space underneath the bed frame. I've been a wheelchair user for 28 years. During that time, I've found many inconsistencies when booking accessible hotel rooms. The most frequent offender is unsuitable (and dare I say sketchy) bathrooms that don't meet my needs.
Excitedly, we booked two weeks at Hilton Grand Vacations Club at SeaWorld for a February getaway. I've been a Hilton Grand Vacations Owner since 2015, and this property looked perfect as we were planning a trip to go to Universal Studios Orlando.
Upon arrival, we were thrilled to see our open concept, one-bedroom accessible suite with a roll-in shower. It was beautiful and had all the necessary features we're accustomed to when staying at Hilton Grand Vacations resorts. We breathed a sigh of relief and knew we would love our stay.
The resort's location and wide-spread handicap accessibility features made it easy and convenient for us to enjoy our stay. We found it easy to catch a bus or trolley at the main entrance to excellent outlet shopping, grocery stores, restaurants and the famous International Drive. This access helped us save money during our trip because we didn't have to take taxis and we could buy our groceries.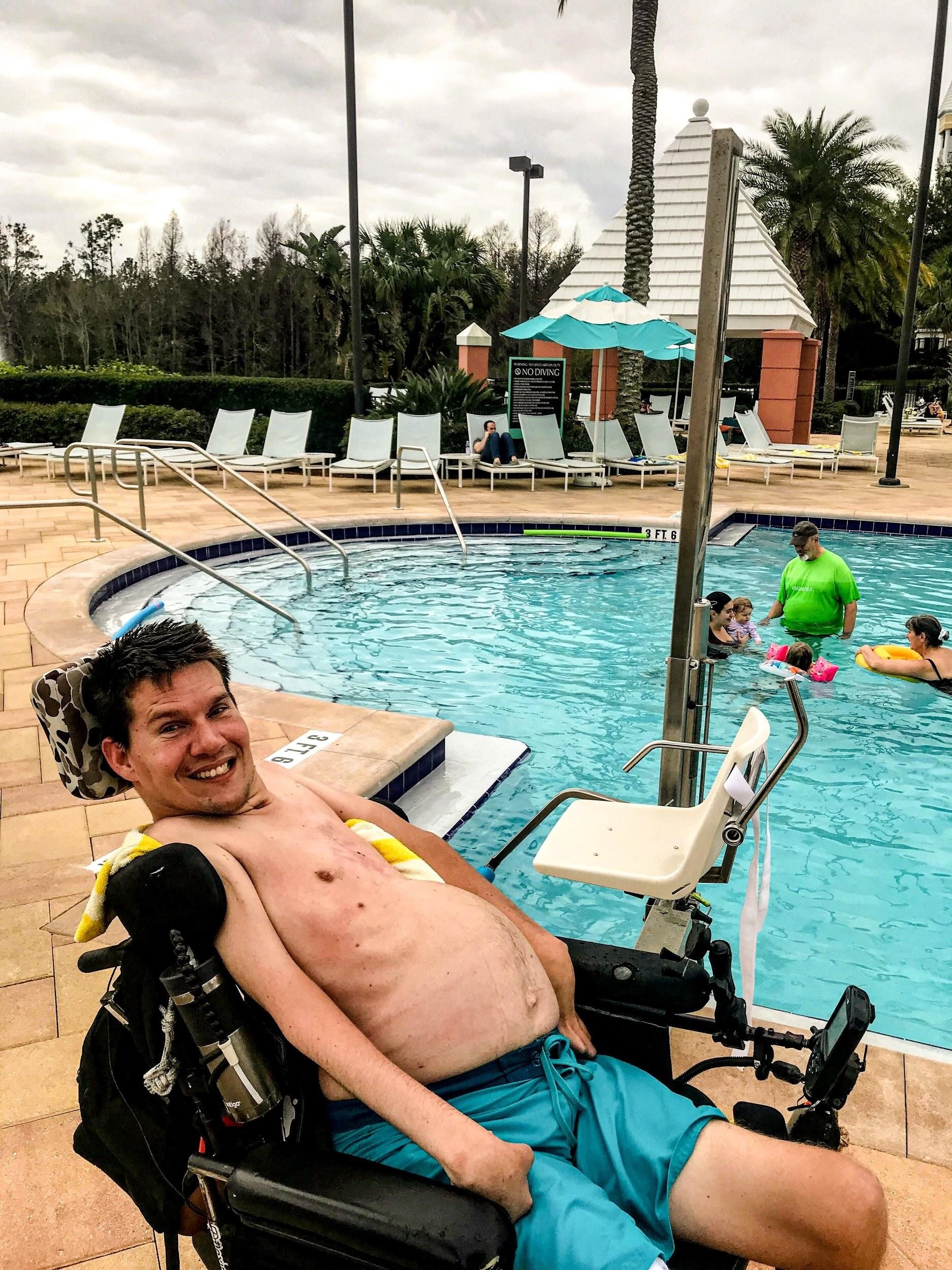 The bonus for us was the accessibility features of the entire property. The property had paved pathways throughout including a beautiful trail around the pond, serene swimming pools and hot tub with easy-to-use pool lifts. The pool lifts were an impressive feature and led us to go for our first ever swim as a couple. It turned out to be an authentic Florida experience. It poured rain during our swim, but it didn't deter us and was romantic, nonetheless.
For our adventures away from Orlando, we rented a wheelchair accessible van for a few days. Our itinerary included day trips to the Kennedy Space Center (very wheelchair accessible) and Daytona Beach.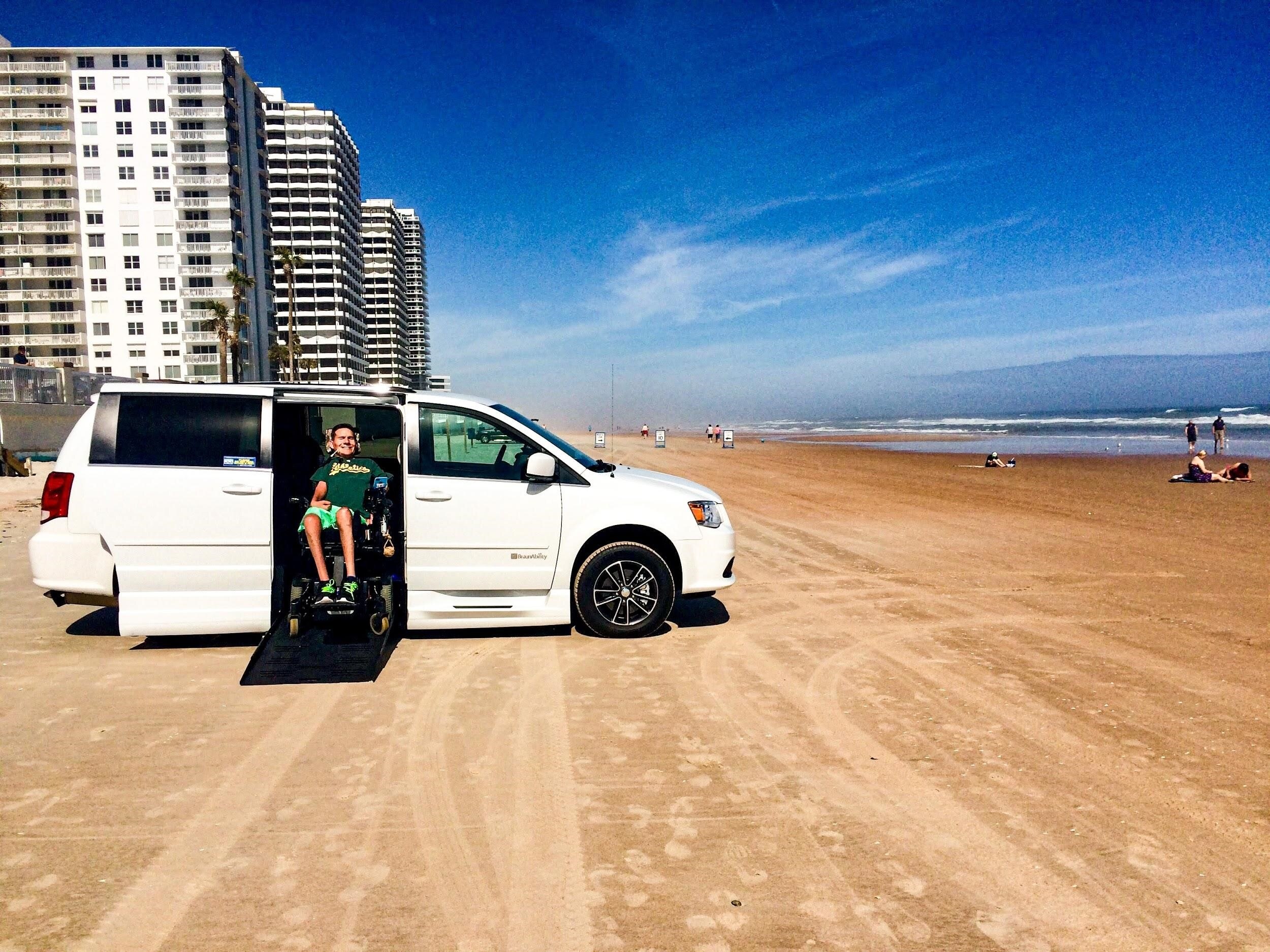 We loved spending a day at the beach, and a perk of the accessible parking permit we were able to drive on the beach at no cost. Since the sand is so hard-packed from vehicles, it was possible to drive my power wheelchair right on the beach.
We love to adventure. However, the best part of Hilton Grand Vacations resorts is the home away from home feeling. See more of our experiences on Instagram @accessibleadventurers (www.instagram.com/accessibleadventurers) or YouTube www.youtube.com/accessibleadventurers
Avid travelers, Kevin and Dee quickly learned that Hilton portfolio of brands offered the accessibility they required for safe and stress-free adventures. They love exploring new places and escaping from the cold Canadian winters. Kevin has been a quadriplegic for 28 years and became an Owner in Hawaii at Kings' Land by Hilton Grand Vacations in 2015. Kevin and Dee love sharing their passion for accessible travel with others and enjoy vlogging their adventures on their Accessible Adventurers YouTube channel.
Read Why our Family Loves Timeshare for more about why another owner loves the Hilton Grand Vacation at SeaWorld Orlando resort.