6 Restaurants in Charleston to Try on Your Next South Carolina Getaway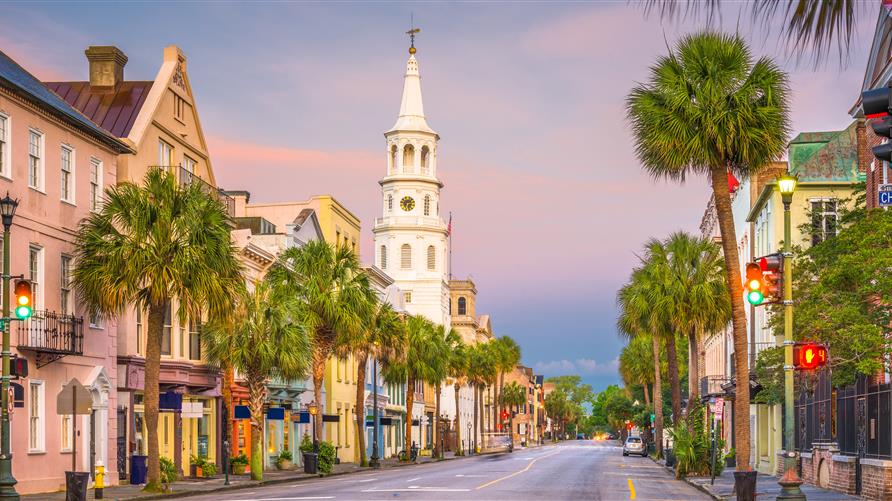 Charleston has a booming food scene. Its dynamic mix of offerings includes classic Lowcountry cuisine, barbecue, Eastern seafood, and innovative kitchens using the region's best farm to table ingredients. There are so many great restaurants in Charleston, so here are some of our favorites to get you started.
Where to Stay in Charleston with Hilton Grand Vacations: Liberty Place Charleston by Hilton Club
Husk
Centrally located in historic downtown Charleston, award-winning, Husk, transforms the essence of Southern food. Husk's menu is unique not only because of its exciting takes on Southern favorites but also because the menu changes daily. Here are a few ideas of what could be served:
South Carolina Shrimp and Choppee Okra Stew
Pig ear lettuce wraps with sweet vinegar cucumber
Southern Fried Chicken Skins with Pimento Cheese "Ranch" and Scallions
Halls Chophouse
If you are planning a special evening out in Charleston, reviewers agree that Halls Chophouse is one of the best 5-star restaurants in downtown Charleston. Located in the Upper King District, Halls values hospitality, superior American cuisine, and unique dining experiences that guests revere. Halls also offers live music seven nights a week to enjoy the following dishes:
Share: Halls Seafood Tower, complete with oysters, shrimp, and lobster tail
Berkshire Broiled Pork Chop, complete with apple mustard glaze, brown sugar-baked Sea Island Red Peas, charred broccolini, and bacon-bourbon jus.
Tip: For an extra special Southern experience, reserve a table for the Sunday Gospel Brunch.
EVO Pizzeria
EVO (Extra Virgin Oven) is a wood-fired pizzeria and craft bakery rolled into one. What began as a mobile oven, is now one of Charleston's hottest brick and mortar restaurants. Here are our recommendations:
Pork Trifecta pizza – a trio of sausage, pepperoni, and bacon
Pistachio Pesto pizza – homemade pistachio pesto, Split Creek Farm Fromage blanc, ground pistachio, creme fraiche, mozzarella, Parmigiano-Reggiano
For dessert try The A'chocolypse – 70% dark chocolate bar, candied ginger, popping sugar (Pop Rocks)
Fig
With flavorful food and excellent service, award-winning Fig is beyond the hype. The staff is educated on all aspects of Fig's food and beverage culture, so guests feel special, comfortable, and well taken care of. The menu changes nightly, but here are a few ideas of what you might find:
Capers Inlet Clams and sweet corn
Fried Lady's Island Soft Shell Crab
Fish stew Provencal
To drink, try a Southern Shandy: Charleston black tea and spice shine in this British inspired refresher
Martha Lou's
Come here for soul food, and you'll find one of the best places for fried chicken in the city. Martha Lou's Kitchen has been featured in the New York Times, The Travel Channel, and even Martha Stewart as one of Charleston's finest restaurants. There is a daily menu where you select your protein and 2-3 side dishes.
You can order fried chicken daily
Try the Chitterlings, Beef Stew, or even the Mystery Meat!
Sides include okra soup, lima beans, collard greens, bread pudding, and more.
The Darling Oyster Bar
Located on King Street, The Darling Oyster Bar is one of the best restaurants in downtown Charleston. Casual seafood dishes are featured here, as well as a very Instagrammable raw bar. Here are some dish ideas to pair with oysters:
Tomato & Peach Toast with goat cheese on Sourdough (add jumbo lump blue crab)
Blue Crab Tagliatelle – homemade pasta with spring peas, peppers, and parmesan
Lobster and King Crab Roll
Since there are so many great restaurants in Charleston, you are bound to find your new Southern favorite. Read on to learn about all the exciting activities you can do in Charleston.