Coolest Playgrounds in the World For Your Littlest Travelers
Hilton Grand Vacations shares six epic playgrounds around the country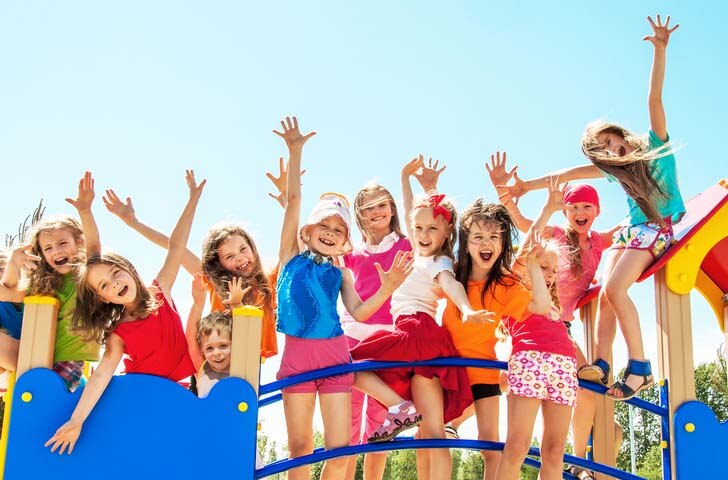 A traditional playground, to be honest, is a bit boring. Creativity and playtime are both important in a child's development. On your next vacation, why not incorporate a unique playground into your travel itinerary? Here's our list of the coolest playgrounds in the world.
Container Park
Las Vegas, Nevada
Las Vegas should definitely be on your radar for a family-friendly vacation. Container Park, located on historic Fremont Street, was built using recycled shipping containers to create a fun haven for the community. Walk through the 55-foot praying mantis and enjoy hours of fun in the Children's Tree House and Play Zone.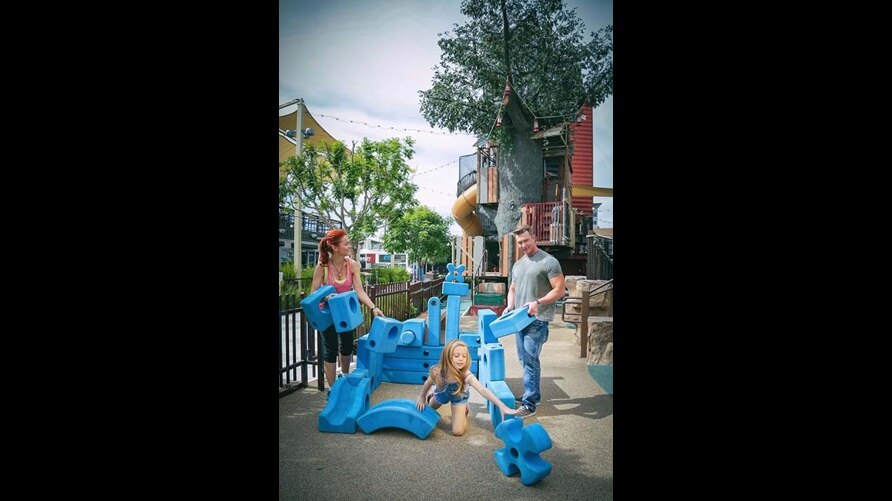 Where to Stay? There are five Hilton Grand Vacations properties to choose from in Las Vegas. If your little ones love outdoor sports and a pool with waterfalls, try the Hilton Grand Vacations Club on the Boulevard.
Adventure Playground
Huntington Beach, California
If you're traveling during the summer, bring your kids to a park where they can embrace the great outdoors. Kids can go punting on wooden rafts from the days of Tom Sawyer, slide down mud hills, and build forts with actual hammers and nails. This old school playground is magic.
Helpful tip: These activities encourage getting messy. Make sure to bring a change of clothes.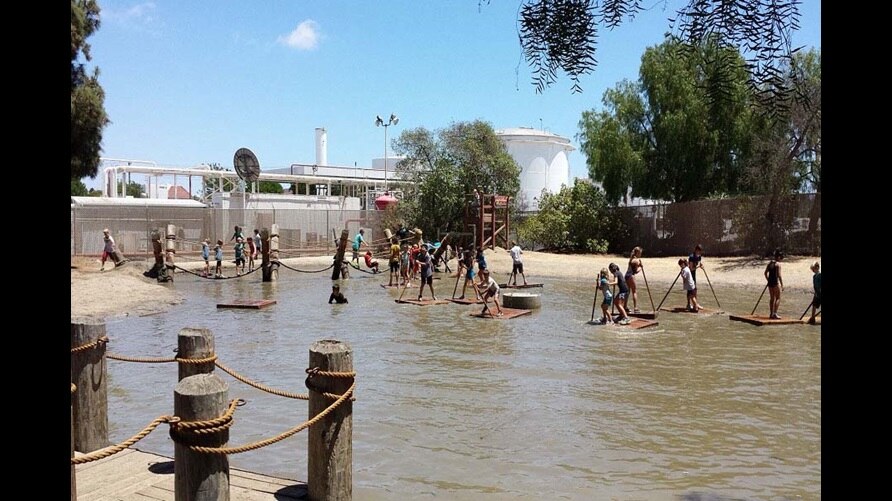 Where to Stay? The Waterfront Beach Resort, A Hilton Hotel is the perfect place for a family vacation. You are steps away from one of California's most beautiful beaches, and the resort pool has a water slide to enjoy.
Mount Trashmore
Virginia Beach, Virginia
If you're planning a getaway to Virginia Beach, be sure to make a stop at a world-renowned playground created by compacting layers of solid waste and clean soil. Yes, we mean play on top of trash.
Mount Trashmore encompasses 165 acres and is comprised of two man-made mountains, two lakes, two playgrounds, a skate park and vert ramp, and multi-use paths. Lake Trashmore hosts various species of fish and Lake Windsor is open for kayaking.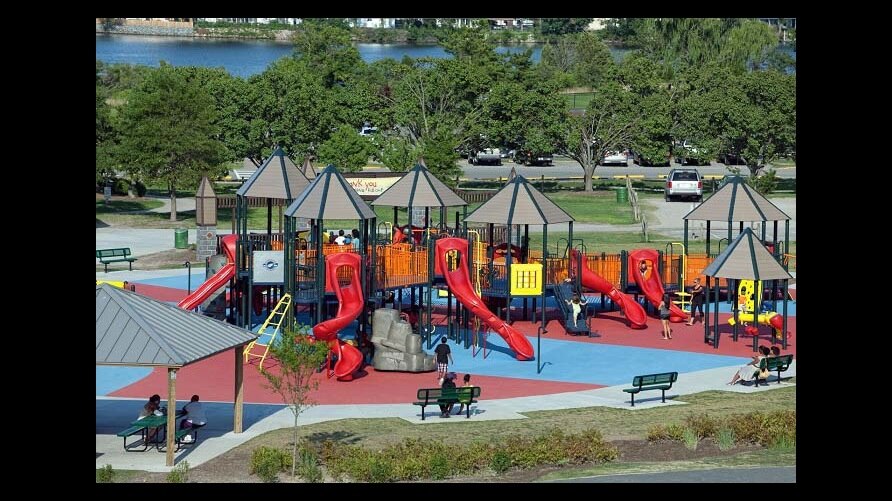 Where to Stay? The rooftop pool at the Hilton Virginia Beach Oceanfront is epic. Enjoy a family beach vacation with infinite ocean views.
Woodland Discovery Playground
Memphis, Tennessee
Determined to create the playground of the future, the Shelby Farms Park Conservatory built a park designed by kids, for kids. Designers from James Corner Field Operations (architects responsible for Manhattan's High Line) collaborated with local kids to determine how they wanted to play. The result are playgrounds separated into different 'play nests' with slides, treehouses, climbing nets, and more. The playground has won international awards for innovation and sustainability.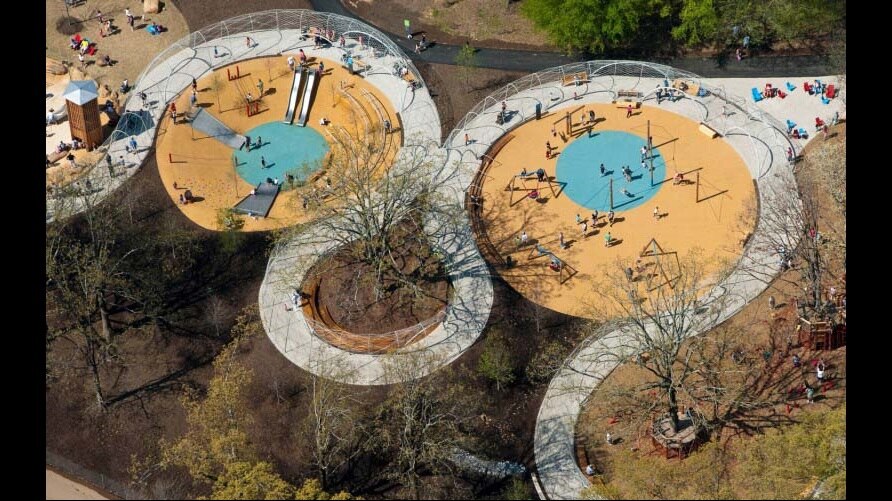 Where to Stay? Stay in the heart of Memphis at the Doubletree Hotel Memphis Downtown.
Teardrop Park
New York, New York
The two-acre Teardrop Park is located in Battery Park, an oasis on the southern tip of Manhattan. It features a magnificent "Ice Wall" artwork, a slide built into natural rock formations, sandboxes, water play, a rocky reading area, places to rock hop, and much more. From May to October you can find fun lawn games and creative art projects for kids.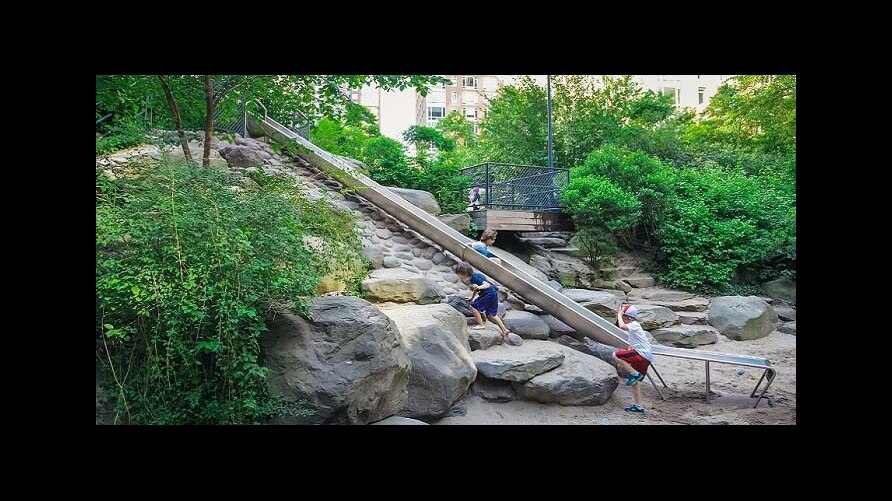 Where to Stay? Choose from three incredible HGV properties in Manhattan.
Harry Thomas Sr. Playspace
Washington D.C.
This is a place where mathematics, art, architecture, science, and nature are brought together in fascinating ways. The playground is inspired by the Fibonacci sequence, the numerical pattern where each number is the sum of the two numbers that precede it.
The playground also includes a community garden, fitness loop, two basketball courts, a solar-powered scoreboard, a green roof pavilion, and an extensive stormwater management system.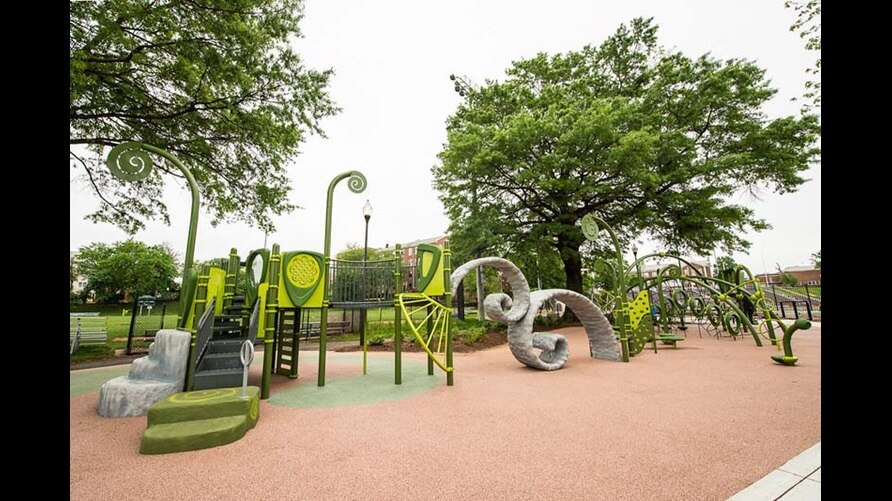 Where to Stay? Choose a prime location in the nation's capital at The District by Hilton Club.
During your next vacation, carve out time to spend an afternoon at one of the coolest playgrounds in the world. Read on for more family-friendly vacation ideas and destinations.