12 of the Best Summer Activities in Park City
More than just a retreat for snow lovers, Park City comes alive in the summer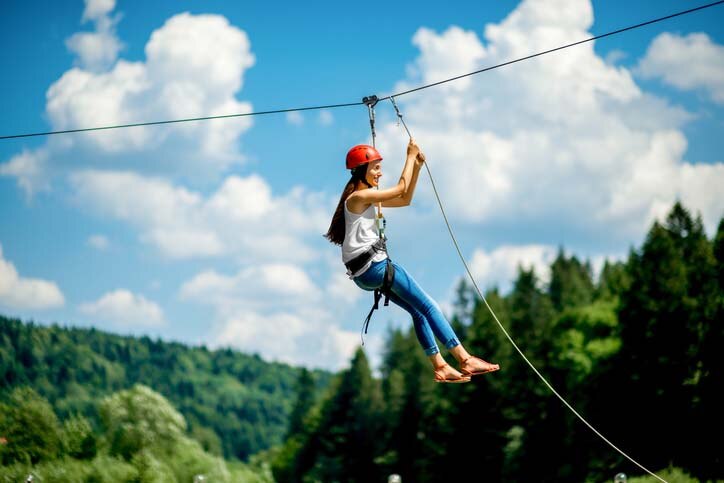 Park City, Utah isn't just a frosty winter wonderland.
Despite its reputation as a wild-west ski town, Park City offers entertainment, adventure and relaxation.
If you're traveling to Park City in the summer, check out these must-do warm-weather activities.
Hot Air Balloon Rides
Seeing Park City and the surrounding area from the sky is a jaw-dropping way to make your trip unforgettable.
Peek over your floating basket onto the Cottonwood Canyons and glide over the majestic Uinta Mountains.
Local balloon guide companies, Skywalker Balloon Company and Park City Balloon Adventures, offer weather-dependent rides daily.
These sunrise moments above Park City, make the early wake-up call worth it.
SUP Boarding in Deer Valley
In the heart of Deer Valley sits a small series of ponds that are perfect for stand-up paddle boarding. With no speed, boat wakes or waves to mess up your perfect form, enjoy gorgeous views of the surrounding mountains while balancing on water.
You can spend hours floating here. For SUP board rentals, visit Park City SUP. They offer classes, demos and guided tours.
Visit Historic Main Street
Of all the things to do in Park City in the summer, strolling Main Street is a must. Historic Main Street is quite literally Park City's main attraction. This charming wild-west town is filled with bars, restaurants, art galleries, boutique shops and spas.
Here are just a few things to do on Main Street.
Mountain Trails
There are so many mountain trails to choose from, but the Armstrong Trail is one of the city's most popular.
Start at the Silver Star Cafe, and take the Silver Star chairlift for gorgeous views of the town. The first part of the trail has a serious elevation gain and rewarding views.
As it reaches a flatter stretch, the trail dips into the trees for a lovely forested experience.
The later portions of the trail continue beneath the canopy of evergreen trees, so you won't have to worry about becoming a sweaty, dusty mess.
Raft the Rapids of Weber River
Plan a trip down the Weber River with Park City Rafting and choose from two-hour trips to full-day excursions that are the perfect adventure for the whole family or solo travelers.
Lunch and plenty of thrills included.
Go Horseback Riding
See the stunning landscape around Park City on the back of a trusty steed. Only 20 minutes from Park City, North Forty Escapes offers horseback riding adventure in the mountains that will refresh your soul and revitalize you.
Savor Wine and Cheese at Outdoor Concerts in Deer Valley
There are free concerts on nearly every day of the week all summer long.
On Wednesday nights, there is an outdoor experience at the Deer Valley Resort Amphitheater. While the music itself is more than enough reason to stop by, the real treat comes in bringing along a picnic basket and a cooler full of white wine and cheese.
If you don't want to hassle with packing your own picnic basket, Deer Valley offers its own. Just make sure you reserve ahead of time.
Go for a Last Friday Art Gallery Stroll
From traditional art to photography, sculpture to mixed media, you'll find a bit of everything in the galleries along Main Street in Downtown Park City.
On the last Friday of each month from 6-9 p.m., more than 20 art galleries open their doors to a free community "Last Friday Gallery Stroll," complete with light refreshments.
Eat Fresh at Park Silly Sunday Market
Each weekend from early June through September, Main Street hosts a unique farmer's market, transforming the street into a spectacle of food, art, crafts, performances and costumes.
Some of the market's most popular food and drink includes lobster rolls and Bloody Marys.
Get Active at Utah Olympic Park
Built for the 2002 Winter Olympic Games in Salt Lake City, these fantastic venues are available for public enjoyment. The bobsled runs even with no snow on the ground. The huge Nordic ski jumps are used for zip lines and unbelievable tubing rides.
Ropes courses present several challenges for both strength and dexterity.
If you aren't in the mood for athletics of your own, watch as a spectator, or take in the exhibits at the free on-site museums.
Mountain Bike Among the Wildflowers
The mid-mountain trail is one of Park City's most famous and enjoyable trails offering 28 miles of exceptional mountain biking. Or try the Rail Trail, a ride perfect for the entire family.
There are several mountain bike rental companies in town to meet your bike rental needs.
Indulge Yourself at a World-Class Spa
Those looking to soothe tired muscles and spoil themselves are certainly in the right place in Park City.
Book the Warm Stone Massage treatment at the Waldorf Astoria Park City's elegant spa. Pair a yoga session or Tabata class with your massage at the Waldorf's fitness and wellness studio.
Summer in Park City is a great time of year to enjoy Utah's natural beauty and outdoor adventure.
Check out the Sunrise Lodge, a Hilton Grand Vacations Club.