Trip Report: Hilton Waikoloa Village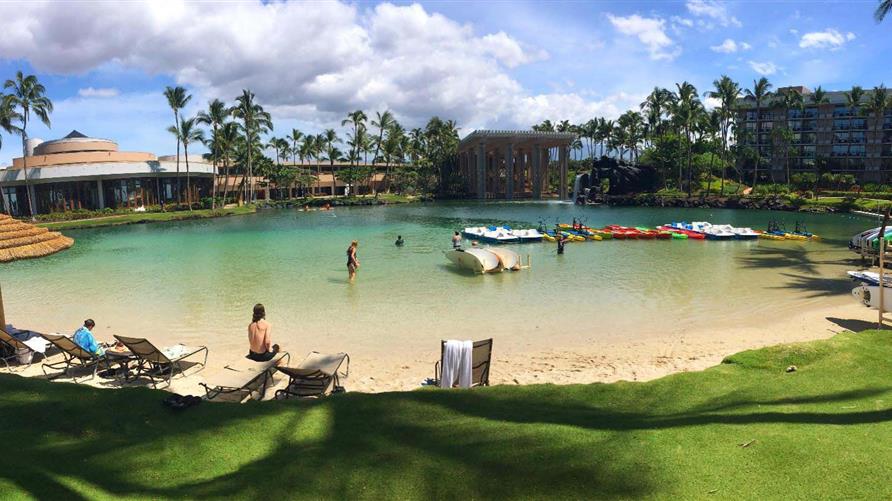 Located on the West side of the Island of Hawaii (most commonly known as the 'Big Island'), Hilton Waikoloa Village is perfectly positioned to take advantage of all Hawaii has to offer.
On the sunny side of the island, the resort is close to Kailua-Kona for shopping and restaurants, is less than a two-hour drive to Volcano National Park, and has an abundance of activities and cultural sights right on its doorstep.
Accommodations
We stayed at Makai at Lagoon Tower which is an upgraded experience featuring newly renovated rooms, personalized service, and dedicated lounge area at the Kona Pool along with other exclusive extras.
Opening in October 2018 is the new Ocean Tower by Hilton Grand Vacations Club. Made up of a mix of 72 Studio, 1-, 2- and 3-bedroom units for you to book directly with your HGV points. Ocean Tower also looks amazing with ocean-front views, renovated rooms and kitchens and laundry facilities, which is new for the Hilton Waikoloa Village resort. We can't wait to stay here once it's completed.
You can also transfer your points to Hilton Honors to stay in the Lagoon Tower or the Palace Tower.
Activities and Experiences
The resort itself is a sprawling 62 acres right on the Kona coast, it's absolutely massive, but in the best way. Each tower has its own pool area and restaurants close by, it's three large resorts on one property and you get to use the facilities at all of them.
We spent a lot of time at the Kona Pool as it was closest to our resort tower, but we also used all of the pools and the lagoon during the week we were there.
There are three pools, some with water slides, spread throughout the report plus an adult's only pool for those wanting some quiet relaxation.
Waikoloa Lagoon
Due to the volcanic nature of the island, there isn't a swimmable beach on site but there is a beautiful sandy 4-acre lagoon, teeming with turtles and tropical fish for you to discover. The lagoon is naturally fed by the ocean so is sparklingly clear and warm.
You can snorkel in the lagoon or hire paddle boards and boats and it's a great place to spend the day. The lagoon has full beach chair service as well as cabana rental so you can have that cocktail while swimming!
There is a dolphin lagoon where you can learn about dolphin conservation and swim with the resident dolphins. You can golf, play tennis and hire bikes to explore the local area and there are trams and canal boats to get you around and are a fun way to explore the resort.
The resort also has a massive enclosed walkway from one end of the resort to the other and along the way are heaps of museum-worthy art pieces from Hawaii and other Polynesian islands.
We found that there was so much to do at the actual resort, we were able to have a few days where we didn't go exploring elsewhere and didn't get bored or feel like we were wasting time sitting around the hotel pool all day, we felt like we got the best of both worlds here.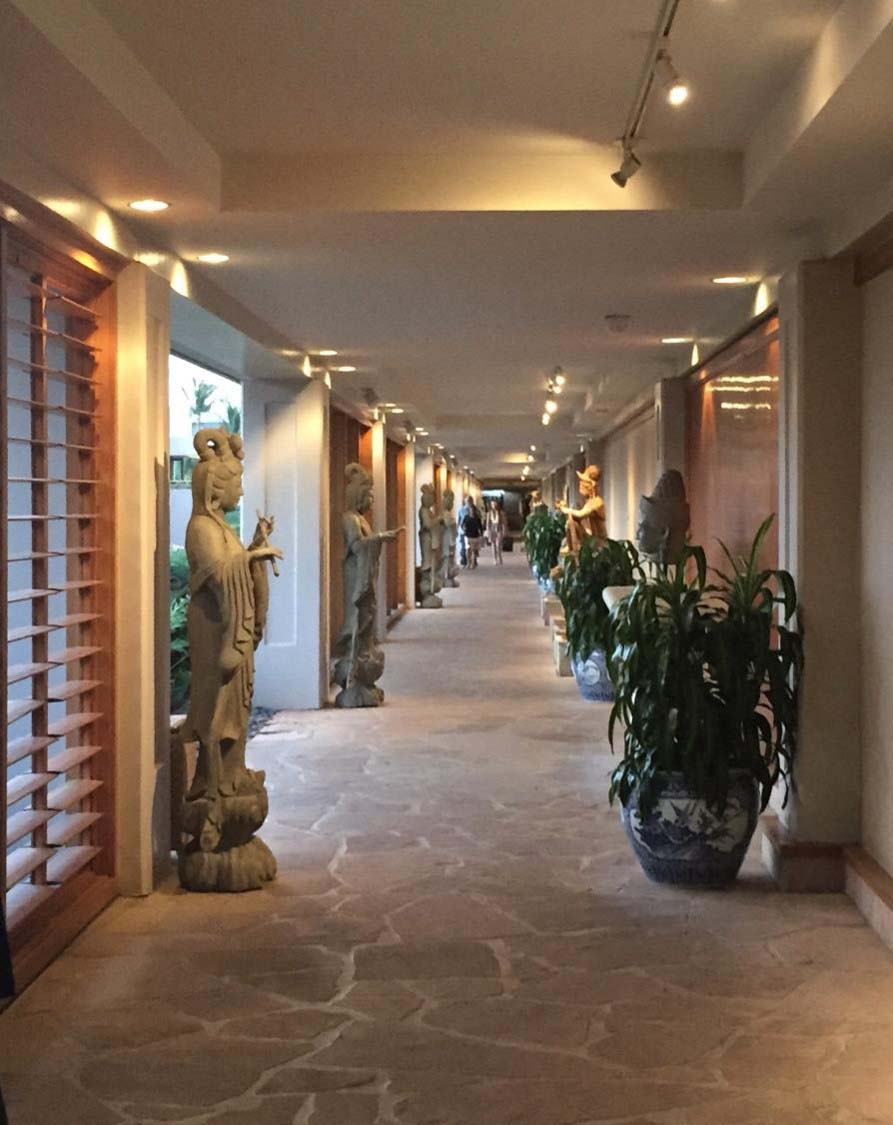 Kamuela Provision Company
The resort has nine restaurants and bars plus the pool bars and poolside service. It also has in-room dining available.
We had breakfast at Big Island a few times, it is a massive traditional hotel buffet with lots of different options. We also utilized Waikoloa Coffee a few times for breakfast, just getting some great Kona coffee and a pastry to start the day.
KPC (Kamuela Provision Company) is set right on the ocean front and you get an amazing sunset view while you eat. The food was really good with lots of choices, focused on local Hawaiian produce but without being too over the top.
We enjoyed the Lagoon Grill the most, you can sit looking at the dolphins or the larger swimming lagoon and the burgers and sandwiches were really tasty and not too expensive. It was just a great little spot to sit and watch the world go by.
Another place we used a lot was Orchids Marketplace. It had grab and go options which we good for either taking along with us when we ventured outside of the resort or just fancied a snack or smaller lunch poolside.
Mt. Kilauea
Hilton Waikoloa Village is a great place to use as a base to see everything the Big Island has to offer. You can park your rental car in the large parking lot or valet if that's easier for you.
Close by is King's Shops and the Queens Marketplace, both with lots of restaurants and shopping choices.
The town of Kailua-Kona is about 40 minutes with lots to see in-between. Kailua-Kona is the main town on Hawaii with lots of shopping, restaurants and cultural activities.
About an hour and 40 minutes away, via Saddle road, is Volcano National Park, home to Hawaii's famous Mt Kilauea. You can also take the longer route around the island, along the front of Mauna Loa and along the ocean to reach the town of Volcano in about two hours and 40 minutes. Both routes have some spectacular scenery and I would recommend driving one way there and the other way back if you have time.
Mauna Kea Summit
Also about two hours away is Mauna Kea, the tallest mountain in the world (when measured from its base, on the sea floor).
Mauna Kea offers a visitor's station you can drive to, but by far the best way to see it is to book a tour that takes you the summit at sunset. You get spectacular, once in a lifetime views from the top of the world.
On top of Mauna Kea are telescopes used by universities and space agencies all over the world, as the sun sets they all start to open to the night sky.
Hilo on the other side of the island has the unfortunate distinction of being the wettest part of Hawaii with over 270 rainy days a year but this makes for fantastic waterfalls and lush green jungle-like forests to explore.
If you are driving to Hilo, you should consider driving over the top of the island, via Waimea and Hawi, you will see some of the best scenery Hawaii has to offer, rolling green mountains, ocean vistas and quaint little towns.
All in all, we loved our stay and Hilton Waikoloa Village and can't wait to go back once the new HGV units are open.