A Big Island Honeymoon
This newlywed talks Ocean Tower must-see's to add to your Hawaiian honeymoon itinerary now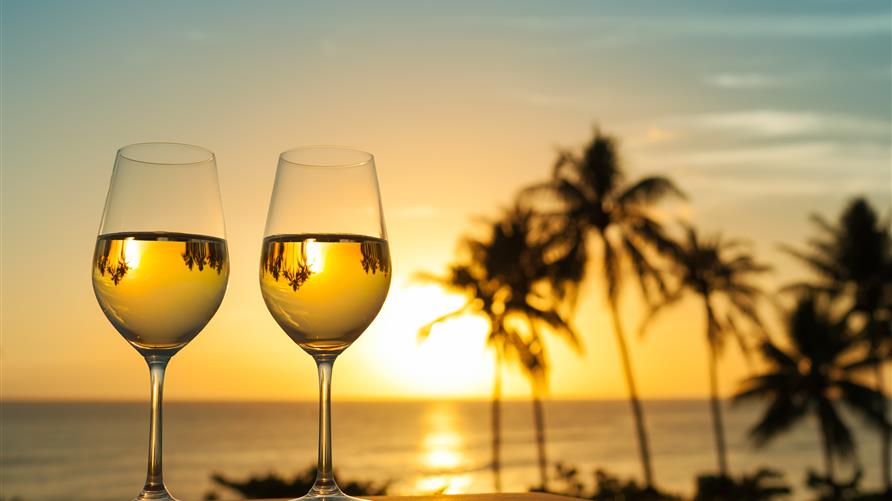 Close your eyes and imagine the sound of the Pacific Ocean washing ashore as you gaze out to admire a beautiful sunset in an idyllic tropical paradise.
If you're anything like me, that kind of imagery makes you want to start planning a trip to the Hawaiian Islands — like yesterday. Our honeymoon was the first time that my husband and I visited the Big Island.
You need to put Ocean Tower by Hilton Grand Vacations on your travel bucket list today.
Why did we choose a Hilton Grand Vacations property on the Big Island for our honeymoon? Well, it was all about relaxation, and Hawaii provides just that.
Ocean Tower Highlights
We had our eyes on Ocean Tower for quite some time, and ultimately, this property cemented the decision to travel to the Big Island for our honeymoon. Located in the Hilton Waikoloa Village, Ocean Tower has a wide variety of dining and activity options – from an incredible spa to a fantastic luau. This property is a true oasis, and in my opinion, one of the best places to honeymoon in Hawaii.
Let's start with our top-notch accommodations, a 1-bedroom suite with an incredible view of paradise. We decided to splurge on more space for this part of our honeymoon, after booking a studio at Elara the week earlier, and it was the best decision. We even had two balconies. And thanks to Waikoloa Coffee, just down the stairs from our room, we sipped Kona coffee every morning on our terrace. Does it get any better than that?
Sometimes I wish we could teleport back to those exact moments, but thankfully they will forever remain in my memory.
Finding our Zen at Kohala Spa
Nothing sets the stage for relaxation, like a trip to the spa. A spa visit was on our list right from the beginning, especially after those long travel hours. Before starting our couples' massage, we were both whisked away to our respective lounge areas.
I'll never forget the whirlpool area, where the attention to detail created a peaceful ambiance in which I'd gladly spend hours.
We booked a lovely 50-minute couples' massage, which was exactly the vacation prescription the doctor ordered. Between the massage-induced bliss and the laid-back Hawaiian vibe, we spent the rest of our stay in a state of Zen.
Buddha Point, Sunsets and Stargazing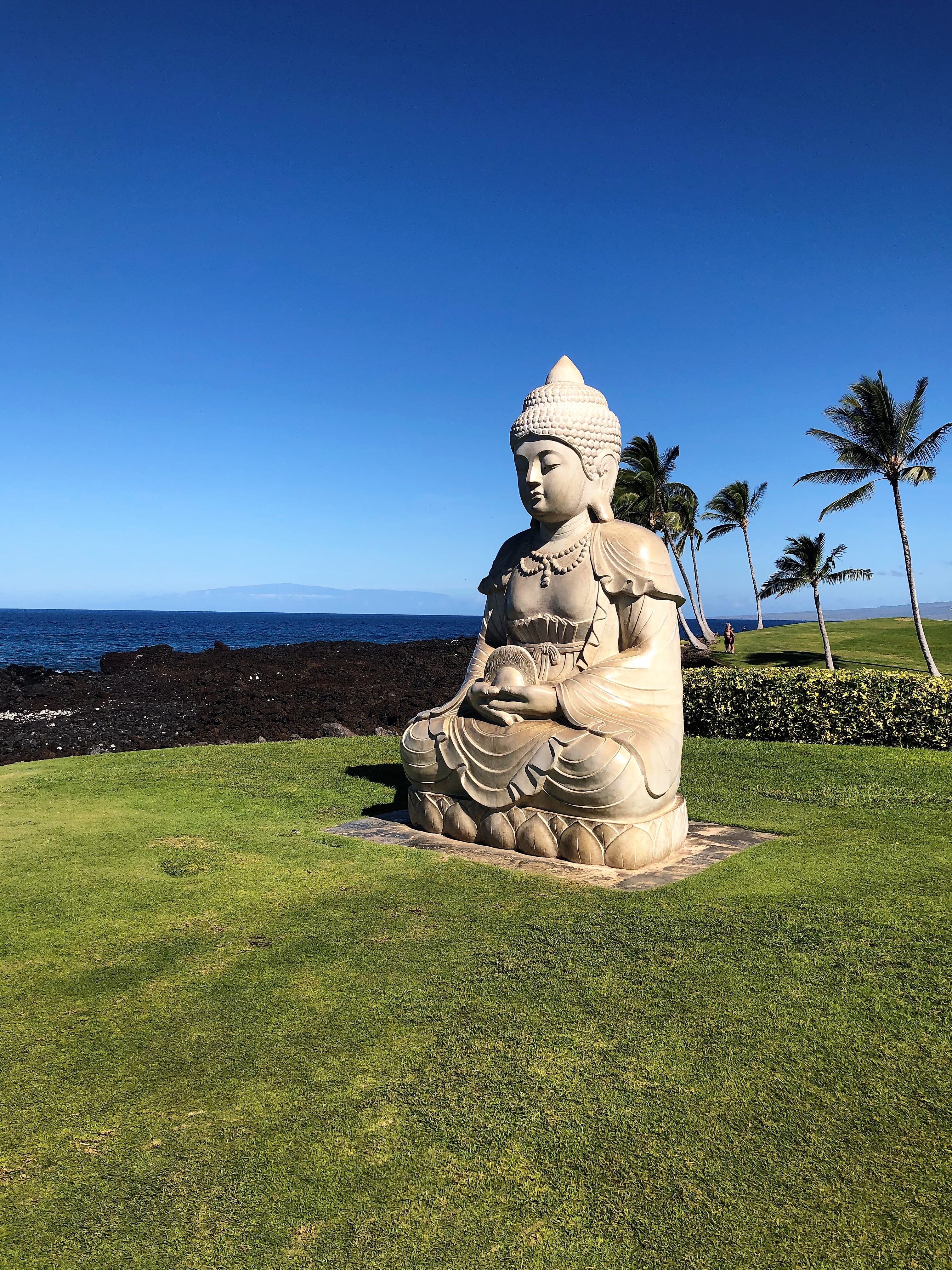 At the risk of hyperbole, Ocean Tower is home to the most beautiful sunsets I've ever seen. What I loved about this Big Island resort was the ability to sit and soak in stunning views, no matter where you were on the property. Like a ritual, we watched the sun go down every evening. Each time we'd cozy up at a different point near Ocean Tower and watch in awe.
Try to head out toward Buddha Point a little earlier than the sunset. Along the path are lounge chairs where guests can get comfy, maybe open a nice bottle of wine, and get ready to watch the sun sink into the Pacific. Don't worry if you don't get a lounge chair – there are so many areas where you can sit and enjoy.
Lastly, if you're visiting during whale season, you may see some pleasant surprises in the distance.
But don't leave too quickly after the sun sets. Hawaii has the most incredible stargazing, especially for people like us, who live in areas surrounded by lights. We found ourselves mesmerized by the beauty of the night sky. It's an experience to put on your travel bucket list, for sure.
Where to wine, dine and even get some brews
Whether you're looking to eat or imbibe, there are so many options on the property. Sometimes it was hard to choose, but we did end up having some favorites.
Nui Italian
We loved Nui Italian so much we ended up eating here twice during our stay — once at the restaurant and then take-out for one of our final nights. It was delicious. Specializing in pizza, we tried both styles offered: Roman style and Neapolitan style. Fun fact, Nui is the island's only Roman Pizza laboratorio (laboratory).
We ate more than just pizza, and I am happy to report their pasta was equally as impressive. Let's just say this carb-worshiper was in heaven.
Travel Pro-Tip: Order a pizza to-go and stargaze from your balcony.
KPC – Kamuela Provision Company
After booking a 5 p.m. reservation, and putting on our Sunday best, we snagged a table with a picturesque ocean view. Talk about an incredible restaurant, and KPC did not disappoint. We stayed for nearly three hours — just soaking in the scenery, savoring our food and experience. I highly recommend making a reservation here on your next trip.
Legends of Hawaii Luau
Neither one of us had ever been to a luau before, so this was a special treat. We went in with zero expectations, and we had the best time. Bring your appetite, because there's a huge variety of food. Everything from Hawaiian rolls, to a roasted pig, to poke. My husband, Keith, basically ate his weight in poke (he was all about poke on this trip).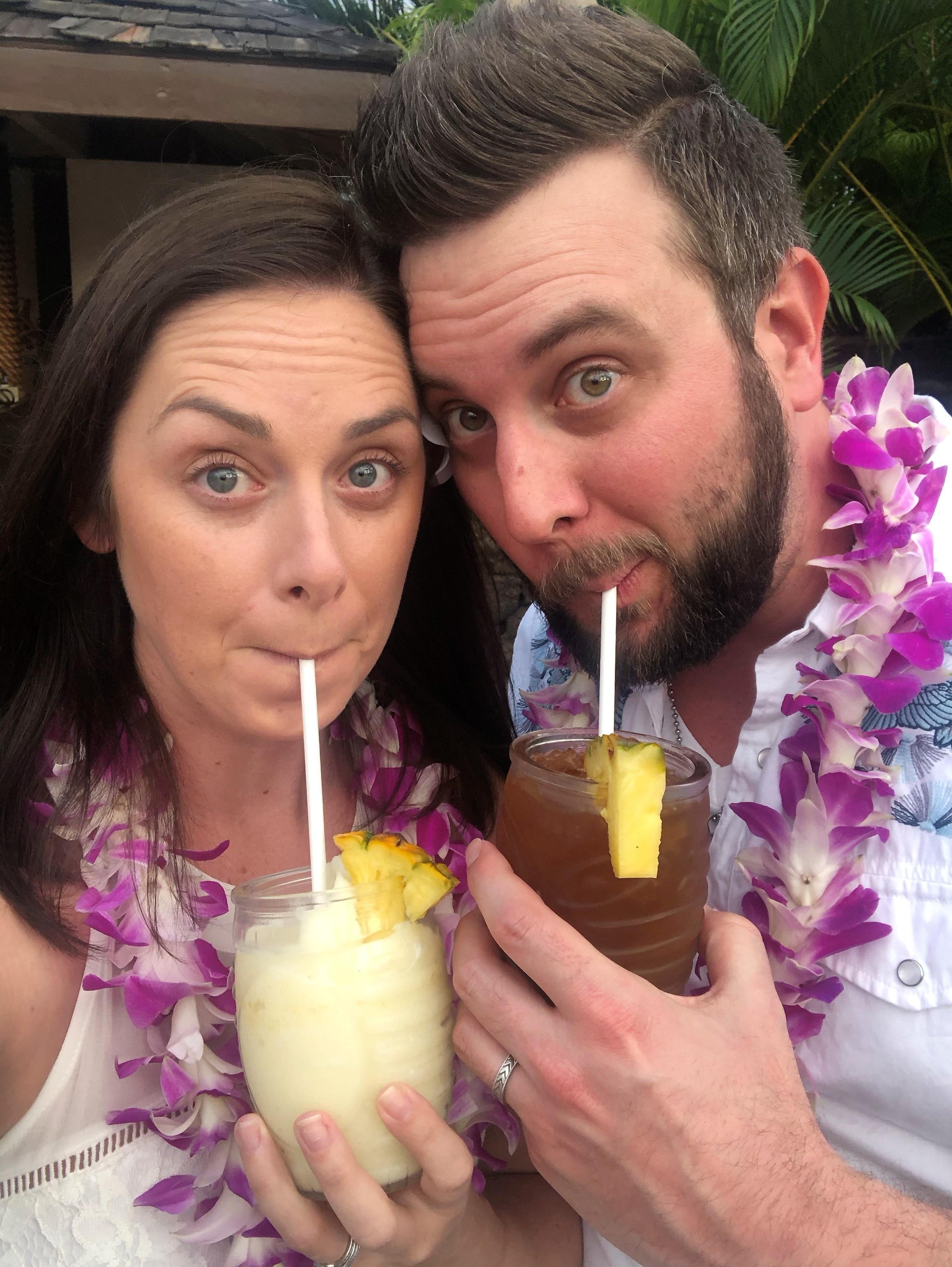 What we loved (even more than the food) was the storytelling. To learn more about the history and legends of Hawaii was really special. Between the hula dancing, fire performances and live music, the performers know how to entertain, and you can truly see their passion and love for the island.
Kona Tap Room
Last, but certainly not least, the Kona Tap Room. We could not believe that this was one of the amenities at Ocean Tower. We had hoped to venture out to the Kona Brewing Company — but with this on-site, we didn't even have to leave. Talk about a major perk.
The Kona Tap Room had such an extensive collection of Kona Brewing beers that each time we visited, we tried something new. They even offer a refillable crowler for your trip. It's a convenient way to bring some brews back to your room (or to enjoy poolside).
If you're debating where to honeymoon — I vote you put Ocean Tower by Hilton Grand Vacations in the running. You won't be disappointed. As for us, we'll be back.
Check out Transport Yourself with These Date Night-in Ideas for the Hilton Grand Vacations' Spicy Ahi Poke recipe my husband loved so much.