5-Day Getaway: Washington D.C.
One Owner shares his Washington D.C. itinerary and best tips for navigating the city
"Hey, dad. Didn't you say there's a Hilton Grand Vacations property in Washington D.C.?"
"Yes, Aidan."
"Can we go to Washington D.C.? I'm learning about it in history class."
And that's how our five-day learning spree in Washington D.C. got its start.
I asked Aidan to make a list of everything he wanted to see and do.
I got what I asked for: A list of 18 monuments, museums and historic places to explore during his short winter break.
Five days. Eighteen sites. Challenge accepted.
First thing's first, I booked us a room at The District by Hilton Club in Washington D.C. We had never experienced this accommodation, so it was a great reason to try it out.
Then there was the task of fitting 18 sightseeing spots into a trip in a city I haven't visited since the early 80s.
Luckily, I found the best trip-planning site in the world: Inspirock.
I plugged in our dates, and with a few short clicks to narrow our interests, the website presented an itinerary with nearly everything on our list with dates, times and website links.
The website even provided time travel between the activities. After a bit of easy tweaking and adding in our missing activities we ended up with a list of 21 places and things to do, all in an easy to read schedule.
Since it was February and still cold, I planned on using Uber to get us from place to place. However, we got lucky with warmer weather, and I found an alternative mode of transportation: biking!
I downloaded the Capital Bikeshare app and found a location within a few minutes of the hotel. We purchased short-term passes and began our biking adventure.
There were bike stations near everything we wanted to do, so there were no issues waiting for a ride or trying to find parking. Plus, it was a lot of fun.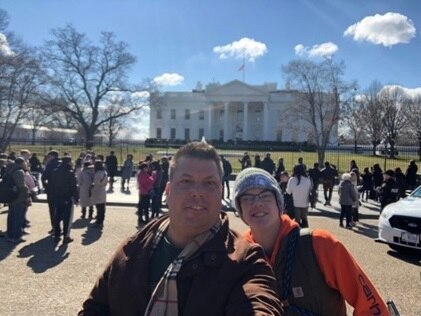 At night, we used OpenTable to book dining reservations and earn points towards a free meal. We also enjoyed happy hour at the hotel.
Overall, it was an educational and fun trip, full of father-son bonding.
I also picked up a few of my favorite trip planning apps along the way.
If you're interested in learning about more travel planning, check out these other travel app recommendations.