Hilton Grand Vacations' 9-Step Guide to Maui
From where to stay and what to do with the kids, the much-anticipated Maui Bay Villas is the perfect launchpad to an unforgettable experience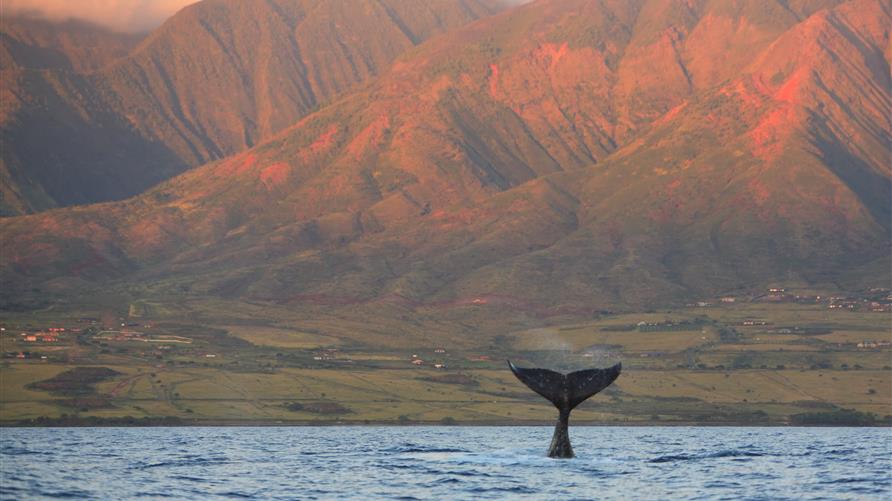 Maui was named the number one island in the world by Conde Nast — for the 20th year in a row.
Twenty. Consecutive. Years.
It's pristine climate, natural terrain and gorgeous weather make this Hawaiian island a sought-after destination for couples, solo travelers and families alike.
As we move closer to the opening of the long-awaited Maui Bay Villas by Hilton Grand Vacations Club, we're sharing our nine-step comprehensive guide to experiencing the magic of Maui.
1. Treat Yourself to Whale Watching
The region's whale season runs from December through March, peaking in February. If your trip falls outside of the active months, don't fret. Locals and visitors report North Pacific Humpback Whale sightings as early as October. These magnificent mammals grace the Hawaiian coastlines for their annual winter migration in an awe-inspiring spectacle.
2. Immerse Yourself in Nature
If you're looking for natural wonder, look no further than the second largest of the Hawaiian Islands. Maui is home to four state and national parks, and with more than 120 miles of coastline, it offers visitors 30 miles of swoon-worthy beaches.
Add these six to your short-list.
Explore the two volcanoes that make-up Maui and call this national park home. The most notable is Haleakala. Scientists estimate the volcano to be about one million years old. Should you journey to the summit, you'll sit 10,000 feet above sea level.
Ka'anapali Beach
Travel 50 miles west from Kahului Airport to this well-known west shore beach. Boasting three miles of sugar-white sand and crystal clear water, Ka'anapali Beach, is just the spot to enjoy swimming, cliff diving or digging your toes in the sand.
Wai'anapanapa State Park
If white-sand beaches are too unremarkable, hop on the famous Hana Highway and make your way toward Waiʻanapanapa Road. There, just at the end of the road, you'll find Wai'anapanapa State Park. This state park is home to volcanic (read: black) sand beaches, seabird colonies, lava tubes, blowholes, freshwater caves, a natural stone arch and many other once in a lifetime sights.
Keawakapu Beach
Head toward Maui's south shore to find this stunning white-sand beach. Perfect for a long stroll and whale watching during winter months, you'll discover this beach is noticeably less crowded.
Ho'okipa Beach Park
Awaken your spirit of adventure at this north shore beach. Ho'okipa Beach Park is the go-to spot for surfing, bodysurfing, windsurfing, parasailing and snorkeling. Non-surfing travel companions will also enjoy the beach's protected area for local honu (sea turtles) sightings, especially around sunset.
I'ao Valley State Park
Immerse yourself in the tropical flora of Hawaii and discover Hawaii's rich history. At Needle Lookout Trail and Ethnobotanical Loop, you'll learn about the plants the first Hawaiians brought. More than just a park, I'ao Valley State Monument, is also the battle-site of Kepaniwai, where Kamehameha I defeated the Maui army in 1790.
3. Raise Your Heart Rate With Outdoor Adventures
As we navigate the post-COVID-19 world, industry insiders are forecasting increased adventure travel trends. Not only is getting outdoors a safe way to have fun, but it also sets the stage for memorable experiences. With so many outdoor things to do in Maui, we're sharing our top picks.
Maui Kayak Adventures LLC will guide you through a variety of water-based activities, like kayaking, snorkeling and whale watching.
Maui Pineapple Tours. From fields to harvest, you'll get an in-depth look at what makes a Hawaiian pineapple special. Bonus: you'll leave with a farm-fresh, airport ready, piece of fruit.
Kapalua Golf – The Bay Course is more than just a championship course, which has hosted over 20 professional tournaments. It's also well-known on the island for its 17th hole, the only hole to play over the ocean on Maui, and it's just the place to improve your handicap.
Molokini Crater is just a few miles offshore and believed to be about 150 years old. It is one of three volcanic calderas in the world, Hawaii's only island marine sanctuary and is a must-see.
Kapalua Ziplines offers duel line courses that allow you to enjoy a birds-eye view of Maui side-by-side with one of your favorites. These duel line courses make for the perfect, pulse-racing adventure for couples and families.
4. Bond Over Family-Friendly Attractions and Tours
Try your hand at some of these top things to do in Maui with kids.
Set sail with Trilogy Excursions for unique access, perfect for the whole ohana, to the region's top sights.
Learn the ins and outs of caring for dairy goats and making cheese during hands-on tours at Surfing Goat Dairy.
Named best Luau in Maui, Old Lahaina Luau, treats audiences to the beauty of an authentic Luau, steeped in tradition.
Soak in an unmatched view of the Hawaiian Islands with a tour by Blue Hawaiian Helicopters.
5. Inspire Your Creativity at Top Museum Cultural Centers
More than just jaw-dropping scenery and ho'okipa, or Hawaiian hospitality, the islands are rich in history. Maui, the second-largest of the Hawaiian Islands, dates back over 1.3 million years. Brush up on the region's history at any one of these educational museums.
Maui Arts and Cultural Center is unique in Maui. Patrons enjoy an eclectic mix of dance, Hawaiian art forms, rock, chamber music, jazz, lectures, theater and contemporary work that challenge boundaries.
Through interactive exhibits, Lahaina Heritage Museum tells the story of Old Lahaina, from pre-contact Hawaii to early tourism. Just down the street from the Lahaina Heritage Museum, you'll find the Plantation Museum. Discover how the end of the whaling era and the onset of sugar and pineapple cultivation changed the local culture.
Located on the south shore, the Hawaiian Islands Humpback National Marine Sanctuary Visitor Center is the must-see Maui attraction to learn about marine life and, if you're lucky, you'll see Humpback whales breaching.
Alexander and Baldwin Sugar Museum offers travelers a look at the legacy of Maui through the eyes of its people. This museum tells the story of the men and women who cultivated the fields, manned the factory and brought the sugar industry to life.
6. Eat Your Way Through Maui
To quote the late chef and travel personality, Anthony Bourdain, "I think food, culture, people and landscape are all absolutely inseparable." For a truly immersive trip, add these spots to your "where to eat in Maui" list
Mama's Fish House is an award-winning, fine-dining choice for fresh fish and top-notch service.
Da Kitchen is your spot for traditional classic local and Hawaiian favorites.
Paia Fish Market, known for its family-style atmosphere and fresh fish, has been serving the community since 1989.
Leoda's Kitchen and Pie Shop will add flavor to your lunch with its menu of sandwiches, salads and baked goods.
Monkeypod Kitchen by Merriman is where they believe the best quality comes from hard work and passion. Enjoy local craft offerings such as beer and creative takes on Hawaiian and American cuisines.
Kula Bistro offers fresh cuisine, with an Italian flare, in a casual family-style setting. Enjoy breakfast, lunch or dinner at this bistro, located on the impressive slopes of Haleakala.
Flatbread boasts primitive clay ovens burning at over 800°F that bakes pizza perfection.
7. Indulge in Retail Therapy
No trip is complete without perusing retailers for souvenirs or a treat for yourself. Maui is complete with traditional mall offerings (Whalers Village, The Shops at Wailea, Maui Mall, Queen Ka'ahumanu Center) as well as retailers with a local flavor (Old Lahaina Center).
8. Partake in The Nightlife
Kick the night off at this low-key American style bar and grill. Fleetwood's on Front St. is well known for its live music, waterfront sunsets, great food and service and good island vibes.
If you needed another reason to check out Hana Highway, Charley's Restaurant and Saloon just might be it. This Maui landmark, established in 1969, is known for its unique menu, live music events and everybody knows your name charm.
A consistent "best of" winner, the South Shore Tiki Lounge, quenches the thirst of patrons of all (legal) ages with its nearly all-day happy-hour. Casual eats like burgers, sausages and pizza, pair with live music and kitschy tiki decor for must-try experience
9. Come Home to Your Home Away From Home When You Stay in Maui
For more than a few reasons, we believe the long-awaited Maui Bay Villas by Hilton Grand Vacations Club is the perfect Maui resort for the whole family. Unlike traditional Maui vacation rentals, vacation ownership at Maui Bay Villas offers Owners an unmatched island experience for years to come.
Located on the eastern edge of Maui's southwestern coast, Maui Bay Villas is one of the only oceanfront parcels currently entitled for development on the island of Maui, offering guests spectacular views of Maalaea Bay.
Learn more about owning your Maui vacation with Hilton Grand Vacations timeshare ownership at Maui Bay Villas.