Best Multi-Gen Travel Destinations: Myrtle Beach Edition
South Carolina's coastal city offers up plenty of activities for multigenerational travel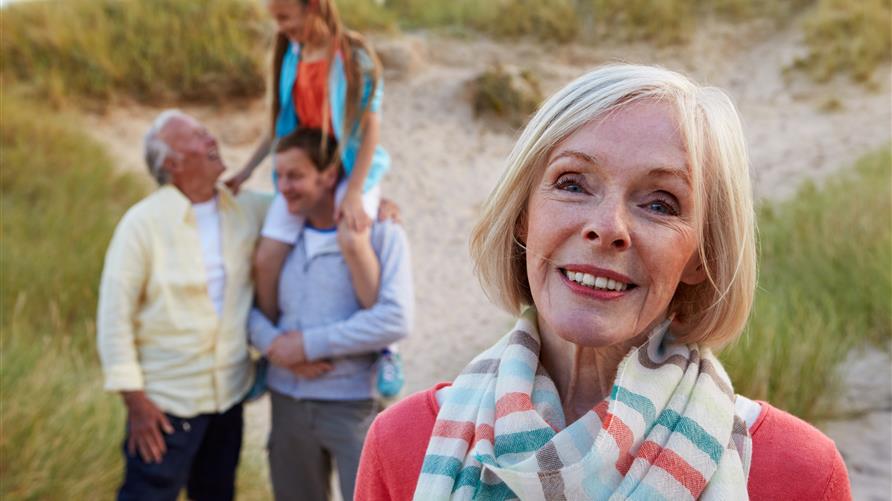 If your crew likes sunshine, sand and endless fun, Myrtle Beach is hard to beat. South Carolina's famed beach city boasts more than 60 miles of sand, a boardwalk full of activities, some of the best golf courses in the country and three Low-country Hilton Grand Vacations properties for you to enjoy.
One of the benefits of choosing Hilton Grand Vacations for multi-generational family vacations is the opportunity to earn the Grand Experiences Card. Show your card at select businesses, from attractions to restaurants, and receive a 10% discount.
Here are our top picks for each generation.
Baby Boomers
While a big draw for Baby Boomers (those born between 1946 and 1964) is Myrtle Beach's world-class golf courses, if teeing off isn't your thing, there are many other options.
Fishing with Shallow Minded Inshore Charters is a great place to start. Their charter boats take you out for a full or half-day to cast lines for flounder, redfish, speckled trout and more. Show your Grand Experiences Card for a 10% discount.
Cycling on an electric bike is another popular recreational activity, and Pedego Myrtle Beach has plenty of e-bikes to rent. Take in the lay of the land on your own or with one of their organized group rides. Your Grand Experiences Card gives you 10% off all the fun.
A great way to unwind after a long day of sightseeing is to enjoy a tasting at Duplin Winery at North Myrtle Beach. The relaxed and rustic locale is known for its Muscadine wine, one of the few wines made from true American grapes. Show your Grand Experiences Card to save 10% on your purchase.
For even more R&R, book a massage or other pampering service at a premier spa. Two of our favorites are Spa 33 or Awakening Spa. Once again, your Grand Experiences Card gives you to a 10% discount.
Gen X and Millennials
Adventure-loving 20 to 50-somethings are big fans of Myrtle Beach Watersports. Each of the three convenient locations has both Jet-ski and boat rentals. If you're feeling extra adventurous, sign up for a guided adventure dolphin tour. Make sure to flash your Grand Experiences card to save 10% off your booking.
For less surf and more turf in your fun, check out The Market Common. You'll find everything from independent boutiques to a milkshake bar to a farmer's market as this 114-acre outdoor retail, dining and entertainment complex.
Broadway at the Beach offers another worthwhile option for shopping and dining along with museums and other attractions. Stick around after sundown for some of the best nightlife in Myrtle Beach.
One evening activity option to consider is catching a show at Comedy Cabana. As Myrtle Beach's only five-star comedy club, you'll enjoy acts from some of today's top comics. (They also have an open mic night for all you aspiring comedians.) Show your Grand Experiences Card to save 10%.
Generations Y, Z and Alpha
The younger generations naturally flocks to the kind of fun you'll find on the Myrtle Beach Boardwalk & Promenade. Located along this 1.2-mile oceanfront walkway are thrill rides, surf shops and family-friendly eateries.
Add the SkyWheel, an observation wheel that gives you a bird's eye view of Myrtle Beach, to your "things to do in Myrtle Beach list" for kid-friendly fun.
Another kid-approved attraction along the boardwalk is Ripley's Aquarium of Myrtle Beach. Stingrays, sharks, jellyfish and more make their home among more than 14,000 underwater creatures. Don't miss the recently opened penguin exhibit.
Youngsters with energy to burn are sure to dig Rockin' Jump Trampoline Park. The park is taking extra steps to ensure kids can jump, climb and play as safely and socially distanced as possible. As a Grand Experiences cardholder, you'll enjoy 10% off admission.
Mellow out and get in tune with Mother Nature by exploring Myrtle Beach State Park. Nestled within the peaceful oceanfront maritime forest are hiking trails, fishing piers, picnic shelters and more.
A popular option for kiddos is earning a Habitat Patch by completing scavenger hunt bingo.
Discover the Many Benefits of Hilton Grand Vacations Vacation Ownership
In addition to great discounts to top Myrtle Beach attractions, vacation ownership through Hilton Grand Vacations gives you access to spacious and well-appointed resort accommodations in Myrtle Beach.
Learn more about the many benefits of ownership with Hilton Grand Vacations.
Then read HGV Picks: The Best Restaurants In Myrtle Beach to finish planning your Myrtle Beach getaway.