HGV Picks: Where to Eat in Midtown Manhattan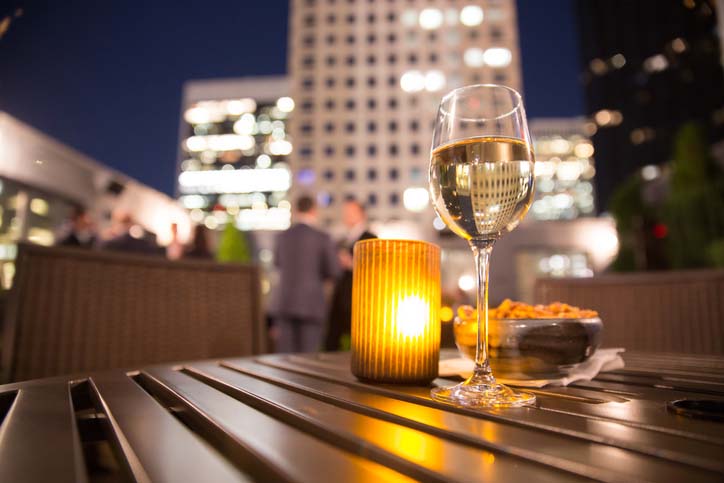 Dining out in New York City can be considered a sport. With so many incredible restaurants, how do you choose? In our opinion, Midtown offers some of the best gastronomic experiences in the city. On your next trip to New York City, take along our top picks of where to eat in New York City.
$
Located inside The Plaza Hotel Food Hall, Luke's Lobster is the perfect place to grab a picnic lunch to enjoy in Central Park. Try the Luke's Lobster Roll – a ¼ lb. of chilled, wild-caught lobster served in a fresh bun, topped with melted butter, mayo, and a secret seasoning.
To Eat: The Lobster Roll, of course, but you can also try the Luke Trio – ½ Lobster Roll, ½ Crab Roll, and ½ Shrimp Roll (that's not a typo, we looked it up).
"Our crust has to be blackened and crisp! Only fresh tomatoes and mozzarella," legendary pizza chef Angelo often said when he opened his pizzeria four generations ago. This dedication to great New York-style pizza continues with his grandchildren at Angelo's Pizza NYC.
To Eat: Order an Old Fashioned Square Pie or an Old School Round Pie. If you aren't in the mood for pizza but want a deal in the heart of the city, stop in for a lunch special of a pasta + salad or a panini + salad.
You might never see a milkshake as colorful and fun as the creative shakes at Black Tap. New York native and Michelin Star-awarded chef, Joe Isidori, brings you Black Tap, an experience beyond just the best burger and shake you've ever had. From the decor to musical playlists, Black Tap creates something more than just shareable food, it's the must-stop for every food tourist and burger-obsessed New York local.
To Eat: Try the Bison Craft Burger with a side of onion rings. Wash it down with a famous shake.
$$
The Brooklyn Diner is the perfect place for breakfast, lunch, and dinner – it's the comfort food you really want to eat. There might be nothing better than a bowl of the diner's famous chicken soup to settle a traveler's stomach.
To Eat: The Chinese chicken salad and the cheeseburger deluxe were both voted the BEST OF NEW YORK by New York Magazine. The pastrami is hand-carved to order, and the chicken pot pie is so good, it runs out every day.
Guantanamera captures the essence of Old Havana with exposed brick, candle-lit tables, rattan-covered ceiling fans, and hand-painted folkloric murals. In addition to the unique dining experience, Guantanamera offers a distinctive assortment of fine wines, rums, liquors, specialty cocktails, and exceptional appetizers. For those who enjoy dining to the beat of salsa, rumba, and cha-cha, live music and dancing happens every Tuesday to Sunday from 9 p.m. to 1 a.m.
To Eat: Empanadas. (But leave room for the paella marinera for a taste of the ocean.
The social buzz and Instagram hit, Tanner Smith's, is a unique experience in a warm, welcoming setting. The main bar area is designed after a 1920s New York drinking house. Artfully-created cocktails along with a rotating craft beer selection and wine list are accompanied by thoughtful food selections to share.
To Eat: Try the Thai deviled eggs, a cheese and charcuterie board, and New York-style poutine.
$$$
Located inside the West 57th Street by Hilton Club property, and right across the street from Carnegie Hall, Redeye Grill celebrates artists with its timeless atmosphere and mouthwatering menu. Open for lunch, dinner, and weekend brunch, Redeye serves dishes from sushi to locally sourced fish, steaks, produce, and a raw bar. Patrons can also enjoy live music seven nights a week in Red's Lounge.
To Eat: Try the Ahi tuna poké with macadamia nuts or the scallops with heirloom cauliflower.
The magic and authenticity of Mediterranean cuisine, concentrating on only fresh and simple ingredients, feed the mind and the body. Two sprawling floors welcome guests to this popular Provence-inspired restaurant. Downstairs, the scene-stealing, long white marble bar invites guests to relax with a signature cocktail like the Cucumber Cosmo. Upstairs, two spacious dining rooms can each host events from 40-80 people or combine them together for a real party.
To Eat: Enjoy specialty cocktails like the Soulflower or a Champs de Fraises.
$$$$
With your waiter as your guide, go on an adventure of the freshest and most diverse selection caught by Milos fisherman on the shores of the Mediterranean Sea. Whether your preference is grilled, fried, sashimi, or tartare, the perfect catch waiting for you.
To Eat: Try it all. The à la carte menu is meant to be shared.
Nobuyuki "Nobu" Matsuhisa's Japanese restaurant is known for fusion cuisine, blending traditional Japanese dishes with Peruvian ingredients. The menu is like a playground for the taste buds. Select from the menu or be surprised with the Omakase Tasting Menu to experience the essence of Chef Matsuhisa's cuisine. Dine for lunch or dinner or – if visiting on a Sunday – try the lunch pre-fixe.
To Eat: Try Nobu's signature black cod in miso, or dine hibachi style on Wagyu beef, mixed seafood or Shabu-Shabu.
History. Elegance. Fine cuisine. The decor, details around every corner, and beauty of this special dining experience will stay with you forever. Classic dishes include traditional Tea Room red borscht and Tea Room blintzes. Wines are handpicked by a veteran sommelier, and they have more than 40 varieties of vodka.
To Eat: You can go for traditional tea, but you can also enjoy brunch, lunch and dinner. There is an extensive caviar menu as well as a pre/post theater menu, and a children's tea with a variety of decaf teas, and hot chocolate with whipped cream and marshmallows.
We hope your next trip to New York City is filled with culinary delights around every corner.