5 of the Best Vegan Restaurants in Orlando
If you're looking to experience the plant-based-eating craze, check out these vegan restaurants in Orlando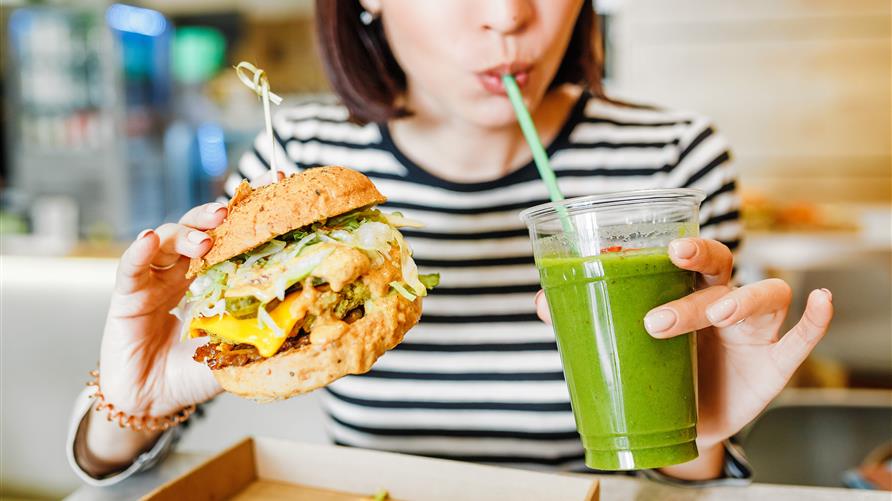 When a typical restaurant's menu might have one token vegan option, going out to eat can feel a bit dull. Fortunately, for vegan and veggie-loving meat-eaters alike, plant-based options are growing in popularity.
Veganism is exploding in popularity all over the U.S., as more people understand its impact on the earth.
Cities like Orlando are leading the way for vegan restaurant options. According to PETA, more than 30% of restaurants in Orlando offer vegan options, ranking Orlando as the #6 vegan restaurant destination in the country.
Check out Hilton Grand Vacations list of its five favorite vegan restaurants in Orlando.
Dandelion Community Cafe

At Dandelion Community Cafe, you'll find a restaurant that truly believes in social and environmental responsibility. Dandelion sources organic, fair trade, local, cruelty-free and eco-friendly products.
Inside the 1920s colorful house it calls home, you can dine in three different dining rooms or a front patio area. Select members of Dandelion's staff maintain an edible landscaping garden, and the Florida School of Holistic Living maintains the medicinal community herb garden that also features a symbolic Bodhi Tree.
Here are a few favorites to try:
$6 Giddyups every Monday. You can get delicious homemade hearty chili, with house-made, plant-based vegan queso, crumbled blue corn chips, scallions and tomatoes.
Buffalo '66. Cashew-crusted tempeh tenders, carrots, celery, and red onions with buffalo sauce and ranch dressing
DIY Bowls or Wraps. Choose to make your own bowl or wrap, using a variety of ingredients, toppers, dressings and sauces.
Proper & Wild
Proper & Wild is located just off Park Avenue in the heart of Winter Park. This restaurant features vegan and vegetarian food, organic coffee, organic cold-pressed juice, wine, beer and cocktails.
Check out happy hour, Tuesday - Sunday from 3-6 p.m. or brunch on Saturday and Sunday.
Here are a few of our favorite dishes:
For brunch, be sure to try the Cast Iron Frittata with milled chickpeas, seasonal veggies and fresh greens.
For happy hour, try the Wild Burger with a lentil, black rice and beet burger, pickled fennel, house jalapeno cheese, eggplant-pepper chutney, arugula and a toasted bun.
For dinner, order the gluten-free red curry ramen with peanut coconut curry broth, lemongrass, miso tofu, rice noodles, seasonal veggies and dulse.
Order an organic cocktail like the Wild Bloody Mary with Yuki Otoko sake, kimchi brine and wasabi.
Market on South
Located in Orlando's Milk District, Market on South is the current home of vegan restaurant Dixie Dharma and Valhalla Bakery. This shared market space consists of a restaurant, bakery and bar offering a full plant-based dining and beverage menu, including BBQ and desserts.
At Dixie Dharma, be sure to try:
Florida fried green tomato
Carolina BBQ pulled jackfruit
The Orlando Bird (Dixie Dharma's famous Sloppy Joe)
Valhalla Bakery offers decadent cakes, cupcakes and more. All desserts here are served egg-free, dairy-free and vegan-friendly. Taste test a few of our favorites like:
Succulent flower pot cakes
Ginger molasses cookies
Put Da Lime in Da Coconut Cake
Cinnamon rolls (Sundays only)
The Sanctum Cafe
The Sanctum Cafe serves plant-based, sustainable, flavorful food, not because it's trendy, but because it's a conscious way of living.
When you eat here, you'll find a community of foodies that come together to support local farmers and artisans. Each dish is a tasty combination of nourishment and indulgence.
Here are a few favorites:
Breakfast - Breakfast burrini
Brunch - Loaded toast
Lunch and Dinner - Pumpkin chili bowl
Ethos
Ethos Vegan Kitchen in Winter Park operates a socially responsible and environmentally aware business.
Ethos' menu is 100% vegan and features hearty, homestyle fare. They also offer a selection of vegan beer and wine, plus vegan bakery items made from scratch on-site daily.
Try these fresh dishes:
Yo Mama's lasagna
Pecan-crusted eggplant
Bay cakes
While you're at it, check out the HappyCow app, a vegan-run guide that recommends more of the best vegan restaurants in Orlando, as well as other plant-based, vegan and healthy food restaurants around the globe.
Read on to discover how to spend three action-packed nights in vegan-friendly Orlando.