Owner Spotlight: Why We Bought a Timeshare in Our Late 20s
The stereotypical image of timeshare owners is middle-aged travelers headed to the same spot each year. According to Consumer Reports, today's timeshare owners are getting younger, and half of them have children under the age of 18. If current trends continue, young families could soon lead the way in the world of vacation ownership.
It's not just the face of Owners who are changing, either. Timeshares like Hilton Grand Vacations don't limit travelers to the same destination each year. Instead, our Owners use ClubPoints to visit some of the world's most sought-after destinations.
But don't just take our word for it. We spoke with Hilton Grand Vacations Owners Kassi and Keith about their experience with vacation ownership. This couple, who bought in their late 20s, calls our Tuscany Village property in Orlando their home away from home.
Here's why they chose vacation ownership with Hilton Grand Vacations:
Q: How did you hear about Hilton Grand Vacations?
Kassi: We are Hilton Honors members and have been traveling with Hilton for quite some time. When I travel for work, I always want to stay with Hilton, and appreciate the consistency of the brand.
Last year, I was booking a hotel for a trip to Berlin with friends, and right after I made the reservation, the agent on the phone asked if I wanted to hear about Hilton Grand Vacations.
Before I knew it, I purchased a 3-day vacation package to New York City. Both Keith and I absolutely love NYC, so it was a no-brainer for us. Our sales presentation was at the West 57th Street by Hilton Club.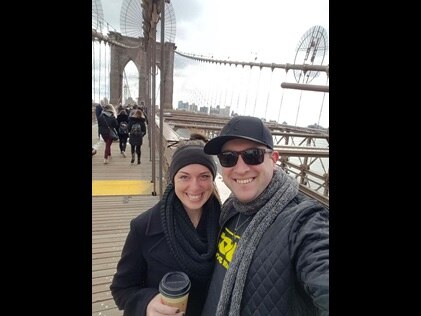 Q: When did you know you wanted to buy?
Keith: We went into the presentation as complete skeptics.
We sat down with the sales rep and felt a bit guilty for wasting his time. But it didn't take long for our attention to click into high gear since the salesperson was amazing. He really took the time to find out who we are and understand our travel habits and lifestyle.
Not long into our conversation, it started to dawn on us that we could spend less on travel and continue to explore the world with all of HGV's properties and experiences.
We realized that we could invest in our future. And still being south of 30, we saw so many amazing trips in our future at such a better price. We also realized that we could enjoy a little more space when we travel.
Q: Where did you buy with Hilton Grand Vacations?
Kassi: We bought Tuscany Village as our home base. But our plan is to travel to different locations each year, as well as recurring visits to New York City – one of our favorites to travel together.
The property I am most excited about is the HGV resort in Tuscany, Italy. Being surrounded by vineyards where we can relax drinking carafes of local wine sounds like the perfect vacation for us.
We realized that there are destinations that may not have been at the top of our list, but now with access to them, we can travel there. Places like Scotland and Hawaii are all part of our new ownership and travel bucket list!
Q: What are you most excited about?
Kassi: For us, the big thing initially is that Hilton Grand Vacations is really going to take care of us. We saw this with our sales rep at the presentation. Knowing what the brand stands for, we know that by owning with HGV we get quality vacations and opportunities to see the world.
We know we are younger than the traditional timeshare Owner, but Hilton Grand Vacations doesn't feel like a traditional timeshare. We also love the thought of having a lot of time to share our vacations with friends and family.
Keith: Can I add that we both work our butts off? We want to travel every year. It's something that we aren't going to put off for later.
Even if our year is crazy busy, we are still going to take advantage of our vacation time — even if we need to do a staycation at our home resort in Orlando!
Q: Since you are a brand-new Owner, what do you want to learn more about?
Kassi: For me, since I am a blogger on top of my day job, I immediately went to the Hilton Grand Vacations blog and read the articles on how to best use your points.
I want to learn to navigate the points system, cruises, open season, last calls and understand the best practices of our timeshare. We learned so much in one quick presentation in New York, so we are excited to dive deep into all of the properties, excursions and benefits that HGV has to offer.
Q: Why did you choose to purchase a timeshare in your late 20s?
Kassi & Keith: We really didn't anticipate purchasing when we walked into the presentation. When we started talking with our sales rep, we talked about our travel habits. Our typical habits include a big international trip one year and then stay domestic and do a lot of smaller trips within the U.S. the following year.
When we learned about HGV ownership, it mirrored how we travel. The lights went on, and we saw how this was a really good deal for us.
Owning with Hilton Grand Vacations allows us to enjoy our travel lifestyle, but now we will get more without spending more. I (Keith) work in the hospitality industry, so I am so excited to stay in such nice places paired with impeccable team members. We know that we will be Owners for our lifetime and the flexibility of HGV made this big decision so comfortable for us.
Q: What was the sales experience like? What can you share with people who might attend an upcoming presentation for the first time?
Kassi & Keith: It wasn't what we originally thought it would be. At all. In fact, it was the complete opposite.
The presentation was a one-on-one experience, truly made just for us. We felt at home right away since everyone was so friendly with a relaxed, kick-back lifestyle. We can't say enough as to how personable and real the presentation was. Our sales rep got to know us and by that connected with us. We felt like we could take this guy out for a drink after and hang out!
Our sales rep molded a program just for us and our lifestyle. Yes, at first it felt like we were trying to listen and digest a lot, but he went through things again, used a lot of visuals, and broke down exactly how it works. At the end of the day he wasn't out to sell us this huge package. We were very open and honest with him about what we felt comfortable spending, and he didn't push once on upselling us at all.
Of course, the presentation isn't long enough to learn everything about HGV, but we are so excited to discover all we can do with our points. It will be a learn-by-doing experience.
Q: Where is your first stop?
Kassi & Keith: We just got our account activated, so we've had a blast looking at every property we can visit. We looked into Las Vegas as our first stop or one of the all-inclusive resorts in Mexico. We have some good friends that we want to share our travel experiences with, so we are excited to invite them on our future travels.
Of course, we want to plan a staycation at our home property. We know we don't ever have to stay at the property we bought, but Tuscany Village is so stunning!
Q: Do you have any last tips for others interested in attending an HGV presentation?
Kassi & Keith: Looking back on our presentation, go into it with an open mind.
This was so different and refreshing – nothing like a timeshare presentation we thought it would be. Also, be honest about your budget. You'll be surprised in a good way at what you can afford.
Join the vacation lifestyle
Do you have your own questions about vacation ownership? At Hilton Grand Vacations, we're committed to helping you find the membership that fits your lifestyle and helps you meet your travel goals.
Contact us at 800-230-7068 of fill out an online contact form to start your journey toward vacation ownership.