Why We Bought a Timeshare with Hilton Grand Vacations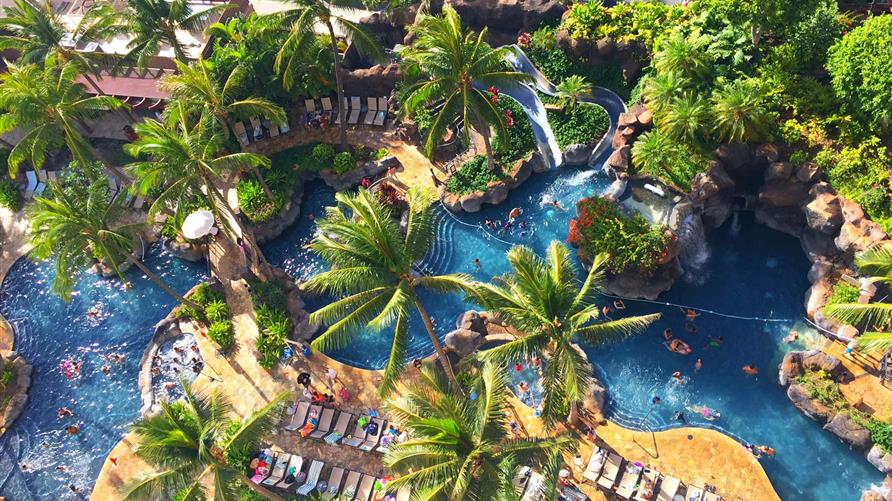 We love Hawaii. It's a beautiful place to visit. It's an easy (although long) flight from Australia and the people are so welcoming and friendly. Because it is a 10-hour flight, we tend to stay for at least two weeks to make the most of the time away.
We first stayed at a Hilton Grand Vacations property just because it looked nice online and had space for us to spread out and relax. That was in the newly renovated Lagoon Tower at Hilton Hawaiian Village in a 1-bedroom condo. We then spent a week during the same holiday at Hokulani Waikiki by Hilton Grand Vacations, and we were hooked!
When we came home, I scoured the internet to find out all I could about Hilton Grand Vacations and all the different destination options. We took the plunge and bought points so we could stay in these properties any time we liked.
We looked at what was available at the time and decided to purchase 2 weeks at Hilton Grand Vacations Club on Paradise. Knowing we had flexibility to use the points wherever we liked, the decision was less about home location and more about cost-effectiveness.
We love that we feel like we own a little slice of Paradise.
The top 7 reasons we bought with Hilton Grand Vacations
1. Destinations
With properties throughout the U.S. and internationally, there's lots to choose from. Each location has various accommodation options from studio apartments to large, 3-bedroom condos and villas. We love a beach holiday and most of the properties are located close to or on the beach. Others are located in tourist hot spots like New York and Las Vegas.
2. Flexibility
One of our biggest concerns about purchasing timeshare points was the misconception of being "locked" into traveling to the same place every year, but that's not the case with Hilton Grand Vacations. We can travel anywhere in the network of properties at any time of year, providing we have the points available. With the wide variety of destinations to choose from in really great locations, we don't think we would run out of places to visit.

If we did run out of Hilton Grand Vacations properties, there is also the option to transfer the points to Hilton Honors, opening up our options to thousands of Hilton family hotels around the word or to other timeshare groups such as RCI who also have thousands of options available.
3. Save – Borrow – Use
Another bonus for us was being able to save our points to use in the following year or borrow from next year's points, effectively enabling us to have one long holiday every two to three years. This also means we can save or borrow points to stay in larger accommodation types if we are traveling with friends, which we do often.
4. It's Growing!
Hilton Grand Vacations is growing every year. Since becoming members in 2016 they have added new properties in Hawaii and New York. This means there will always be something new to try and our travel can evolve as new destinations come online.
5. Cost
Holiday travel can be expensive, especially if you like to stay in nice accommodations in prime locations. Our Hilton Grand Vacations points allow us access these great locations in a cost-effective way.

After the initial purchase, the maintenance fees are much less than if you booked equivalent accommodations through a booking website or even direct with the property. If you choose to save and borrow points to have one larger holiday like we do, it means the cost is spread over a number of years rather than upfront as one cost.

Compared with booking direct with the hotel, my maintenance fees work out to be about half to two-thirds of the cost of a direct booking depending on where I stay.
6. Sharing
We love that we can share our timeshare with family and friends, both through traveling with them and staying in larger 2- or 3-bedroom accommodations and by booking with our points on their behalf. It's cost effective for them and we can ensure any points we may not otherwise use are not wasted.
7. Quality
After staying with Hilton Grand Vacations for the first time, one of the biggest selling points for us was the quality. The properties are all very well maintained and are finished to the highest Hilton standards. Beds are comfy, rooms are clean and the pools and gardens are always immaculate. We had a minor problem one night with the bath and the maintenance people were there quickly and fixed the problem immediately.
Kitchens are always well stocked, even those in smaller or studio spaces, making it easy to keep a few snacks and drinks on hand, right through to cooking a full meal.