Using Your Timeshare Resort to Stay Healthy on Vacation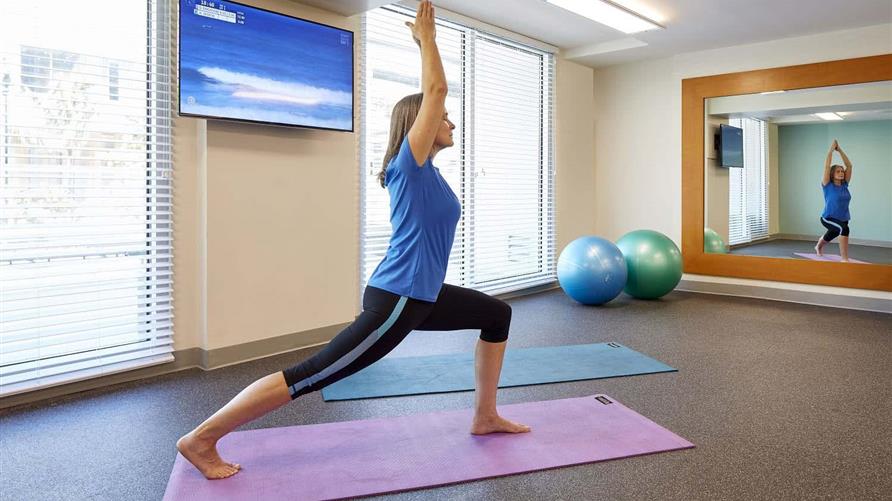 Vacations are meant to help you break away from your daily routine. But without your favorite gym or exercise class, it can be tempting to skip workouts and lounge by a pool all week. Hilton Grand Vacations can help you get away from the stress without leaving your workouts at home.
With vacation ownership through Hilton Grand Vacations, everything you need to stay fit on vacation is already at your destination. Whether you prefer a workout app, a solo gym experience or group activities, our locations fit active travelers perfectly. You may even find new ways to break a sweat.
All Hilton Grand Vacations resorts offer gyms for your usual workout. Many destinations provide additional fitness options, such as group classes, water aerobics, yoga and more. Because our timeshares offer consistent, diverse amenities, it's easy to take a vacation without breaking healthy habits.
Here are four reasons why timeshares offer great workout options for travelers:
1. You can exercise in your room.
The average timeshare unit boasts more than 1,000 square-feet of floor space – making it twice the size of a typical hotel room. So tackle your morning workout from the comfort of your suite. With more available space, you can roll out a yoga mat or even jump rope without waking the neighbors.
2. You have more time to exercise.
Since Owners typically take longer trips, they have more opportunities to workout. Try a morning swim at a pool in Las Vegas, play a round of golf in Hawaii or burn some calories on the slopes in Park City, Utah. These are just a few options our Owners can find at Hilton Grand Vacations resorts.
3. Timeshares have better food options.
Hilton Grand Vacations resorts come with fully equipped kitchens in each unit and local dining options nearby. Instead of opting for fast food, Owners can talk to our front desk staff to find nearby farmers' markets or local restaurants. Continue your healthy routines by cooking your own meals and taking advantage of local fare. You'll feel less sluggish and more energized for the rest of your vacation.
4. Timeshares offer new activities and adventures.
Many of our resorts provide members with fitness-related activities and adventures. See the sights while taking advantage of our bike-sharing program in New York City. Want to experience the great outdoors?
Trade in the treadmill for a hike up the Blue Lakes trail in Breckenridge, Colorado for an exciting, cardio-filled day.
If you want to stay near the property, pick up a tennis racquet at the Plantation Beach Club in Florida.
Invest in your health
At Hilton Grand Vacations, we want to make sure you feel your best before, during and after your stay with us. If you're ready to make a lifetime of vacations part of your wellness plan, vacation ownership is a great place to start.
Contact us at 800-230-7068 or fill out our online contact form to start your jump start your new lifestyle through vacation ownership.