5 Incredible American Road Trips to Start Planning Now
Now's the time to planning an unforgettable experience on the open road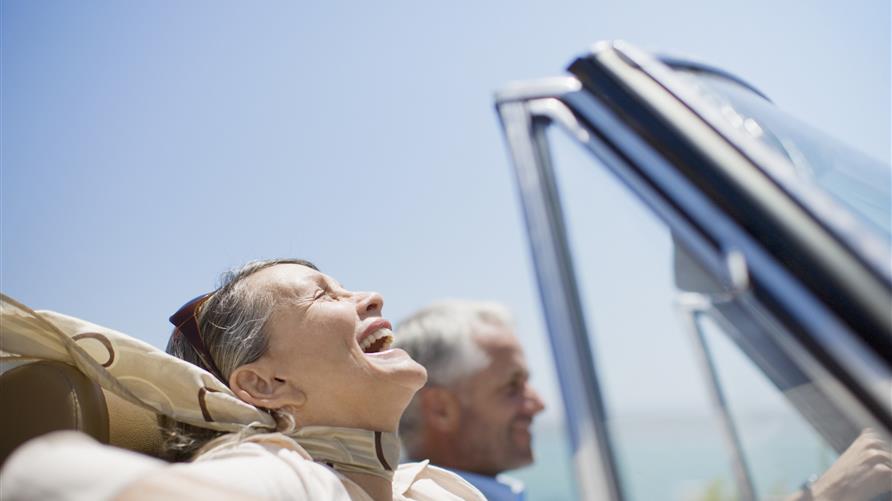 When it comes to enjoying the freedom of the open road and indulging your sense of adventure, a road trip is hard to beat.
Our new normal has us rethinking when and how we'll travel. With summer approaching, travel is (hopefully) ahead. And when the time comes, a road trip to a destination that gives you the space to spread out and safely explore with family is worth considering.
A tried and true form of travel, the great American road trip also lets you avoid close contact with strangers. That makes it a great choice for anyone wary of taking a plane or train.
Of course, you'll also need a place to rest and recharge. We've got you covered there as well, with suggestions for top-notch Hilton Grand Vacations accommodations for each adventure.
Utah
Take a national park road trip and make your way to Utah. Utah is known for its stunning geography, which is easy to appreciate at one of its five national parks. Top picks include gazing at the red canyon cliffs at Zion National Park, hiking among the hoodoos (tall, skinny shafts of rock) in Bryce Canyon and experiencing the red-rock wonderland that is Arches National Park.
If city life is more your style, add Salt Lake City to your shortlist. Over the past several years, Utah's state capital has experienced a tech boom and a culinary renaissance. Other top Salt Lake City draws include the National History Museum of Utah and Temple Square, the sprawling headquarters of the Mormon Church.
Finally, don't forget Park City. The locale famous for skiing, dining and the Sundance Film Festival is only a 45-minute drive away.
Pro-tip: Keep your eyes peeled for celebrities. The perfect place to experience it all is at Sunrise Lodge by Hilton Grand Vacations Club. You'll find this well-appointed resort nestled in the center of all the action.
Colorado
Colorado is another state full of rugged beauty, and gorgeous hiking trails. Other points of interest to include in your Colorado road trip include a visit to majestic Rocky Mountain National Park; taking a dip in one of the state's many hot springs and exploring Denver, a city replete with great dining, museums and sporting events.
For summer and winter road trippers alike, you'll find some of the best alpine activities surrounding Valdoro Mountain Lodge by Hilton Grand Vacations. From favorite summer past-times such as hiking and biking to fly-fishing and whitewater rafting to shredding the 3,000 acres of slopes during the winter months, when you stay at Valdoro Mountain Lodge, you're just steps away from it all.
After you've had your fill of outdoor activities carve out time to explore the shops, galleries and restaurants in the charming town of Breckenridge.
Hawaii
Each of the eight major Hawaiian Islands that make up Hawaii has a distinct vibe. And renting a car is hands down the best way to experience whatever island (or islands!) you visit.
Oahu, the most populous island and home of Honolulu, offers everything from nightlife and shopping to relaxing beaches. Top draws for your GPS include Waikiki Beach, Pearl Harbor National Memorial and the North Shore, an area of charming towns and 51 beaches that attract surfers from all over the world.
South of Oahu is Maui, a couples' favorite thanks to its gorgeous beaches and laid-back vibe. Take a drive along the 64-mile Road to Hana. This route takes you by some of Maui's most scenic waterfalls, parks, overlooks and more.
If the Big Island (a.k.a. the Island of Hawaii) is on your itinerary, must-dos on the largest and most geographically diverse Hawaiian island include Volcanoes National Park, Punalu'u Black Sands Beach and a Kona coffee tour.
Hilton Grand Vacations offers a variety of top-notch lodging on each island. Choose from five resorts in Oahu, including the much anticipated Maui Bay Villas, the long awaited Hilton Grand Vacation Maui resort slated to open in 2021. Last but not least, there are four Hilton Grand Vacations resorts on the Big Island.
Chicago
Drive into Chicago via Lake Shore Drive, a scenic 15-mile stretch with Lake Michigan to the east and skyscrapers and luxury apartments to the west. Top attractions along the way are vast and varied. Explore Lincoln Park to get a nature fix, it's home to gardens, the Lincoln Park Zoo and much more. Check out the Navy Pier, a promenade full of restaurants, theaters, tour boats and the Centennial Wheel Ferris wheel for some fun classic activities.
Increase your IQ at Museum Campus, a 57-acre park where you can visit the Field Museum of Natural History, Adler Planetarium and Shedd Aquarium —all in once place.
When it comes time to kick back, check into Hilton Grand Vacations Chicago Downtown/Magnificent Mile. The resort's stylish rooms are spacious, and the property includes a pool, fitness center and lounge. You'll also love the location, which is a stone's throw away from top Chi-Town attractions like the Miracle Mile shopping district, Grant Park, Millennium Park and the Art Institute of Chicago.
South Carolina
Explore South Carolina from top to bottom by making your first stop Myrtle Beach. You'll start your road trip on a relaxing note, choosing from 60 miles of white sand beaches, world-class golf courses and one of the three Myrtle Beach resorts that are part of Hilton Grand Vacations.
As your trip winds down, cap off your adventure with a visit to Hilton Head. You can camp out on one of the island's 12 miles of beaches, embark on a nature excursion or discover one-of-kind buys in the island's many specialty shops. When you're ready to turn in, end your day with a cocktail and a killer view at the new oceanfront Ocean Oak Resort by Hilton Grand Vacations Club.
2021 Bucket List Idea
About 100 miles South of Myrtle Beach, you'll find Charleston, a wakable city that oozes old Southern charm. Plan a return visit to South Carolina in 2021 and stop by the eagerly awaited Liberty Place Charleston by Hilton Club. This new must-see property will be steps away from Charleston Battery, a picturesque and historic defensive seawall and promenade.
Road trips are great—and so is timeshare ownership that gives you space to spread out, the backing of a name you know and trust, and access to world-class accommodations in some of the most sought-after vacation destinations all over the world.
Learn about the many benefits of vacation ownership through Hilton Grand Vacations.