Press Release
CORRECTING and REPLACING Hilton Grand Vacations Reports Second-Quarter 2018 Results; Raises Guidance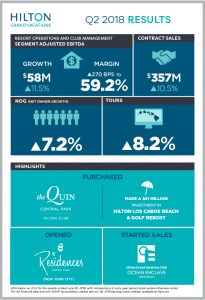 CORRECTION...by Hilton Grand Vacations
ORLANDO, Fla. (Aug. 2, 2018) – Financial table FORWARD-YEAR ADJUSTED EBITDA RECONCILIATIONof release dated August 1, 2018, under 2018 High Case column: License fee expense should be 98 (instead of 89) and Segment EBITDA should be 682 (instead of 673).
The corrected release reads:
Hilton Grand Vacations Inc. (NYSE:HGV) ("HGV" or "the Company") today reports its second-quarter results. Highlights include:
Diluted EPS was $1.10 and net income was $107 million for the second quarter.
Adjusted EBITDA was $175 million for the second quarter.
Contract sales for the second quarter increased 10.5 percent from the same period in 2017.
Net Owner Growth (NOG) for the 12 months ending June 30, 2018, was 7.2 percent.
Acquired the Quin in New York City for $176 million with plans to convert existing hotel rooms into 212 timeshare units.
Announced it made a $41 million deposit to purchase 87 of the 375 hotel rooms within the Hilton Los Cabos Beach and Golf Resort in Los Cabos, Mexico.
Opened The Residences by Hilton Club in New York City and began sales at Ocean Enclave in Myrtle Beach, South Carolina.
Adoption of ASC 606 increased second-quarter reported revenues and operating expenses compared to the previous accounting guidance. Under the previous accounting guidance, second quarter revenue, net income and adjusted EBITDA increased 8.9 percent, 27.5 percent and 12.3 percent respectively.