Press Release
Hilton Grand Vacations Reports Full-Year and Fourth-Quarter 2018 Results
ORLANDO, Fla. (Feb. 27, 2019) – Hilton Grand Vacations Inc. (NYSE:HGV) ("HGV" or "the Company") today reports its full-year and fourth-quarter 2018 results. Highlights include:
KEY HIGHLIGHTS
Full-Year 2018 Results
Total revenues were $2.0 billion, net income was $298 million and diluted EPS was $3.05.
Adjusted EBITDA was $503 million, which was at the high end of guidance. Adjusted EBITDA includes a $79 million net benefit from recognitions related to sales that occurred prior to 2018.
Contract sales increased 10.6 percent and Net Owner Growth (NOG) was 7.0 percent.
Adjusted free cash flow was ($44) million.
Increased credit facility to $1 billion and announced $200 million share repurchase authorization.
Repurchased 2.5 million shares for $71 million under the new authorization at an average price of $28.62.
Outlook
Increasing diluted EPS guidance to $2.74 to $2.89 from $2.68 to $2.84 to reflect fourth quarter 2018 share repurchases.
Net income is projected to be between $260 million and $275 million.
Adjusted EBITDA is projected to be between $450 million and $470 million.
Contract sales are projected to increase 9.0 to 11.0 percent.
Adjusted free cash flow is projected to be between $60 million and $120 million.
2019 outlook assumes no construction-related deferrals, recognitions or additional share repurchases.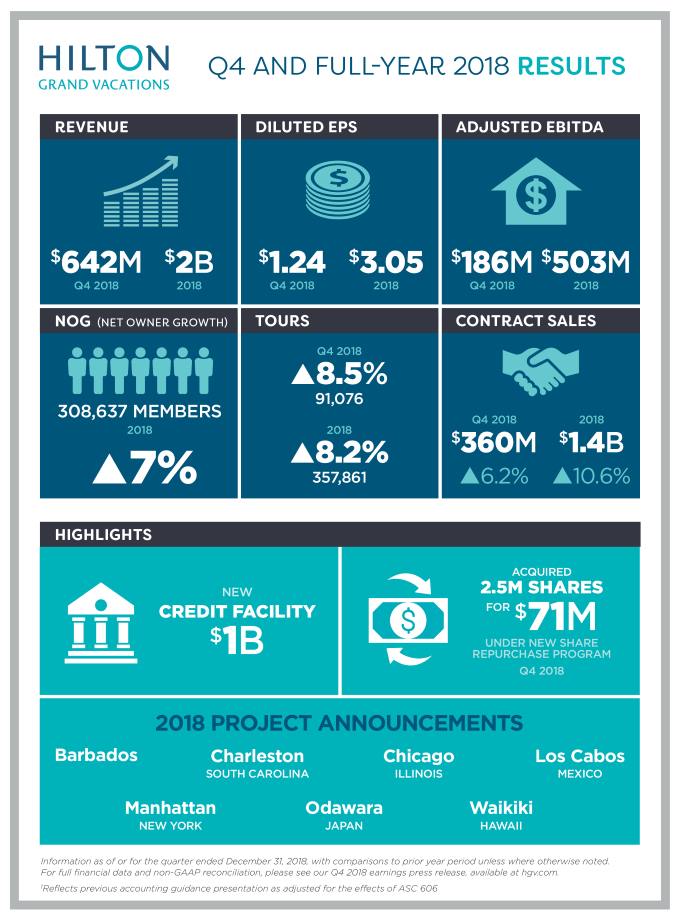 ###